By Danny Stefanic, CEO and Found of MootUp.com
Last month MootUp hosted the Association of African American Financial Advisors (AAAA)'s first virtual event, the 2020 Virtual Vision Conference. The AAAA is a nonprofit membership organization created to address the needs and concerns of African American Financial Professionals. They work closely with academic leaders that support financial planning for degree programs, legislative and regulatory bodies, financial services firms and consumer interest organizations. Their 2020 Vision Conference is usually a time for people to network, learn and connect with industry partners, and this year, due to our new COVID-19 reality, Christian Nwasike, Principal and Managing Partner for Practice Management Consultants LLC and executive board member for AAAA, had to figure out the best way to make this virtual experience successful.
I first met Christian in 2019 when he was doing some research on 2D training. He had stumbled upon Learnbrite, MootUp's learning and training specific platform and felt it was a perfect fit for the work he was doing. We then formed a partnership which has flourished over the years, and he is now a good friend of mine!
The 2020 Vision Conference put on by the AAAA was Christian's first virtual event and he knew that MootUp could easily provide a sense of connection and networking in an immersive, virtual way without sacrificing the feeling of "being there" that other virtual methods do. "I believe it's the future of how virtual engagements will take place" Christian says.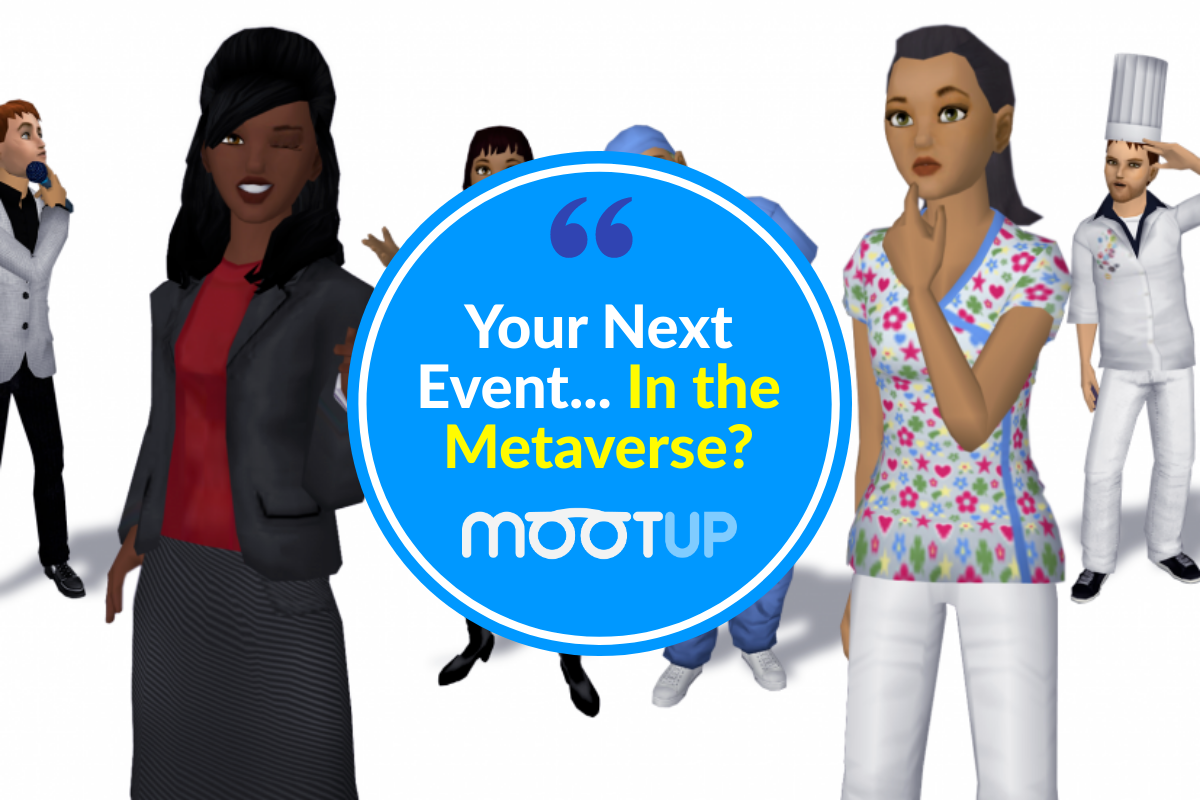 The feeling of 'being there' comes from the sense of presence and belonging inherent in an immersive 3D avatar-based experience. With this technology, it provides that ability for professional and social networking "in virtual reality that is close to what would be experienced in real life", Christian mentions, by replicating what attendees can expect from a real-life event, only in an easily accessible virtual environment.
My team was excited to work with the AAAA to make the platform the best it could be for this event and we implemented several new features that benefitted attendees, making the experience more immersive. These new features allowed for more inclusion and participation from members and partners. "The over 160 + attendees who attended in VR spent over a combined 1,100 hours in the AAAA world." says Christian.
Providing value to event partners
How could AAAA provide value to financial partners like Wells Fargo at a virtual conference? They needed to educate association members on new products and services and were looking for 1:1 connection and conversation. In order to fit this need, we created a new feature- audio zones that allowed for association members to talk privately with partner representatives within a virtual booth.
Virtually deliver engaging, real-time streaming presentations
Association members and speakers aren't all tech savvy and needed a simple solution that could provide the interactivity and engagement mimicking a physical event. What made MootUp a great platform that could provide this was our video conferencing feature that can integrate with platforms such as Zoom. This provided for much easier experience for each attendee.
Create Community and Connection
How do you hold an award ceremony and entertaining networking sessions that include a DJ and dancing, a live game show and other fun activities all online? MootUp's breakout rooms were a perfect feature for this. The breakout rooms can be customized and configured to allow for these specialized activities. Dozens of templates can help create the perfect environment for unique experiences. Library of 3D content allows for endless customization that's only limited by one's imagination. Streaming balloons, 3D statuettes, virtual champagne – all doable with the click of a button!
Avatars allow for self-expression and additional interactivity as well, with an example being the large amount of scripted dance moves and thousands of expressive gestures an attendee could do with their avatar. By having your own character in the virtual space, an increase in the sense of presence and belonging is provided, unlike other types of virtual events. In a study conducted on the social presence effects of avatar embodiment, Bente et al. (2004) found that "effects (are) as expected, showing significantly stronger co-presence effects for the avatar condition." (p. 59); which illustrates that using avatar-based technology keeps a person more engaged and able to feel more present when compared to non face-to-face methods of communicating.
Conclusion
Christian had looked at many platforms, but none of them gave the ease of use comparable to MootUp, as well as accessibility and design options. With MootUp, Christian and his team were able to fully create their own environment and the attendees found the platform easy to use and were impressed by the virtual reality environment and type of technology used to host this event.
The experience allowed for more people to easily tune in than would be possible otherwise, while providing that sense of presence and belonging for people, as well as ability for social interactivity. This real-life quality is what makes platforms like MootUp and LearnBrite so attractive, especially for associations. It is a way to fully immerse your event attendees in an environment similar to what you can expect to experience in real life, with the benefit of the environment being accessible with an internet browser and from any device (mobile, tablet, laptops and VR/AR). Christian plans on continuing to use our platform because the AAAA conference was such a success.
We're looking forward to hosting AAAA next year within our 3D event platform. If you're hoping to solve some of these challenges for your next virtual event, please reach out and let us show you the platform. We'd love to work with your team to create memorable experiences. Book a demo at MootUp.com.
For the latest platform features and XR and virtual event news please connect with us on social:
LinkedIn: https://www.linkedin.com/company/mootup
Twitter: https://twitter.com/mootup3d
YouTube: https://www.youtube.com/channel/UCg1MWe2DpbKi298EWduaZng