It's no secret that the world of technology that we are so immersed in as a society is rapidly increasing each and every day. The virtual world creates a relieving sense of ease, and the feeling of the world in your lap. Especially during the 2020 pandemic, technology made a huge headway in sparking ways to communicate and gather with one another in a way that did not involve being together in-person, or talking on the phone. 2020 had revolutionized an entirely new era of tech. Out of this began the innovations of virtual meetings, online gatherings, and even virtual event platforms so that people from near and far could get together from the comfort of their home.
At this point in time, it is probably safe to assume mostly everyone has attended a Zoom meeting or Microsoft Teams, or whichever platforms their friends, families, workplace, doctors offices, etc., had set for them. These types of platforms are all generally considered to be 2D virtual platforms. They are your basic camera and microphone share stream into the app itself for everyone to see, with the added chat area on the right-hand side.
After a while, staring at faces on a screen got old, quickly. There were increasing amounts of media about screen fatigue, and a lot of individuals found themselves tired of the same old meeting. When things get old, that means there's always room for innovation. With no choice but to adapt, even still continuing on into 2022, how could we change up this lifestyle into something more exciting?
MootUp arose to the challenge by offering a virtual meeting space that would level up everything that we knew and understood about the same, conventional online meetings that everyone had been so accustomed to; a space where virtual meetings nearly meets real life. At MootUp, we offer a virtual event platform technology that takes your virtual meeting into a 3D immersive event space. Instead of a flat 2D"meeting on Zoom", meet your friends, colleagues, business partners, and other entrepreneurs in an immersive custom built virtual event space of your own. The best part? Your virtual events will never have to be the same again.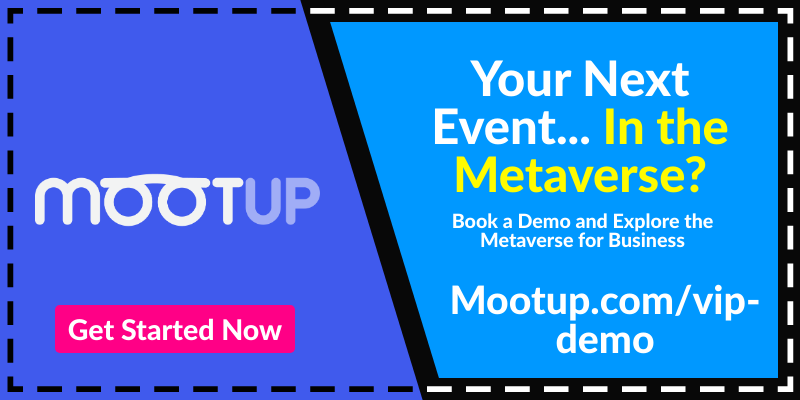 These instantly available event spaces can either be a pre-built event space template for you to use, or a creative, personally branded space that can fit your business style and even possibly make you feel like you're actually in the office. Oh, and if you wanted to, you could actually virtually mimic your office and create its digital twin. That even includes adding additional rooms, and buildings, to walk around and explore.
In addition to the topic of creating a digital twin, you must be wondering, how do I use the space? Well, you explore the virtual event space with your custom 3D avatar, of course. Yup, that's right. Before you enter the space, you can create a custom 3D personalized avatar that will represent you in the virtual environment. We offer dozens of different styles, hair colors, skin tones, and other personalization features to allow you to express yourself in the virtual realm. In addition to visual appeal, you can also express yourself with endless gestures and ways to communicate with the other virtual event attendees in the space. You can handshake, hug, whisper, dance, sit down, etc. And in group settings such as networking, you can chat publicly or privately with one another as you please. You can even pass out virtual business cards!
With MootUp, personalization is key. The MootUp 3D virtual event platform encourages users to take this space and make it their own- dress to the nines in the virtual world while you're cozy at home in real life, plaster your business logo on the walls or floors of your virtual space, create exhibit booths to showcase new and existing products, share your screen during a virtual conference to share data presentations with your crowd. The opportunity to make each and every event unique and personalized is openly yours for the taking. Creating an experience like this can help beat screen fatigue and break the repetitive chains of online meetings that we've become so accustomed to.
Providing online event attendees with not only a 3D immersive experience, but an interactive experience, promotes higher levels of engagement and interaction so your guests can get more out of their time at your event and have a positive take away each time. In the case of business meetings and virtual conferences, you are more likely to have active listeners and create a more meaningful experience because they're not just watching their screen– they're a part of it. Your virtual event or work meeting never has to be boring again, take it to the 3D metaverse with MootUp.
Let's discover some other key benefits of utilizing MootUp's virtual event platform for your next gathering.
Multiple Virtual Spaces and The Ability to Scale
When hosting an in-person, real world event, you always have to consider the size of the event, how many people are attending, and if the event space of your choosing is suitable to hold the amount of event attendees that have RSVP'd. Our virtual event platform allows users the ability to scale the virtual venue as seen fit. This means, if the turnout of your virtual event becomes larger than expected, you can quickly adapt for it in real-time during your event so that guests have room to explore and rejoice in the space as they mingle.
Otherwise, MootUp's virtual event platform technology is intelligently designed to accommodate larger broadcasts, which is perfect for large events. On the occasion that your event has a larger turnout than expected, the platform will scale with your audience needs without you having to do any extra work. Our virtually immersive platform is built to hold thousands of guests at once. In addition, multiple virtual rooms and spaces can be accessible at once, so guests can wander from room to room, or building to building, and see what each of these spaces has to offer. Having places for your guests to explore enables you to host various types of meetings and showcase different types of content within different spaces under the 'roof' of one single event. This further promotes a high level of attendee engagement, and also can help cut costs that are associated with large, in-person events such as venue, catering, entertainment, etc. And lastly, having this ability allows you to take your event global and invite event participants from around the world, creating a turnout that greatly exceeds any of your expectations.
Branding
A unique feature within our virtual world that big companies and brands tend to like, is that our virtual event platform allows you the freedom to add customized branding to your event. You have the ability to personalize every detail of your event with brand logos, colors, images and more. Additionally, you can personalize your 3D avatar to wear work uniforms or branded clothing. Not only does this assist with matching brand promotions and aesthetics, it also helps your virtual environment feel authentic, unique, and specifically designed for the cause. The best part is, you can do it in real time. Our clients absolutely love the way MootUp has made it easy and simple to brand and customize these spaces, especially during an event. You can make updates to the space at any time to best fit your preferences, and guests will be able to watch it all happen live as you implement the custom changes.
Simultaneous Content
All while being perfectly curated in one space, under the "roof" of one event, MootUp's intelligent technology allows for multiple tracks of content to be running simultaneously, in multiple spaces at the same time. Your main event could be a keynote speaker, being broadcasted in video on the big screen of your main event room, happening in real-time while other rooms can be for live translations or hold sub-events, like virtual exhibit booths, special showcasing for new products, networking gatherings, and even scavenger hunts amongst virtual event attendees. Having various content and multiple opportunities for event engagement is an assured way to keep your event guests active, engaged, and interactively immersed in your event.
Networking
During in-person networking events, it is pretty uniform that attendees will engage and make connections with other, like-minded people whether that be from the same or different industries. Additionally, they will engage with the purpose of the event, whether that means there is a guest speaker, visual exhibits, or all-inclusive networking games and/or team building events. With the MootUp space allowing you to provide event participants with an interactive experience, anything is possible for event guests within the virtual realm. Attendees can still be a part of a large audience, and make private business connections with their peers during the course of the event in the virtual space. They also still have the ability to engage with event speakers, consume content, and interact with the event whichever way is intended.
Gamification and Tools for Audience Interaction
MootUp's virtual event platform offers next-level tools to bring an abundance of benefits to each and every event, for everyone involved. These tools are readily available at the hand of the event organizer to use in order to maximize the virtual event experience. For event attendees, these beneficial features encourage and enable substantial connection with one another, providing the ability to shake hands, greet each other with a friendly "hello", offer ideas, and influence conversation, all in real time. This can be promoted naturally, or by utilizing options for engagement such as live polls, surveys, video chats, Q&A sessions, scavenger hunts, team building games, direct messaging, and more.
Optimizing all of the tools that you possibly can will engage your online audience in a way that allows them to feel as if they were at a real life event. By doing this, you're allowing the freedom for your "business event" to become an immersive experience that is inclusive, fun, and engaging for your guests. It's a great way to guarantee a positive outcome and a memorable experience for all of the participants that joined along.
On the other side of this, as the host, event planner or event organizer, MootUp's virtual event technology analyzes the data of each and every interaction that occurs during the event. That means, yes, you will actually be able to receive real-time feedback on the collected data so you can further analyze your event turnout, see what's working, and what isn't. This consists of information like how many engagements and connections were made between guests, answers to polls, questions, and surveys to allow you better insight to how your products or business are performing, who interacted with products, how they interacted, and for how long, and more.
Having this gamification is beneficial for both the participants and the event host in a sense that these experiences bring joy to the attendees, but help hosts to keep record of KPIs and overall performance. This feedback is much more accurate and traceable than would be possible at an in-person event, which is just another advantage of the MootUp platform.
Accessibility, Control and Customization
MootUp allows for complete control of your event, such as you would at an in-person, real world gathering. Similar as you would for an in-person event, through a virtual event platform you have complete control of your event, with the ability to customize it, including the venue, virtual spaces, program, and content. With the ability to customize your event to match your brand, fit the event's purpose, and set the tone, each and every event can be a level up from the next. In addition, when working against competitors in real-world events, utilizing a virtual events platform will allow you a higher rate of interaction and engagement, more feedback and traceable measurements on how your event went and how your business is performing, and overall assuring a highly successful event by simply 'wowing' all of your attendees with a unique experience unlike anything they've seen before.
MootUp was designed to be highly accessible and easy to use. When you host an event, all you have to do is share the link. For online participants to join, all they will need to do is simply click. There is no hassle, no gimmicks, no installations or downloads, just click and join. Our virtual event platform is browser-based and can be easily accessed from any internet-enabled device as long as they have a stable connection. At MootUp, we understand that providing easy access to events is key to avoiding bounce rates and having a successful turnout. It also assists in facilitating the growth of international connections between businesses and individuals. In addition, we like to encourage a space where everyone can be involved and enjoy the space as it is meant to be enjoyed, which is together.
For information about the virtual event platform solution we offer at MootUp, give us a call today at 347.535.0844, leave us an email at [email protected], or set up a demo.