More and more events are being cancelled due to the Coronavirus pandemic. We all know the time, effort and funds that go into organising an event and to have it cancelled due to unprecedented times somewhat "Sucks" (Putting it Politely)
The list of Cancelled Events is ever growing, organizations have been challenged to make difficult (yet necessary) decisions in order to react quickly.
A phrase that I've come across in many conversations recently is "The New Norm".
This is an interesting saying as it breathes so much truth. When this "Lockdown Period" is over, things won't go back to normal (clearly that "Normal" did not work) it will be The New Norm. And for me, The New Norm will include many concepts that already exist but people were never given the flexibility or freedom to explore them.

One of these concepts include: Virtual Reality
Without getting into the details, by now we know that VR is a BIG DEAL worldwide! So why not utilise it to its full potential?
Whilst events and conferences offer a range of benefits that VR cannot offer.
Why not Give Virtual Reality a Real Chance…
Given the opportunity, I'd be delighted to change people's minds about Virtual Events and show everyone the virtual range of advantages these events can offer organizers, attendees and your business.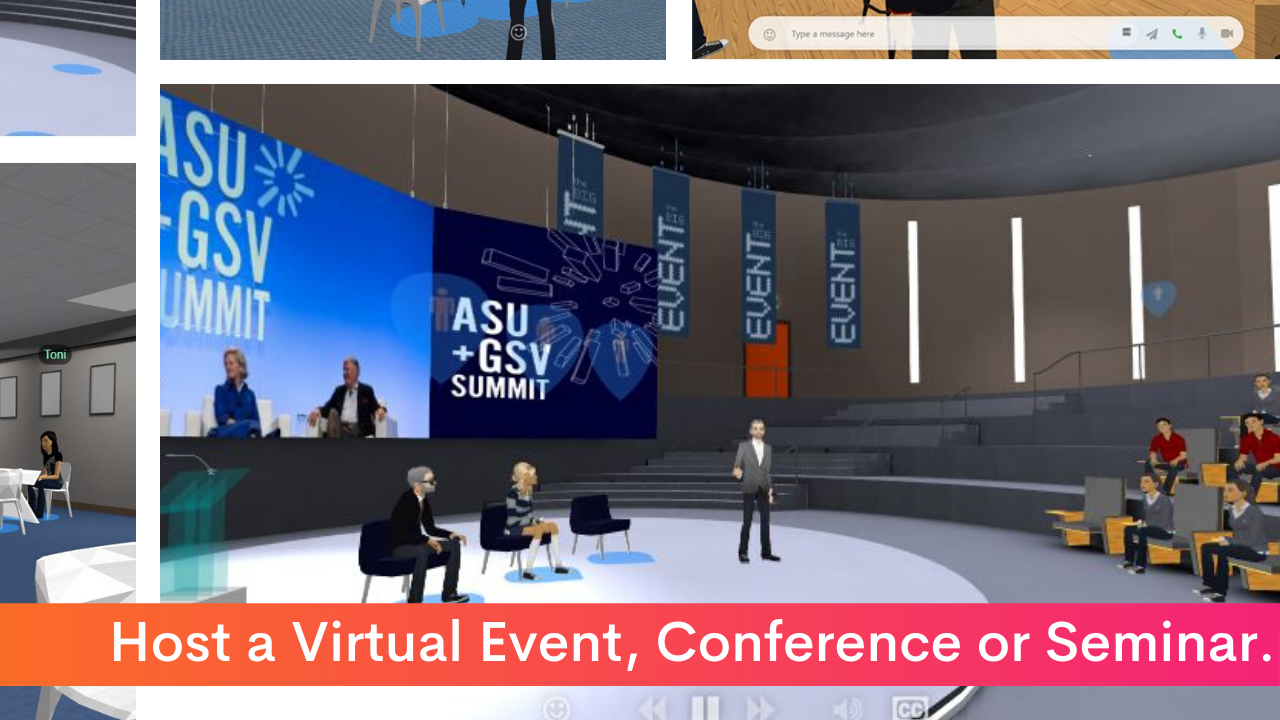 "Connect with a Global Audience!"
A virtual event will recreate a familiar event such as seminar rooms, auditoriums and exhibition halls, only this will be simulated virtually.
There are many platforms such as Zoom, Microsoft Teams, Slack, BlueJeans, Inxpo, on24, hopin, vfairs and 6connex which are able to offer a deeper experience for certain types of events, such as a Video Conferencing, Virtual Conference, Virtual Exhibition or even a Virtual Rooms.
The bigger question is now, "Which one do I use?"
Well ask yourself these questions before you decide.
How many people do you plan on inviting?
How do you want to interact?
Do you plan on sharing files?
How secure do your events need to be?
What is your budget?
Do you need 3rd party Integrations?
Alternative collaboration, such as instant messaging during the event (Q&A)
Cross device compatibility?
Login process, such as App Installations and Account Creation
There may still be a few other questions you will find as you get more in depth with your virtual events. But for us one thing that we look for is Simplicity.
That is why we created MootUp.com. An all-in-one event's hub, giving you the flexibility to decide what you need when you need it.
Ok, so let us get to those advantage points we spoke about earlier.
When planning a face to face event most of your time and effort is generally directed towards marketing and awareness (because you need people to attend) let alone the added cost of the actual event!
A virtual event allows organizers to spend a fraction of the cost, not only in terms of finance, but also in terms of time, because we all know time is money!
Pricing Comparison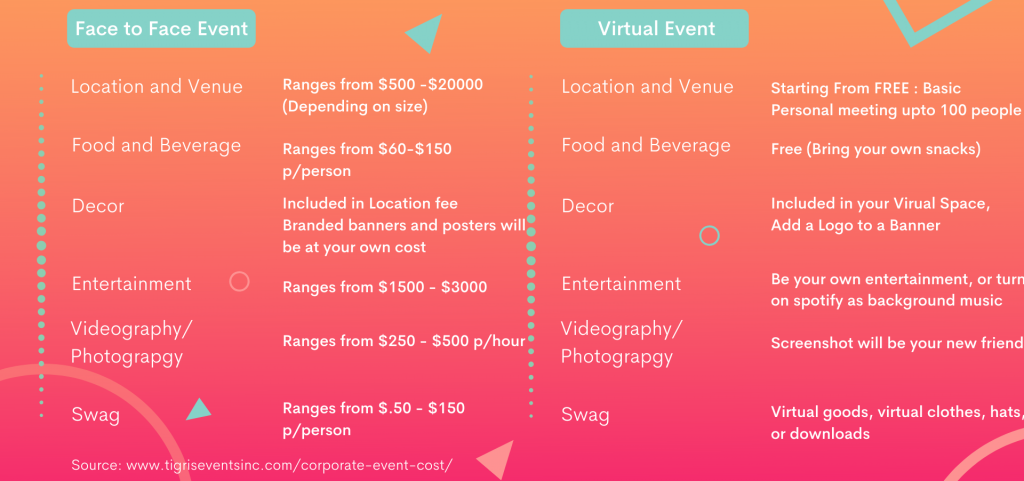 Allows you to reach a wider audience
Due to its online nature, virtual events can maximize the visibility of your event by extending your reach to the entire world, without any space and time constraints. In comparison, physical events are limited in capacity and mostly attract local audiences and those who were able to make the trip.
A virtual event can be accessed from the comfort of your own home and even better from any device (all you need is a WIFI connection) which adds convenience for participants and the host.

A major reason professionals attend conferences is for the opportunity to network. Sure, it may not give you the same "personal" experience you get from a face-to-face chat, but it is the next best thing.

"Connect Everyone, Cross Device, Anywhere"
Collaboration made simple yet effective
Collaborating online has never been this engaging. Jump into an immersive meeting instantly. Conference call with audio, video and text chat. Pin documents, share images, video and 3D. Decorate your meeting space together. Customize your avatar to your own personal style.
(By the way… MootUp.com can easily integrate into familiar platforms, such as Zoom, Slack, Bluejeans, Webex VR)

Have a look at some examples we have created:

While it is extremely unfortunate to be experiencing one of the worst pandemics this year, it is imperative to take all the precautionary measures to keep it from affecting more lives than it already has.
Businesses and institutions should consider online events as means to offset their losses.
Take a look at the upcoming events that have already taken the virtual leap .
Will yours be next?