The metaverse can help underserved communities raise awareness and build solidarity.
Entertaining conferences and conventions with gamification, entertainment, and plenty of networking opportunities make, 3D virtual events a good choice for event production companies that want diverse and inclusive gatherings.
Founded by interior designer Kamille Glenn, Dsgnrswrkshp (pronounced
Designer's Workshop) is a collective of Black designers and makers that empowers young Black people in the field through programming, events, and social media campaigns. By amplifying stories, sharing ideas, and providing resources, the organization aims to reverse the lack of Black representation in the field of design.
"My mission with this collective is tofoster community, bridging the gaps between us, as well as curate a safe relatable space to educate us and keep us inspired… Black designers make up 3% of the design population, makers, a fraction of that 3%… this is a necessary space that I'm dedicated to serving," says Glenn.
Why did dsgnrswrkshp want to create a virtual event?
In February 2021 dsgnrswrkshp set out on a mission to create an online gathering that enabled friendly and supportive discussions and networking, even with COVID restrictions in place.
"We wanted to create authentic conversations around the intersection points to help truly promote more intelligent spaces, products, and experiences".- Felema Yemaneberhan, Strategic Planning Lead for VISIBILITY x DSGN 2021,
The organization needed the virtual event to be a smooth experience that created a sense of healing among participants which included black designers, journalists, and vendors.
Believing that 2021 symbolized change, progress, and unity, it was important for dsgnrswrkshp that their events platform used the latest technology and showcased how the metaverse can combat Zoom fatigue and build a sense of community.
How did MootUp help?
Since the beginning, MootUp's mission has been to offer solutions for immersive and highly engaging virtual and hybrid events to those moving into the metaverse space and especially organizations and company's most affected by the pandemic and restrictions.
This is why when dsgnrswrkshp got in touch, MootUp was more than happy to partner and sponsor the event.
What MootUp features made the event was a success?
MootUp is great at combating screen fatigue and building solidarity.
In MootUp you can create your own 3D avatar and fully customize it to represent who you are and how you are represented in the platform. Avatars help create a sense of co-presence which is so essential in online and metaverse events and gatherings.
Freedom to explore with the 3D spaces and items helps with chance encounters, those 'water-cooler' moments that make in-person events so appealing. So participants get the chance to mingle, connect in private audio and video calls.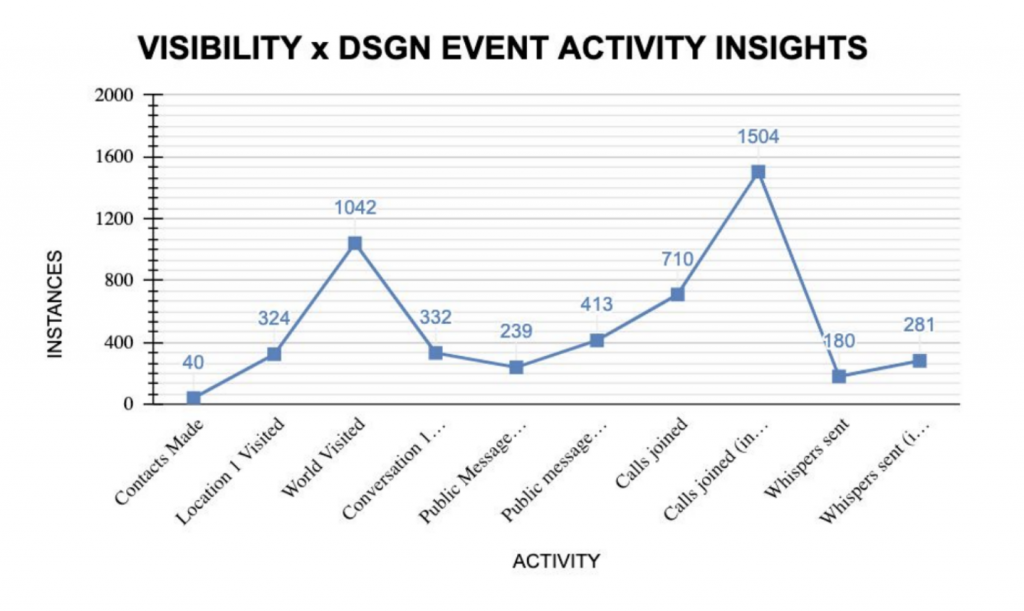 Despite being relatively short, the dsgnrswrkshp event was highly engaging. There were 1042 visits in the virtual world set up for the event, 1504 calls across the virtual world for the event, 413 messages sent across the virtual world, and nearly 300 private messages between attendees.
On average attendees made 40 new connections as a result of the event.
Attendees can interact with each other using lifelike gestures, dances, handshakes, hugs, and high-fives. These are fantastic to help break the ice and encourage networking.
Gamification features allow for fun activities such as multi-user games, scavenger hunts, puzzles, and escape room experiences. So events are full of laughs and smiles.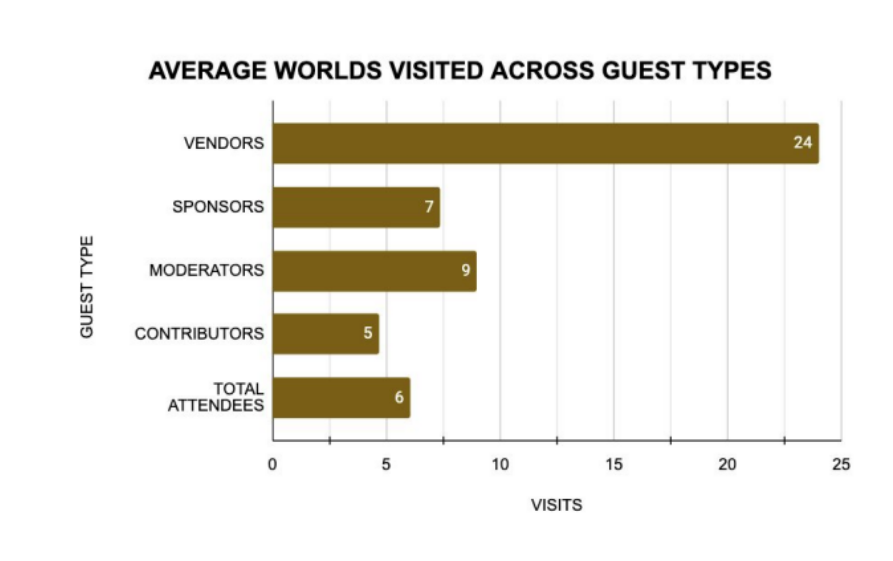 MootUp's spaces can be fully customized and branded, with many styling options for building architecture and interior design. So every gathering is unique. Partners and sponsors can have a 3D-booth design that is unique to their brand and offerings.
AI chatbots that speak over 50 languages can be used as event assistants and attendee guides. So participants are never left unsure what they can do next.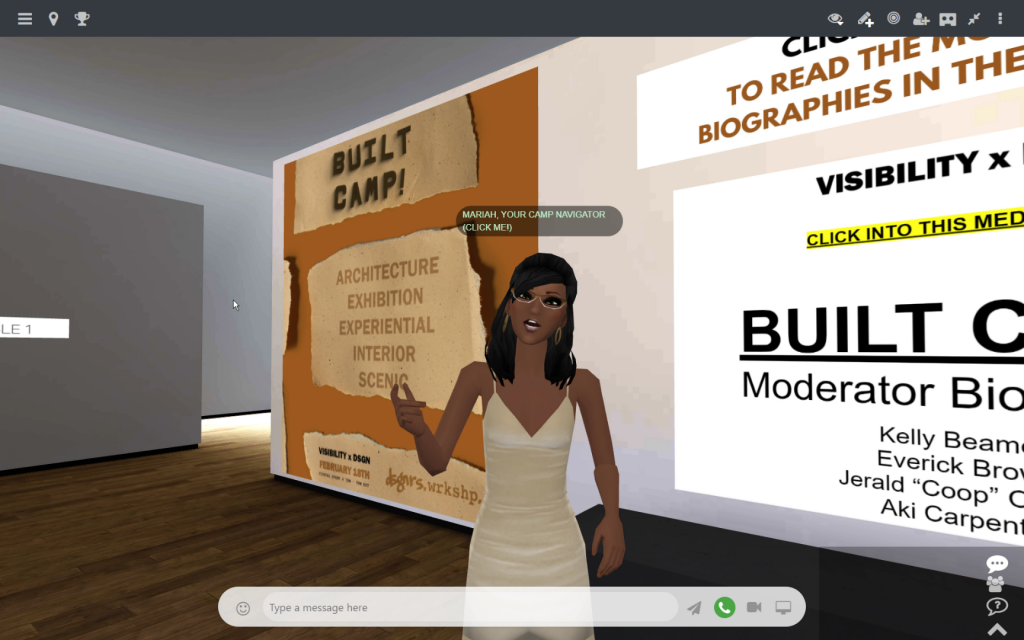 Was dsgnrswrkshp event a success?
At the 2021 dsgnrswrkshp event there were 147 guests, including, among other industry leaders, Asad Syrkett, the Editor In Chief at ELLE Decor. With discussions based around topics such as "Breaking toxic tolerances" and "To be young, gifted, and Black", there were plenty of opportunities to share best practices and show collective encouragement to the Black design community.
The event was a big draw for sponsors with names such as the Rockwell Group, Carnegie, and Ennead Architects offering support.
The virtual event created the dsgnrs "campus" with five areas called "camps" which focused on particular design disciplines and networking opportunities. They include, Built Camp (covering architecture, exhibition design, and interior design), Wear Camp (including apparel and footwear design), and Tactile Camp (merging textile and packaging design). The auditorium served as a live interviewing space for the series "The Sit-downs" and the Interact Camp hosted vendors and networking resources.
The feedback was superb.
"Great start, looking forward to participating in the next event," – Event attendee
"BRAVO BRAVO BRAVO! A huge undertaking and an exciting event. Thank you for including me!" -Event participant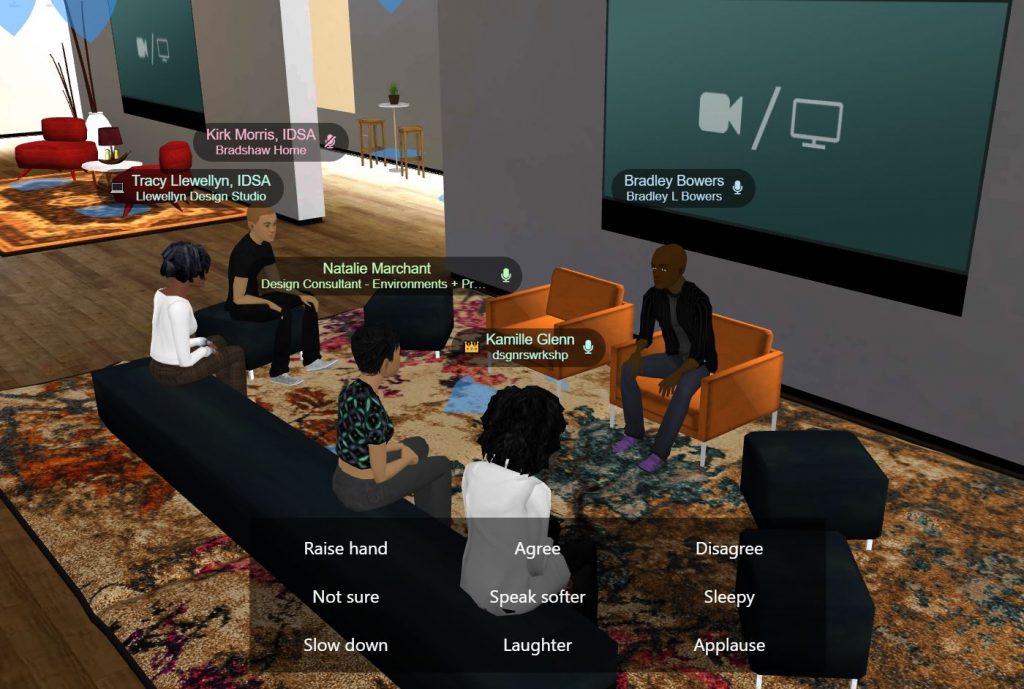 Go next-level with MootUp
The dsgnrswrkshp event undertaken in collaboration with MootUp was an important development for the Black community. By offering a safe space to Black designers, the community had the chance to be seen and build a singleness of purpose.
The gathering made countless important connections among the guests, and there was a lot of laughter, smiles, and discussion. In these regards, important early steps were taken to boost Black participation in design from its current level of 3%.
Metaverse gatherings that are interactive and gamified stop Zoom fatigue and strengthen communities. Want to learn more? Get in touch for a demo here.