PHOENIX, A.Z. – July 28, 2021 – MootUp today announced a new partner integration with BlueJeans by Verizon, reimagining virtual events in the era of the metaverse with 3D, VR, and AR immersive environments, avatars, and AI chat-bots.
MootUp announces integration with BlueJeans Events
Event video streaming into immersive 3D virtual worlds
Attendees can virtually shake hands, hug and high-five
Playable on any device mobile, tablet, laptop or Facebook Oculus Quest 2
Frictionless audience reach, no apps required, any web browser grants access
The virtual events market is predicted to be worth $404 billion by 2027. However today 49% of event professionals describe their biggest frustration as "virtual events platforms failing to match live engagement".
The BlueJeans Events platform has been evolving for several years and is continuing the trend of offering innovation to the video-conferencing industry. BlueJeans Events support for web embedding and custom streaming destinations has unlocked the potential to start delivering events in new ways.
MootUp, through its proprietary 3D web platform, has taken BlueJeans Events into an entirely new virtual world of experiences with 3D spaces, 360 videos, AI avatars, virtual reality, and augmented reality.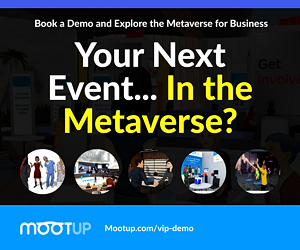 MootUp is the first web XR virtual events platform to deliver an instant immersive experience accessible across all devices from mobile to tablets, computers, and all modern XR headsets.
The platform doesn't require a VR headset, however, the experience is enhanced when using one. Leveraging 5G and Edge computing it is possible to deliver immersive events to the next wave of low-cost, tetherless VR and AR headsets. This enables a new level of human interaction with such affordability that the decision to fly to an event or purchase a headset won't be easy.
Elevated Virtual Event Experience and Increased Audience reach
"Event organizers are frustrated that they can't get the engagement of live events in a virtual setting." said Danny Stefanic, CEO of MootUp. "Those that have taken a moment to look at this new way of running events, such as Fujitsu, Novartis, Juniper Networks, TEDx, United Nations, and many more, have all discovered the rewards that high audience engagement brings through increased enjoyment, leads, and sponsorship."
The integration between MootUp and BlueJeans by Verizon continues both companies' mission to not only modernize traditional meetings and events but to eliminate the top frustration of event professionals by bringing life-like events into the digital realm with 3D immersive experiences.
Starting today, thanks to MootUp, participants can experience the thrill of being present at a BlueJeans Immersive Event just as they would at a real-life venue.