TAKE YOUR MEETINGS VIRTUAL WITHOUT HIDDEN FEES OR COMPLICATED TECH
Host Virtual Meetings with immersive 3D environments that work on any device from mobile to VR, rich multimedia content experiences, chat tools and integrations with industry leading tools like Zoom, Webex, Slack & more make it simple to provide a seamless transition into your virtual experience.
Mootup is already being deployed to provide a wide range of solutions to hundreds of companies. Including household names like…


GOING VIRTUAL JUST GOT SIMPLE
It doesn't matter whether you're leveraging the tools you know & love like Zoom or using our cutting edge features… Mootup is the all-in-one platform that delivers big without all the hidden costs & tech headaches
Global Reach
A virtual trade show enables organizers to reach a global audience, reduce travel costs and host their events regardless of real world challenges and limitations using web based 3D.
Generate Leads
A 3D virtual trade show increases visitor leads through multiple virtual booth marketing touch points. Business cards, brochures, video and email are just the beginning.
3D Floor Plans
Event organizers can pre-sell 3D floor plans to potential exhibitors, stream real world events into a 3D virtual trade show and maintain a 3D presence all year round from their own website.
Video Presentations
Perfect for presentations, keynotes and townhall casts. Integrated with live video streaming platforms such as YouTube Live, BlueJeans, Adobe Connect, Zoom, & more.
Organizers
Event organization, branding and reporting. Schedule keynotes, breakout sessions, exhibition halls & just about anything else you can imagine with just a few clicks. Leverage your event's global reach at scale. 
Exhibitors
Marketing touch points such as business cards, brochures, video and email contact.
Reports on visitor interactions and engagement without all the travel expenses or space limitations.
Sponsors
Customize the conference branding and imagery to maximize brand recognition at a fraction of the time & cost of sponsoring a traditional event. It's never been simpler to generate leads at scale.
Attendees
Communicate with exhibitors, presenters and other attendees using custom avatars, chat, gestures, voice and video. With nothing to install & the ability to attend from any device, you can join from anywhere in the world.
 VOICE – CHAT – VIDEO- SCREENSHARE – 3D
With nothing to install and an intuitive interface based on today's most used collaboration tools, your attendees are fully engaged right from the start.
Click a venue below to see just how easy it is.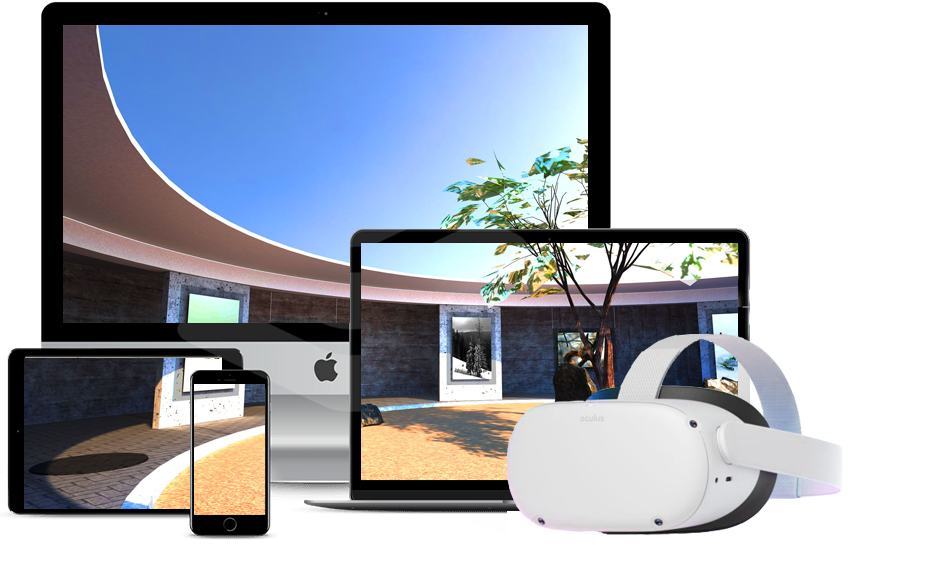 Connect Everyone, Cross Device, Anywhere
Join via desktop, tablet, mobile, immersive VR or dial-in by phone.
VR/AR support includes iPhone Cardboard, Samsung Gear VR, Google Daydream, View/Lenovo Mirage Solo, Oculus Go/Quest/Rift, HTC Vive/Focus, Microsoft Mixed Reality/Hololens, Magic Leap One, Nreal, Pico, Valve Index
Video Avatars & 360 Environments
3D avatars not your style? Video avatars can move and interact with the environments just like 3D avatars, it's your choice.
Use 360 images or video backgrounds for your virtual meeting, whether it's your office, factory visit or a fun travel destination.
Team Role-Play
Take instructor-led team training online. Role-play scenarios with team members from anywhere. 
3D Models
Import any 3D model into your meeting room.
Product visualization
3D design
Product training
Sales demonstrations
Screen Share
Share your Powerpoints, Keynotes, or anything else.
Desktop Sharing
Application Sharing
Browser Tab Sharing
Email to Meeting  Zero Installation
Invite participants by email to join your meeting. Nothing to install, no firewall ports to configure, no need to ask IT for anything.
Easy Navigation
Responsive design enables easy access on any device. Touch screen, mouse & keyboard or VR/AR
Spawn points

Navigation markers

Free Teleport

VR Hand Controllers 
Third Person or Immersive
Click the goggles icon to switch from third person to first person view, or launch life size immersion in your VR/AR headset.
Mobile Magic Window
Immersive mode on mobile creates a magic window into your 3D meeting. 
Text Chat & Chat History
Text chat includes features like automatic gestures and emoji explosions
Try typing "coffee"
Try typing "/drink"
Private Messaging 
Whisper to your colleagues or friends in the same space or across spaces in a multi-room event. 
1000+ Gestures
Express yourself with over 1000 gestures, facial expressions and poses on mobile, tablet, laptop & desktop. Shake your head or wave your arms around in VR, real-life head & hand tracking is shared too. 
Participants List 
See who's attending. Add to your contacts, read their profile, whisper or moderate users.
Lasers
Each attendee has their own uniquely colored laser pointer for drawing attention to presentations or items in the space. 
Frictionless Invites 
Invite participants be email, one click and they are in.
Shared Whiteboard
Each attendee can contribute to whiteboards in a space. 

Looking for a platform to host your next event?
Tel: +1 347 535 0844
Address: One East Washington Street
Phoenix, AZ USA 85004
© Copyright 2021. All Rights Reserved.