What is a Virtual Event?
Virtual Events aren't much different than any traditional event you may have previously attended. Online events can range from team-building activities to large-scale conferences with the ability to host thousands of attendees from all over the world. Depending on the type of event you're hosting you'll need a certain type of technology.
Any event taking place at a physical location can be celebrated in a virtual environment. There are virtual venues for almost any location. They definitely are a great way to connect audiences globally using chat tools, video conferencing, etc.
Due to the current global situation, virtual events are becoming more and more popular. Experts say virtual events are not just a temporary solution but rather a new way of hosting events. According to Google Trends, companies are pivoting towards a more virtual future.
Types of Virtual Events
There are different types of events that can be organized depending on the goals of the host. They are capable of covering a wide variety of topics and producing various outcomes. Virtual events don't don't come in as a replacement of traditional ones, rather they can be used in conjunction with preexisting events. Here we summarize the different types of virtual events.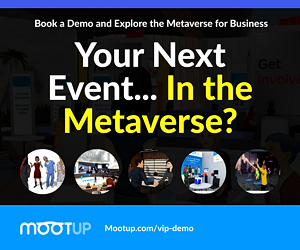 – Virtual Conferences
Online Conferences aren't much different from in-person conferences. They are both built around a complex agenda, including keynotes, sessions, breakouts, etc.
Compared to in-person conferences, virtual conferences offer a way to connect with a broader audience. And this results in an increased number of registrations. Why? For starters, all costs related to traveling to an event are avoided and space limitations related to hosting are no longer an issue. So now those who want to attend but don't want to travel or have the means can be present.
Usually, the purpose of virtual conferences is to find leads, increase brand awareness, and build network relationships. This can all be achieved using the tools virtual event platforms offer.
Here are some of the many advantages virtual conferences have: Increased market reach, sustainability and accessibility. As well as specific and high quality event and attendee data gathered through technology metrics and reports. Adding the virtual option to your conference reduces the risk of your conference failing due to physical restrictions or accidents. Your doors will remain open even if, for example, a global pandemic confines us all indoors.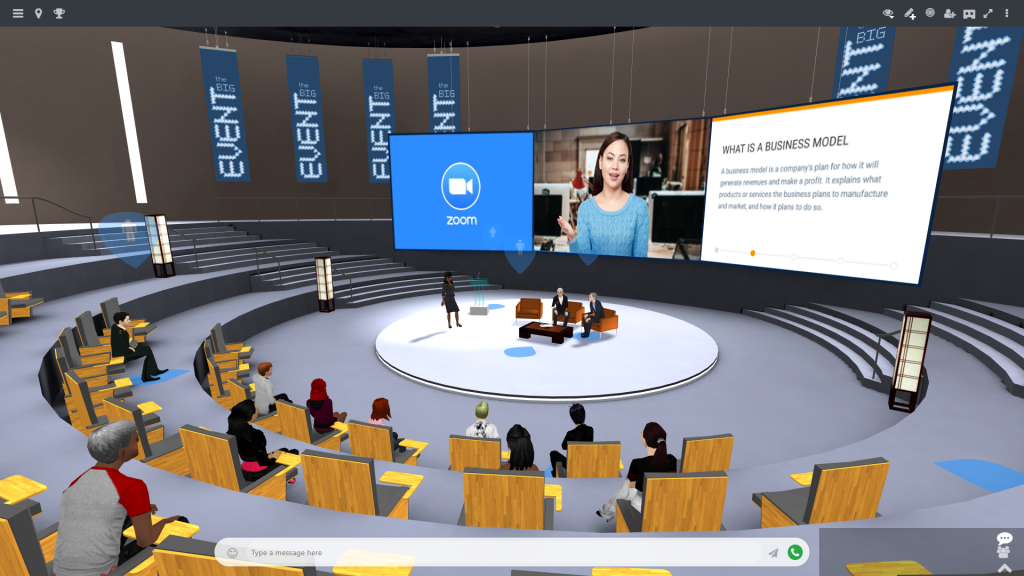 – Virtual Fairs
Like with virtual conferences, the concept of a virtual fair is quite similar to a traditional one. They can accomplish your goals in the same way an in-person one would, or even better since more people would be able to join. Lobbies and welcome areas are still possible in a customizable e-environment. Exhibit halls with personalized and interactive booths, lounge rooms where participants can chat, interact and engage with each other.. "Virtual fairs" is a wide term that includes virtual career fairs, expo events, product launches, and virtual exhibitions, among others They can all be hosted online and with the right content your audience will be engaged from the very first moment they join.
– Virtual Meetings
Virtual meetings are the most common and simple of the bunch. Even before the global pandemic, we were connecting through video calls on 2D platforms And since you're here checking out this guide I dare say you had at least one virtual meeting in the last couple of weeks. In case you haven't though. In a virtual meeting people around the world, regardless of their location, use video, text, and audio to link up online. Virtual meetings allow you to share information, experiences, and data in real-time without the need of being in the same room. Nowadays, there is a solution for every want and every need.
– Virtual Corporate Events
Virtual Corporate Events are any events related to corporations. From virtual product launches to virtual awards. There are two main categories, Internal and External events.
– Internal events take the shape of department meetings and training sessions, promoting company culture. They are very useful for international organizations since it allows them to convey messages to their employees while saving time and costs.
– External events are for those outside the company. The variety of events is quite wide, they can take the form of conferences, exhibitions, product launches, etc. Key factors here are content quality and networking options to ensure a great user experience and engagement".
– Hybrid Events
Hybrid events combine aspects of in-person events with those of virtual events. They integrate "live" in-person events with a "virtual" digital environment. The format can be the same as in any virtual or physical option, trade shows, conferences, seminars, fairs, etc. Hybrid events are a great option since they combine the best of both worlds, and event planners are no longer bound by geographical limitations.
Why is hosting virtual events a great idea?
The drivers for virtual events are pretty much the same as those for in-person events. For example, to get leads and revenue, drive adoption, and build loyalty. And just like with physical events, depending on the event you're hosting a virtual option will have its own set of pros and cons. But overall, hosting virtual events is a fantastic idea, and a lot of times the advantages of virtual outweigh those of in-person events.
There are thousands of organizations and companies globally hosting and organizing virtual events successfully already.
Here are the main advantages of shifting to virtual are:
Accessibility: Global pandemic or not, not all of our attendees are available to physically participate in the event. However, having an online option makes things easier and more accessible. Your audience is able to connect with you without having to worry about travel. Your event becomes accessible from any device and any screen across the world instantly opening the gate to people who are on the move or simply can not make it.

Budget: On average, around 75% of costs go to non-tech expenses during an in-person event. With the appropriate technology, you could have massive savings when organizing your events. Travel, accommodation, and catering are just a few of the ways where you and your audience are saving money with the virtual option. Let's compare the different expenses virtual and physical events have.
Here are only a few of the things a physical event would need:

A venue and equipment to be rented.
Staff accommodation and travel expenses.
Booth setup.
Catering.
Security
Design
Offline and online marketing.
Giveaways
Moderation
On the other hand, virtual events only require the virtual event platform, digital content, and marketing.
Time Spent/ Time Saved: On average it takes 5 months to fully plan a physical event while virtual event setup time is approximately 3-5 weeks with the right platform.

Higher Digital Presence: Virtual Online Events hold great potential over other solutions by boosting your digital presence. Boating 7.8x more website traffic, 62% costs savings compared to outbound campaigns, and 3x more leads.

Tracking and metric solutions: Unlike physical events, a virtual platform can track every detail, step, and action taken by your audience. From the signup to any interaction during and even post-event. This will help you better qualify the results, giving you a window into your team's and event performance while ensuring greater ROI with your future events.

Avoid limitations: Due to the current global situation, limitations such as travel bans may occur. Also, extreme weather conditions or any other unforeseen and unexpected circumstances may cause your in-person event to be canceled. If the event is virtual these risks are completely removed.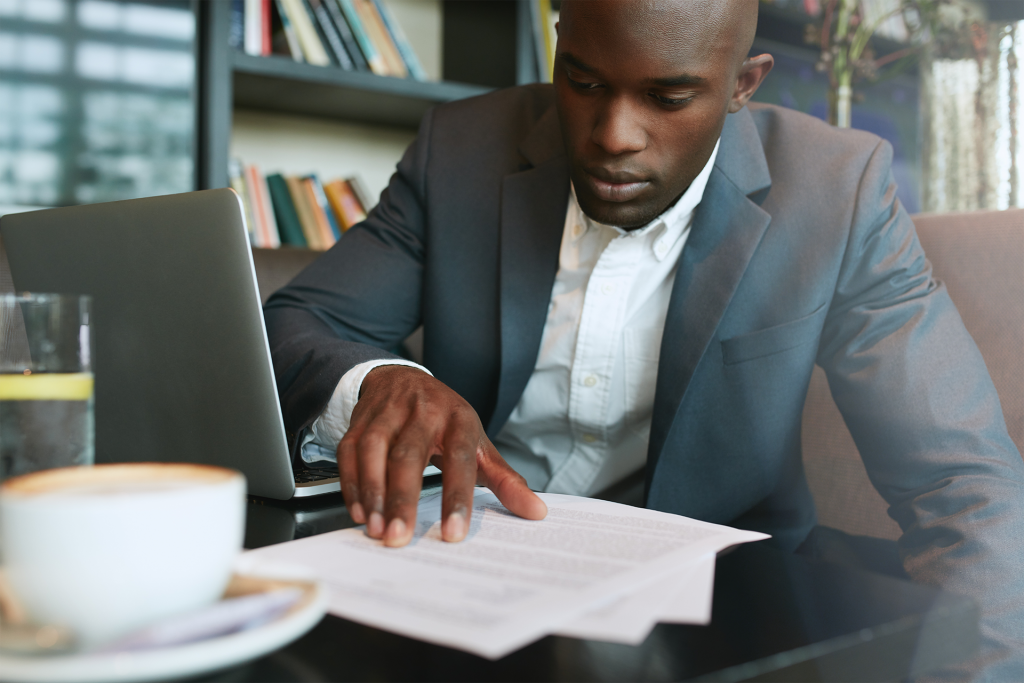 Features to take into consideration when deciding which platform to use
Ease of Use
Not all of your attendees are going to be familiar with new technology. That's why the platform you choose must be intuitive, based on ease of use.

Chat Options
Communication is one of the most important features of your event. Make sure that chat options fit your needs accordingly. General chat, zone chat, private messages, and an announcement channel are must-haves for your event. event.
Live Presentations and Communication Options
Live presentations and video streaming are the other communication features that you need to focus on. Does the platform of your choice have its own video streaming service? Does it have third-party integrations for video conferencing? Does it offer backups? Having multiple options is always a good idea.
Customizable Avatars and Profiles
If you are looking for an avatar-based virtual event platform make sure the customizable avatars allow for full diversity and inclusion. Customizable attendee profiles is also an important factor. Allowing for your attendees to write a small description and contact details on the profile will boost the networking capabilities.
Configurable Branded Booths
If you are hosting events such as career fairs or product launches, booths are one of the most important elements in your event. Fully customizable and flexible booths will make your work and that of sponsors and clients a lot easier. As a result you increase the number of potential clients and sponsors who want to work with you.
Virtual Swag Bags
A virtual swag bag is a collection of giveaways for your attendees. It can be both, physical or digital, and it will improve your brand awareness and audience engagement. Providing downloadable content and resources for your audience during the event is a great option to use as a goodie bag.
Cross-Device Access
Avoid accessibility limitations and confusion during your event by choosing a cross-device platform. Nowadays, smartphones are being used as computers so members of your audience may join your event from their mobile devices. In fact there are studies that show that most career fair attendees use their phones.Tablets and especially VR headsets can up the engagement level for your audience. Choose what best works for your event based on your audience
Measurable results
Tracking the behavior and engagement of your attendees will help you measure the success of yours. For example how many times was an element clicked on? Or where did attendees navigate to?How long was a video played for? These are questions that you, your sponsors, and clients will ask after the event, and having all that information to draw from will be extremely valuable. Use that data to make decisions and plan for future events.
Gamification
There is no question about it. Adding gamification to your virtual events will increase audience engagement. The real point of gamification lies in driving particular behaviors to achieve your event outcomes. These activities will activate a sense of common purpose and create a team-building mentality.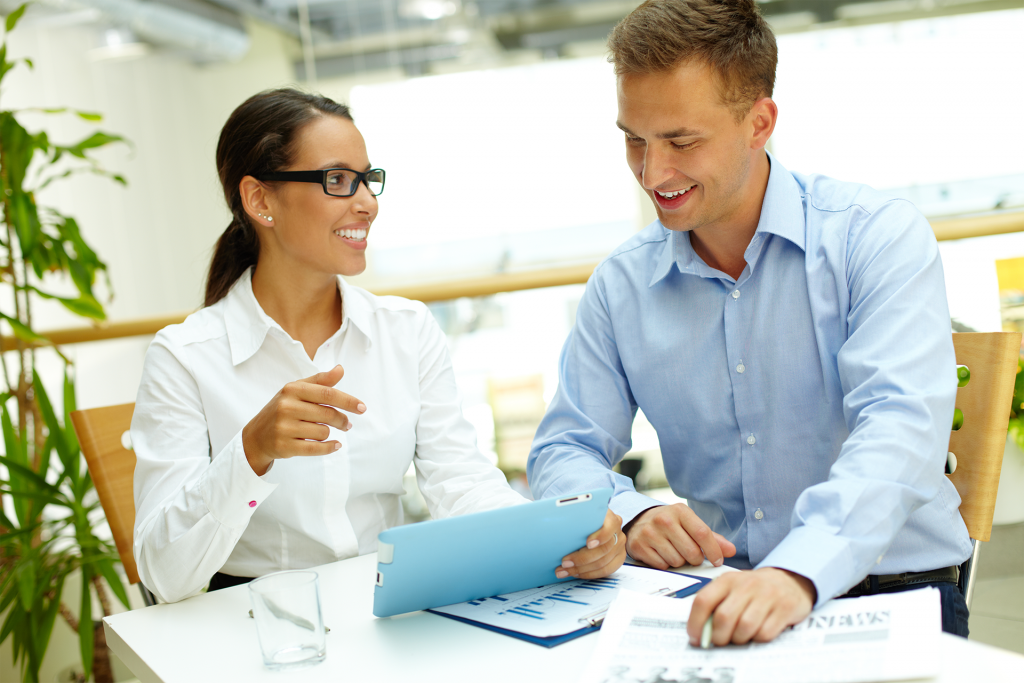 How to host your virtual event step by step?
Make sure you know the type of event
Virtual Event is a very broad term and it incorporates a lot of different types of possible solutions. Defining your event goals and the attendance rate you're expecting is a good first step to find out which virtual format works best for you. Virtual fair? Virtual conference? Webinar? Each of these solutions requires a certain way of organizing and decides all further steps.
Set a timeline
Set a date for your event. Organizing a virtual event takes around 3-5 weeks. Make sure you arrange everything in advance to have enough time to market to your audience and solve event-related issues that may occur.
Choose the virtual event platform
Now that you know the type of event, your audience, and your goals, you will be able to select the platform that suits your event best. The perfect platform doesn't exist, you will choose the most appropriate option according to your needs. To do this, prepare a set of questions to help you analyze the different options to see which event is the best fit for you.
Approach sponsors, speakers, exhibitors
At this point, the foundation is in place. It's time to start taking care of the specific details that will make your event a blast. Approach your potential sponsors, speakers, and exhibitors as if it were a traditional one.

Get your event schedule ready
The organization is key to any event. Set up an agenda to make it easier for your audience to walk into sessions that interest them most. It's recommended to send this schedule the day before your event.
Create personalized content for your event
Content is important to raise awareness about your brand and its initiatives. Booth images, logos, banners, content tabs, videos, documents, swag bag, presentations. All of these elements will make a difference come to your event.
Engage your audience
Success and engagement go hand in hand. Your event is a success when people enjoy it and feel engaged. So you want to use the data you have on your audience to find out the best content to engage them. There are infinite options and they all depend on who your attendees are. Some of the most common options include gamification, Q&A sessions and direct communication with the audience.
Post-evaluation
Use the analytics tools provided by the virtual platform to collect the metrics and info relevant to your success criteria. Use this data when planning and organizing your future events.Send post-event survey questions after the event to your audience to gauge their experiences of how the event went for them.
Virtual Event Planners Checklist
In virtual events, your to-do list is a lot shorter. For example, you don't have to stress with booking a venue, flights or accommodation, catering, or any of the other logistics surrounding an in-person event. But there are still plenty of things you want to be aware of.

We've supported event agencies, associations, fortune 500 companies, schools, universities, and much more to run successful virtual events. All of which have brought their employees together, promoted brand and company culture, launched products and services, and even graduation ceremonies.
With their help and this expertise, we've put together a checklist to help guide your event planning process so that you can deliver the best possible experience for your attendees, sponsors, and stakeholders.
So, if you're hosting an event you should take a look at our Ultimate Virtual Events Checklist.
Questions you should ask before hosting your virtual event?
Before deciding which online platform to use you should prepare a set of questions for your provider based on your needs. Each platform has a wide variety of features that may or may not fit with what you have planned. That's why it is crucial to be sure of all your requirements during the planning process. Here are some of the questions you should ask your event provider:
Is there an option for a virtual demo of the platform? What about a trial period?
Testing and getting familiar with the platform is a great way to start. A guided tour of the platform and onboarding sessions that put you in the shoes of an organizer as well as those of attendees are strongly recommended.

How long does it take to set up?
It takes between 3-5 weeks to organize a virtual event. Have clear defined deadlines to avoid unpleasant surprises.

Accessibility?
It's very unlikely that all your attendees use the same device, browser, or even OS. It's important to know that the platform you're about to use runs and performs well on as many devices, browsers, and operating systems as possible
What kind of support do you offer?
Knowing you can count on the platform provider's assistance should anything go wrong or just to help set up is extremely important. From booth and space design to tech support attendance during the day of the event. Make sure you clearly define expectations and roles.
What engagement features are available?
It's not the first time we refer to engagement as one of the most important characteristics for your event's success. Ask the platform provider what tools and engagement options they provide based on your attendees' engagement needs.
Are there analytics options?
You will want to know if the KPIs you set for your event were fulfilled or not. Most platforms offer some options for reports. Ask your platform provider how they can help you monitor the visitors, downloads, chats, conversions, etc, and what reports are available.
Other Questions to consider
How will you display your content?
What's your business model?
Are you charging an access fee to your audience?
Will the content be live, on-demand, or a mix?
Have you created a guide for attendees before the event?
What are your KPIs for the event?
What happens if you have connectivity issues?
How long will on-demand sessions be available after the event?
Virtual Event Cost Saving
Pricing is key when organizing your event. Virtual events are not free and they require substantial expenses, like the platform license for example. However, when compared to physical events you will quickly realize, the cost saving is massive.
Venue Rental: It's not a surprise that renting the venue is one of the most expensive and tedious tasks. A virtual event saves you the headaches of choosing the venue and money!
Equipment: It's related to the previous point. There are numerous things needed at a traditional event. Such as equipment, stage set up, lighting rigging, projectors, professional audio equipment, etc. Virtual events reduce all this to the platform integrated features, so you don't have to worry about a thing.
Food and Beverage: Hospitality expenses are a classic in hosting events. In a virtual event, all the drinks are to be borne by the attendees.
Staffing: Although staffing is not totally removed, it's highly reduced. Security staff, promoters, and other figures in any physical event are not necessary for a digital atmosphere. In fact, you'll have a team of professionals from the platform managing everything for you.
Travel and Accommodation: You can invite speakers from all over the world without worrying about their accommodation or travel expenses or if everything fits their schedule. This not only saves you cost but gives you a larger pool of professionals to choose from.