Stemming from the workplace disruption that was caused by the COVID-19 pandemic, many businesses had to quickly adapt to a new normality. Online communication came as a simple solution during a complicated time with 2D meeting tools such as Zoom, WebeX, MS Teams being used for meetings, conferences, and practically all of a company's interactions. From there, virtual event platforms have seen substantial growth as companies far and wide have found new ways to utilize these digital solutions to create a place for online events, business meetings, virtual networking, and more.
More than just businesses, hundreds of thousands of individuals across the world found solace in attending virtual game nights, trivia, book clubs, and so on. But using 2D meeting tools in virtual events attempts left people with a need for closeness, community and because of the disconnected experience simple 2D tools offered the options for self-expression were essentially nonexistent.
This led to the rise of a new kid on the block, Immersive 3D Virtual Events Platforms such as MootUp which places control of how people are represented and seen during virtual events, back in their hands. And it's doing this by using 3D full-body avatars, 1+ billion style combinations, options for moods, gestures, two-player actions and much more.
But what all virtual events platforms have in common is the potential for attendees from all corners of the earth and all walks of life to be reached.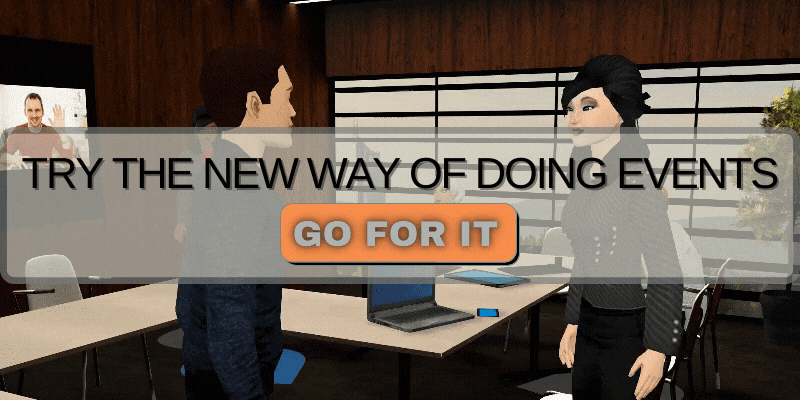 So, how have virtual events created more room for diversity, equity, and inclusion?
When seeking to understand how virtual events have helped, it's important to understand the breakdown of DEI and its importance. Most commonly used in the workplace, DEI is a set of fundamentals on how to co-exist when faced with differences in a given setting (diversity), how to ensure that all processes provide equal outcomes for all (equity), and making sure that everyone in the workplace feels a secure sense of belonging (inclusion). Maximizing the engagement of all participants is a high-priority focus area for organizers and hosts in the virtual event world, especially when working to encourage abundant areas of opportunity for a diverse group of attendees.
At MootUp, we offer virtual event platform services where individuals from various skill levels and backgrounds have the opportunity to participate in, and benefit from, the virtual events that they choose to attend. The browser-based platform provides an opportunity for anyone with an internet-enabled device to log in and join with just a click. They do not need any special equipment, and there is nothing to install or download. No hassle, no gimmicks, just click and join. At MootUp we give special attention to ease of access and use, making sure the platform is intuitive so that individuals from all walks of life are able to be included.
Allowing for this level of inclusivity ensures everyone in the virtual space to feel like an equal. There is no advantage for upper class users and special devices or even for the most powerful being in the world, everyone is able to join and be a part of the event in equal measure. Additionally, unlike other 2D event platforms, MootUp's 3D custom avatars can be personalized and designed to help users express their style and be who they want to be in the virtual world. In 2D spaces, you don't have access to choose these options, which further feeds into the negative narrative of how society can sometimes decide who you are, for you. We strive to step out of the norm and encourage users to highlight their favorite features about themselves and bring those with them into the virtual space.
Each individual can create their avatar with different hairstyles and colors, outfits, skin tones, and accessories to best represent who they are and show off their unique styles in the virtual event space. These avatars also replicate lifelike gestures that allow the art of expression to take place when speaking with another event guest. Allowing freedom of expression, especially for those in underrepresented communities, is an important factor in the real world and the virtual world, and we at MootUp want our attendees to feel confident in showcasing who they are. On our virtual event platform, everyone is equally seen, heard, and has the same opportunities for interaction and networking.
MootUp strives diligently to provide a digital space where all who enter feel represented and seen. When attendees feel valued, respected, and like they are a part of the event, they are more apt to glean the experience they are given. Furthermore this assists in making bountiful industry and community connections, and provides a space where they can comfortably share important values and knowledge to other participants as well. Those who feel included are often more likely to express insights, provide helpful contributions, and share new perspectives. At the foundation of all good business practices, coming together and sharing ideas can rapidly expand a business's adaptation to new practices and from that, further the company's path to grow.
MootUp's Event Platform Showcases DEI Promotion
MootUp has hosted a wide array of different events to promote diversity, inclusivity, equity, and connection, so that participants have a space to gather to share ideas and inspire each other. One particular event that stood out was the powerful message that stuck with us when hosting an online gathering with Dsgnrswrkshp (pronounced Designer's Workshop).
Dsgnrswrkshp is a collective of Black designers and makers that empowers young Black people in the field through programming, events, and social media campaigns. By amplifying stories, sharing ideas, and providing resources, the organization aims to reverse the lack of Black representation in the field of design. Dsgnrswrkshp provided an online gathering for the community of black designers to gather and connect in the virtual space. Kamille Glenn, interior designer and founder of Dsgnrswrkshp, introduced this event by calling in kinship of this community, stating "We believe there is true kinship within design, we've created a space of refuge and healing — a space where we are seen. This space has been curated in support of the Black maker, our journey, our thoughts and our businesses. There's a seat at the table for you, no glass ceilings.[…]We've onboarded fellow Black designers, journalists and vendors to promote our discussion and blur the lines of hierarchy."
This in itself allowed users to be given a warm welcome, and an immediate feeling of belonging. Kamille had then also stated that her mission within this collective was to help foster community and bridge gaps between them, as well as to curate a relatable safe space to stay educated and inspired. She also noted that Black designers only make up 3% of the design population, and makers are a fraction of that 3%. Despite being relatively short, the Dsgnrswrkshp event was highly engaging.
There were 1042 visits in the virtual world set up for the event, 1504 calls across the virtual world for the event, 413 messages sent across the virtual world, and nearly 300 private messages between attendees. Attendees made an average of 40 new connections as a result of the event. Furthermore, these countless important connections were fostered by an abundance of laughter, smiles, and discussion. In these regards, early important steps were made in working to boost Black design participation up from its current 3%.
Glenn later thanked MootUp for the use of the virtual platform, admiring the experience of these conversations through, in her words, "a world of their own." And the power behind these words showcases truly how important it can be to give communities a space to get together and be in a world of their own, to share ideas with like-minded individuals, to connect with members of their own community who experience the same successes, fatigues and hardships, and have the space to connect over that. Having the ability to make these connections factors deeply into the core of human coexistence in a way that fosters inclusivity, adaptability, and most importantly, encourages these groups of people and communities to work together and aim higher, grow taller, and be mutually successful in working towards what they believe in.
In communities that have struggled in finding connection, finding a safe, relatable space, and finding freedom of expression, we at MootUp truly hope that our platform provides a virtual space that encompasses all of this and more. When Kamille Glenn described bridging a gap, that in itself implies the problem. MootUp strives to become a solution that continuously allows groups and communities to have simple creation of a space of their own, promoting all-inclusivity and allowing everyone to feel welcome and open to contribute without fear of judgement or rejection.
For those who feel underrepresented, with big dreams and goals to have your community feel seen, you won't know unless you try. Allow us to help you organize an event and make this progress tangible. If you'd like to read more about our past events, you can check out our case studies, which includes further groundbreaking events such as the first ever Association of African American Financial Advisors (AAAA)'s virtual conference . Additionally, if you feel like you've got the voice, we have the space. You can contact us by calling 347.535.0844, sending an email to [email protected], or scheduling a demo.