In the digitally driven world, virtual experiences have become increasingly more popular. Perhaps it's the lure of endless possibilities that come along with immersive experiences. Virtual platforms, like MootUp, provide a 3D environment that brings users into another world, a virtual world, of their own. Though some virtual reality or augmented reality integrations can feel a bit difficult to use, MootUp has created a very easy to use virtual event platform, where users and businesses alike can create a virtual space of their own. In this virtual space, you can host virtual events from anywhere in the world.
First, let's talk about how user-friendly the platform is. MootUp's digital environment is browser-based, which means there are no installs, downloads, or gimmicks. There is no special equipment needed, unless you want it, besides an internet-enabled device such as your smartphone, computer, or tablet. Having a virtual event platform that is hassle-free is a highly important feature because it harnesses the overall inclusion of virtual attendees. Especially after the 2020 pandemic, we truly understood the importance of human connection and the need to encourage and foster it, no matter where you are in the world. Allowing ease of access to everyone, globally, was a main priority of MootUp's operations when building the virtual platform.
Next, let's talk about customization and interaction. With our virtual event platform, you can create a fully customized full-body 3D avatar to represent yourself within the digital space. Our avatar creator offers a wide range of options to choose from, including skin tones, facial features, hairstyles, and clothing, so you can make your avatar look exactly like you. These avatars are more than just a visual representation – they are equipped with interactive features that make your online event truly immersive. Whether you want to talk, wave, dance, or emote, our avatars allow you to fully participate in the event as if you were physically present. And you can use lifelike gestures and animations to express your emotions and interact with other attendees in real time through features like chat, calls, file sharing,or collaborate on projects using our built-in tools.
In fact, MootUp's metaverse event platform is equipped with a range of gamification tools and opportunities that help keep your 3D event fun, lively, and just as stimulating as an in-person event. These elements are perfect for any type of event, including virtual meetings or conferences for networking or business, virtual fairs and exhibits, virtual product launches, or virtual team building. With games, quizzes, trivia, live Q&As, polls, surveys, scavenger hunts, and more, there are endless ways to keep your attendees engaged and entertained. Plus, as the event host, you can gather valuable feedback and insights from attendees in real time. For example, you can see who interacted with your products, who answered your questions and polls, and how they answered. These gamification elements can be customized to fit the theme and objectives of your event, making it easier for you to stimulate positive connections between your attendees and your brand, business, or purpose, and with each other as well. For example at a product launch, a fair or exhibit or when creating a brand experience, event guests can walk up to your object and interact with it; click to view and explore, watch the object animate. This type of interactive events make for highly successful and memorable experiences for all attendees.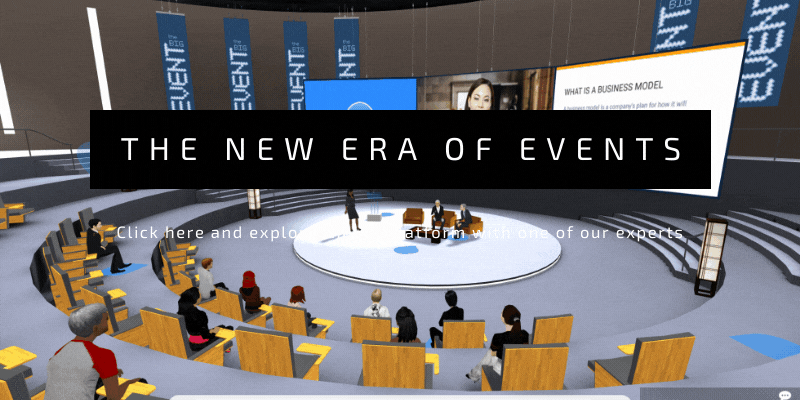 So, if you're going to host events in the metaverse, questions can arise. How do I promote this event? How can I assure that everyone has a good time? How do I make a virtual experience better than a physical event experience? At MootUp, you don't need expertise in event management. Our virtual event platform enables you to effectively plan, promote, and host your virtual event.
Below are several tips for planning and hosting a virtual event:
1. Determine the Goal of Your Virtual Event
Identifying the goal of your event is crucial for effectively planning and organizing all aspects of the event. This involves considering what you hope to achieve through the event. Are you looking to promote a product or service, educating attendees on a particular topic, or building community and connections among attendees?
By clearly defining your goal, you can focus your efforts on the aspects of the event that will be most relevant and impactful for your target audience, and make informed decisions about your content and delivery. For example, if you are a non-profit looking to gain global awareness, you can invite virtual speakers to join your event and have their video streams broadcast to the audience, or they can use hologram avatars to present while attendees watch from the audience.
If you are looking to create a brand experience or host a product launch or other gathering for your business, you can fully customize the environment with your logo and branding elements and colors to create a cohesive look and feel. You can add your logos either as images or interactive, animated 3D objects attendees can interact with.
Determining the goal of your virtual event also helps you set your KPIs and measure the success of the event and identify areas for improvement in the future.
2. Identify Your Target Audience
You can maximize the attendee experience by first knowing and understanding your target audience and tailoring your event to their needs and preferences. And why is this important? Targeting a specific audience has immense benefits, such as increased engagement, higher conversion rates, and more qualified leads.
What type of audience are you trying to reach?If this is not your first virtual event of this type and if you used MootUp before, you may already have advanced metrics and analytics, and valuable data to analyze and work with from your previous events. MootUp also offers customizable real time analytics and integrations with over 100 tools to assist in your process and 3D portals to pre-event experiences you can use to qualify and gather feedback through.
Otherwise, in order to identify your target audience, you can conduct market research to gather insights on their demographics, location, and interests, what devices they are using and their preferred method of consuming content. You can also analyze data on your current audience through social media analytics or customer relationship management (CRM) tools, to understand their preferences and behaviors.
By identifying your target audience, you can create content and mini-games, interactive activities and sessions that are relevant and engaging for them, and use this information to guide your promotion efforts and reach the right people with your event. MootUp's metaverse platform offers amazing opportunities that support your marketing and promotion efforts no matter the type of event you are organizing.
MootUp Pro Tip!
Use persistent metaverse spaces that allow you to offer content and experiences to support regularly reviewing and updating your understanding of your target audience, as their needs and preferences may change over time.
3. Create Quality Content
The content of your virtual event is crucial for engaging and retaining the attention of your audience. MootUp's interactive features, such as games, live polls, surveys, and Q&A sessions, MootUp also offers AI chatbots that can be used as guides or virtual assistants to help engage, guide, or qualify attendees. To ensure that your content is effective, consider the following guidelines:
Make sure the content is relevant and consistent with the goal and theme of your event.
Keep the content concise and focused, avoiding unnecessary or unrelated information.
Use MootUp's AI chatbots to provide personalized assistance and recommendations to attendees, or to collect information and qualify leads.
If you are using speakers or presenters, make sure to allocate sufficient time for them to present and allow for breaks in between to allow attendees to interact with one another or explore the space.
Use MootUp's analytics and feedback tools to gather insights on the effectiveness of your content and make adjustments as needed.
Plan ahead and use a schedule or agenda to ensure that the content is well-organized and the event flows smoothly.
MootUp Pro Tip!
Consider using gamification to add an extra layer of excitement and motivation to your virtual event. By incorporating gamification elements into your virtual event, such as points, badges, leaderboards, immersive team building activities or challenges, you can encourage attendees to participate more actively and create a more fun and immersive experience. MootUp's platform offers a range of gamification features that you can use to enhance your event, such as interactive games, scavenger hunts, escape rooms and options for trivia contests.
4. Promote Your Event Effectively
Attracting and retaining attendees is essential for the success of any event, and this is especially true for virtual events. Here are some tips to consider for promoting your virtual event:
Use the ticketing systems to manage and track attendees and collect valuable data on your audience.
Leverage MootUp's 3D avatar technology and visually rich environments to create promotional materials and content for your event, such as graphics, videos, and social media posts.
Use visually appealing graphics and videos to showcase the immersive and interactive experiences that your event has to offer, such as games, trivia contests, scavenger hunts, and more.
Consider offering pre-event experiences or 3D portals, which are windows in and out of the 3D environment that can be embedded on your website or shared on social media. This can help build anticipation and give attendees a taste of what to expect at the event.
Create a hashtag for your event and encourage attendees to share pictures or videos of their avatars and their experiences at the event on social media using the hashtag.
Utilize MootUp's 3D customizable full-body avatars to promote your event on social media. For example, you can have your speakers or presenters appear in their 3D avatars, posing or interacting with their surroundings in visually rich 3D metaverse environments. This can help create excitement and curiosity about your event and at the same time attract your speakers' followers.
Use MootUp's email invite feature to send out invitations to your event to registered attendees. Offer VIP registration or other perks to encourage early registration and build anticipation for the event.
MootUp Pro Tip: Keep promoting your event regularly leading up to the event date and on the day of the event to remind attendees and attract last-minute registrants.
5. Make the Event Interactive and Foster Human Connections and Shared Experiences
A key aspect of any successful event is the ability to connect with others and create shared experiences. In the virtual world, this can be a bit more challenging, but MootUp's platform offers a range of tools and features to help facilitate this. Here are some ways to foster connections and shared experiences at your virtual event:
Utilize VR breakout rooms or one-on-one video chat features to allow attendees to connect in a more intimate setting.
Incorporate networking activities, such as virtual mingling sessions or ice breaker games, to help attendees get to know each other and build relationships.
Use interactive features like live polls, Q&A sessions, and surveys to gather real-time feedback and engagement from attendees.
Consider incorporating live video streams as video avatars or hologram avatars to bring in guest speakers or facilitate panel discussions, which can create a more immersive and interactive experience for attendees.
MootUp Pro Tip: Include both speaker and user guide for moving around and interacting with the environment, content and each other.
If you're hosting a hybrid event, use 3D portals to unify your audiences and provide an immersive and dynamic experience for both in-person and virtual attendees.
6. Know That MootUp Has Your Back
At MootUp, we understand that hosting a virtual event can be intimidating, especially if you are new to metaverse events or the platform. That's why we have teams of experienced professionals available to assist you every step of the way. Whether you have questions about the platform or need help troubleshooting any attendee issues that may arise, we are here to support you.
Additionally, our virtual event platform offers a range of customizable privacy settings, so you can have complete control over who attends and where they can go within your virtual space. With MootUp's support and these helpful features, you can confidently focus on creating a meaningful and memorable event for your attendees.
To see the types of virtual experiences that we have hosted in the past or to gather some inspiration, take a look at our case studies.
For information about the virtual event software platform we offer at MootUp, or give us a call today at 347.535.0844, drop us an email at [email protected], or schedule a demo.