We can help you choose the right solution, even if it isn't MootUp
We know each case is different, and we'd rather recommend a competitor to you that may be a better fit for your organization than try to hard sell you on MootUp. So here are some alternatives you might like to consider.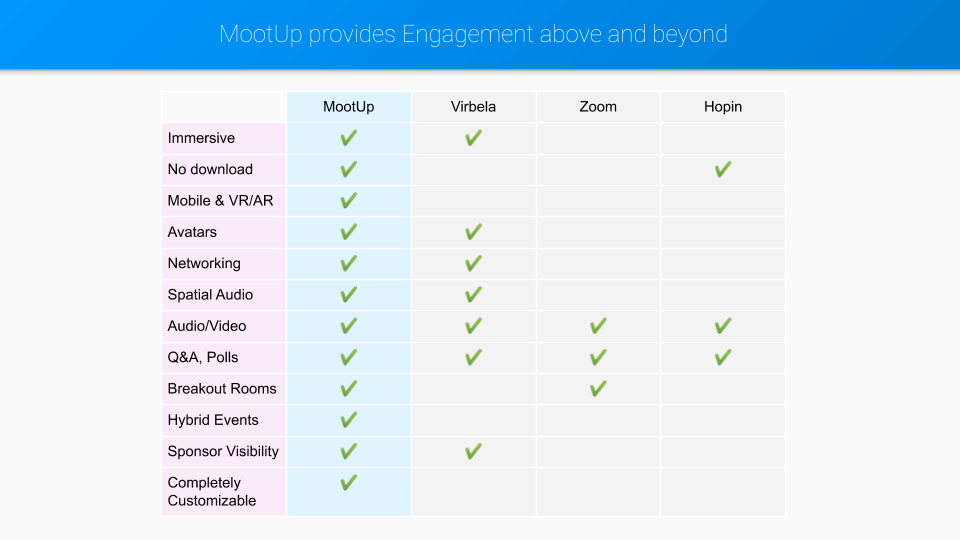 Build a custom solution using Unity or Unreal
Game engines allow you to create 3d environments and deliver them as apps or in some cases in a browser. Unity is probably the most popular game engine and has an export to web feature that will work on laptop and desktop. Unreal creates high quality visuals but requires a distributed app and a reasonably powerful device to enjoy content. Both have marketplaces and components you can buy to build out solutions more quickly.
Looking for cheaper options
MootUp provides a fully hosted, best-in-class 3D events platform. It has the widest audience reach, loading in less than 10 seconds in any browser on mobile, tablet, laptop or in a VR/AR headset. No application installation by attendees is required.
The MootUp experience is intuitive for users leaving you to focus on your event rather than tech support. MootUp includes integrations with Zoom, Slack, Teams, Webex, EventBrite and more. The MootUp platform also allows you to edit, customize and white label the complete experience. However if you are looking for a more affordable or app based options check out these alternatives Altspace, Virbela, Breakroom, Engage, Hyperfair
Looking for free options
Mozilla hubs is an open source Mozilla project that explores communication in VR. "The experience that is available today is an experiment, but the technology that powers it can be extended in exciting ways."
Looking for all-in-one solutions
There are a number of 2.5D and 2D (video) solutions available. 2.5D solutions are essentially a mini website with chat or video conference features, checkout the likes of 6connex, meetyoo or vfairs. For 2D video and chat only solutions take a look at on24, hopin, cvent, brella, hubb or pathable.