Virtual and hybrid events platforms allow event planners to easily host immersive and engaging experiences for clients. When the Maspira Groupe was looking to adapt their virtual events strategy in the wake of the pandemic, they had a very specific set of demands. We'll hear more about those requirements shortly.
Background
The Maspira Groupe is a strategy consulting, storytelling, and innovation design firm which serves clients in various sectors: SaaS, cybersecurity, robotics, VR, and luxury and consumer products. The firm is run by Mel Lim, an entrepreneur with a history of turning technology startups into multi-million-dollar global brands. Her current and past clients include Semperis, Axure, LeEco, Tata, Intel, Comcast, London Jewelers, Zeeto, and Neato.
When the pandemic occurred, the new normal meant The Maspira Groupe was left with the challenge of mounting a thought-leader event in the virtual world.
Determined to discover more about how technology helps companies and people create more meaningful experiences, The Maspira Groupe's gathering took the "metaverse" as its theme. The event wanted to examine how virtual spaces could move beyond the square-boxed Zoom screen and create an immersive, newly-imagined world where people can actually walk up to each other and say "hi!", dance, sing, chat, play, and laugh.
Amongst other topics, The Maspira Groupe wanted to discuss with event participants the possibility of virtual campuses for corporations where employees can move freely along halls and bump into one another as they do in conventional reality.
The event had ambitions to raise awareness about VR forums, and it was important that it took place successfully.
"When it came to looking for a virtual events platform we had a list of features and criteria," says Mel Lim.
"We wanted a service with cross-platform and cross devices capability. We needed the ability to host an event for 2,000 plus attendees for multiple days. There needed to be portals with break-out rooms. We wanted multiple streaming of content on multiple media boards/screens. And we wanted the ability to meander through space. It couldn't just be static."
Idea
On a recommendation from their client, Maspira Groupe reached out to MootUp, an interactive and engaging virtual and hybrid events platform that helps people and organizations virtually meet and create communities.
In discussion with The Maspira Groupe, MootUp highlighted some of the advantages of its platform:
No Downloads: The firm is distinctive in its sector because it doesn't require a download, any installation, or a VR device.
Works on all systems and devices
Engagement first: the platform has been designed with event engagement in mind. For example, participants can design and dress-up their avatars, and there are options for gamification.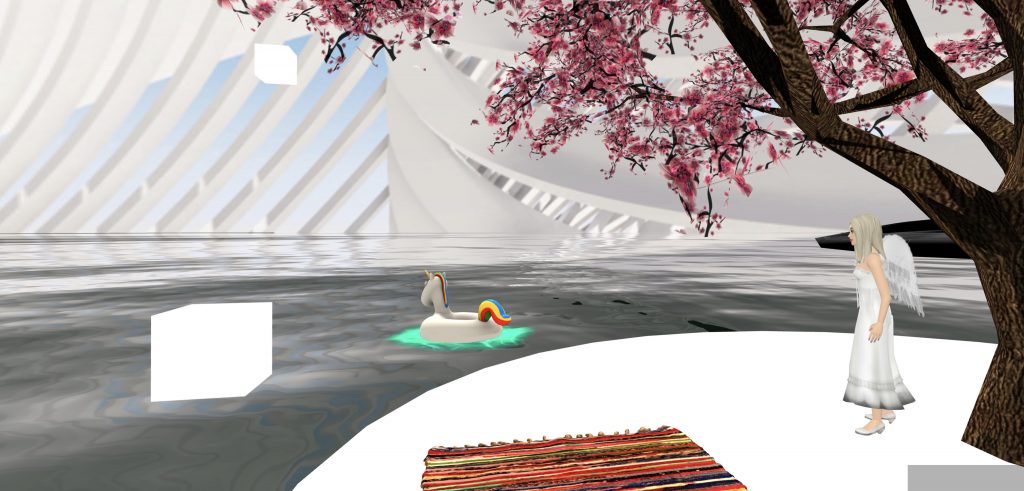 Results
With the world struggling, in the midst of a pandemic, The Maspira Groupe held Spring Break on Mars in 2021.
With the help of MootUp, the event was a tremendous success. With rooms such as the Ethereal Hall and the Astro Lounge, the occasion had a supernatural feel. Leaders, innovators, and dreamers came together around the shared belief that the future for business lies in virtual reality and the metaverse.
People from around the world entered MootUp's virtual world. Participants enjoyed fun networking activities based on interactive games. They were inspired by sector leaders and disruptors to continue to achieve despite the challenges of COVID-19.
Maspira Groupe CEO Mel Lim was delighted: "I loved that users could choose and dress their own avatars. I loved the multi-levels and portals (spaces within worlds), and the audio zones [which let attendees talk privately with partner representatives in virtual booths and to other attendees at social networking tables]."
Event feedback
It wasn't just Mel Lim who enjoyed the event. Participant feedback was overwhelmingly positive.
"As usual, Mel and her team deliver one of the most memorable events. [It's] SEXY, beautiful, and simply out-of-this-world!"
"It's as though I'm sitting next to you and we are having a 'real' conversation and I'm able to give you a hug and do a webinar together!"
Takeaway
In 2021, The Maspira Groupe came up against the enormous challenge of holding an event to celebrate the power of virtual reality in the middle of a pandemic. With a strong background in technology, CEO Mel Lim was very clear about the components a virtual events platform needed to provide. Fortunately, MootUp was on hand to deliver. When asked on a scale of 1 to 10 (where 1 is terrible and 10 is excellent) how she would rate her experience, Mel Lim was unequivocal, "ten", she said.
If you have a vision and want attendees to rave about your events we have the expertise to help you create it. Let's chat! Book a demo with one of MootUp's experts today!
MootUp has been offering solutions to all virtual hybrid and metaverse event needs and ensures you deliver exceptional virtual and hybrid event experiences across smartphones, tablets, computers, and modern VR/ AR headsets, laptops, and tablets. To explore our platform, book a demo today and have your event up and running in just a few clicks.
For the latest platform features, as well as XR and virtual event news, please connect with us on social: