TEDx is a program of local, self-organized events that bring people together to share a TED like experience, and TEDxLeuven is an independently organized TED event in Leuven, Belgium. On December 12th, Leuven AI Forum (LAIF), a non-profit organization connecting students, academics, industry experts and policy makers around important topics of AI policy and ethics, will be putting on their first virtual event: TEDxLeuvenSalon.
We have entered the new decade, this past year, with a great many problems. And while it sure is troublesome, it is not completely unprecedented. A lot of hot topics from today's world have shaken our society before. A century ago, the world experienced a decade of change, prosperity, turmoil and recovery. And we call this era The Roaring 20's.
During the TEDxLeuvenSalon event, attendees will get the chance to look into our possible future by drawing parallels with the past, to this special and turbulent era. Expert speakers will touch on subjects like global health, equality movements, populism and more.
Robin Amsters, who is part of LAIF and on the TEDxLeuven team, describes his team's process in searching for an event platform that could successfully work for an event this large, saying "We were looking into a few platforms (altspaceVR, mozilla hubs), but didn't really find what we were looking for. We liked some of the features and had fun using them, but we didn't see them scale well for a large event. So we kept on looking and eventually found MootUp."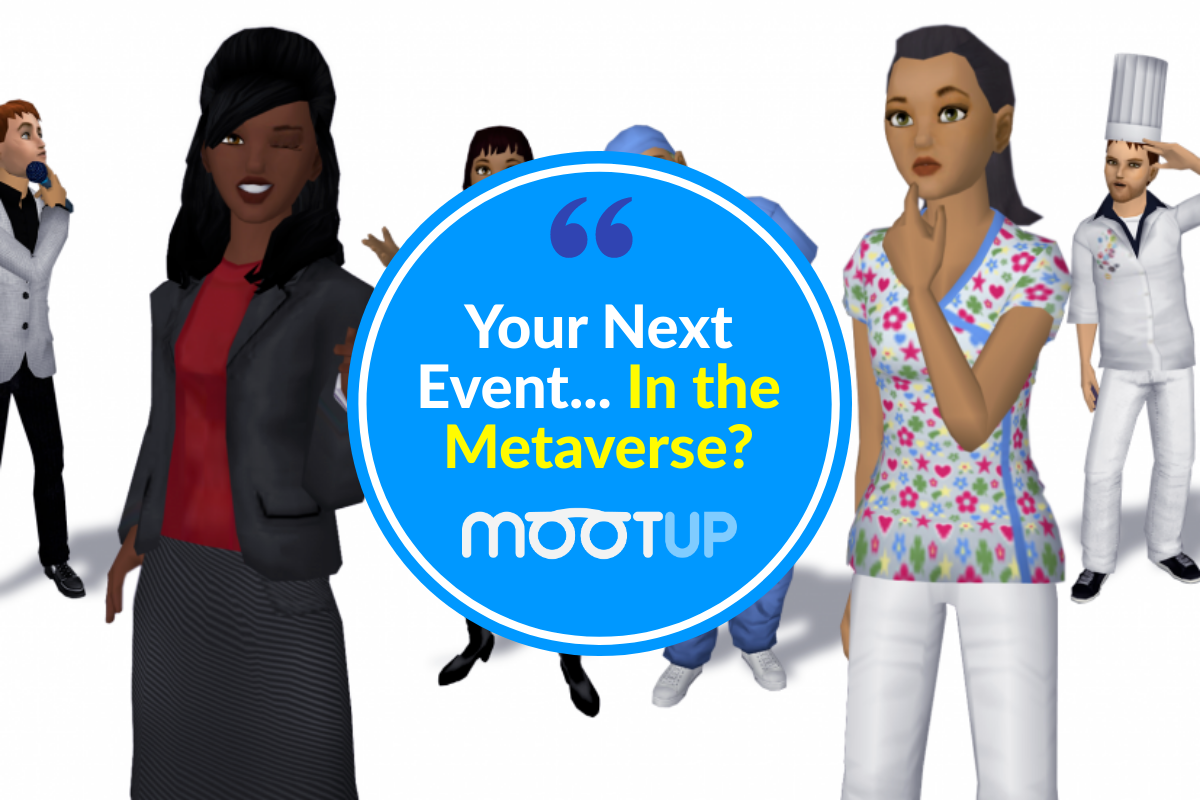 And we're so glad you did, Robin!
Why MootUp?
Robin had stated early on in the decision process that LAIF wanted to do something special and immersive for the event, as TEDx is meant to be inspiring and to push boundaries. Because of this, he was sold on the idea of having the event be accessible in 3D.
Robin considered MootUp would work best for this event, mentioning "MootUp is very feature-rich compared to other 3D platforms we looked at. We have all the tools we need for hosting and moderating, but also have many customization options", giving attendees and sponsors a variety of options for actions and engagement, similar to what they would get if they were there in person.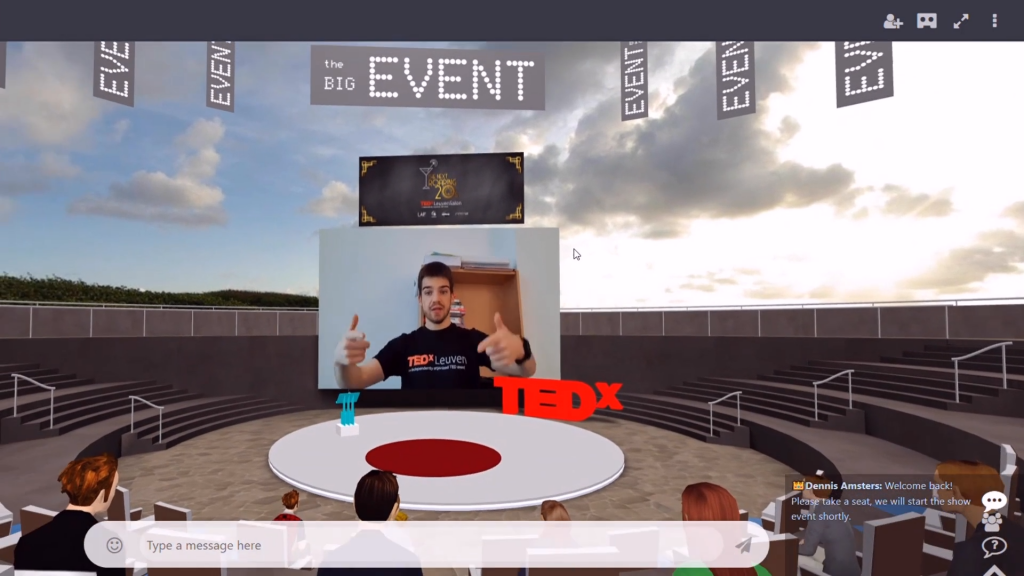 With the pandemic still looming, associations and organizations have needed to take their events online, and this is no different.
Some of the main challenges the TEDxLeuven team expected to have were how to provide value to event sponsors and partners, making the user's experience similar to what an attendee or sponsor would get in real-life, and creating community/connection.
The MootUp team was excited to work with the TEDxLeuven team to tackle these challenges and show off several features that would benefit event attendees.
Challenge 1: Provide value to event sponsors and partners

Keeping the focus on a great user experience is one key thing to have in mind when planning a virtual event. Accessibility, easy customization and multiple intuitive communication channels are also important.
Customization allows participants to stay true to their org's mission by using their own branding and adding their unique flair to the event, which, in turn, allows them to educate the public. Easy and multiple communication channels will facilitate and encourage conversations about important topics for human development and knowledge.
A goal of ours was to generate contributions from attendees and sponsors to cover event costs, in order to produce a model for managing and predicting future event budgets.

One feature that proved to be a great solution for this is spatial audio zones, as they allow for 1:1 connection and conversation where organization members can talk privately with partner representatives within a virtual booth. Or even allowing attendees to simply engage with each other. VIP spaces can also be created this way, enhancing the exclusive and private feeling during the experience.
For accessibility, our team made it pretty easy. Using only a browser link the spaces are fully accessible from any device (phones, tablets, computers and VR headsets), and are easy to navigate either solo or with the help of bots that can answer any questions and offer guidance..
Another great feature that provides value and exposure to sponsors is the ability to add visual signage to a space. Branding can be added to avatar clothing, exhibition booths, and any other item within the 3D space, including animated items. Moreover, MootUp offers the ability to create and use AI chatbots the attendees can interact with. And by using the built-in gamification system, all engagement (actions, answers, choices) can be shown and tracked in reports.
Challenge 2: Virtually deliver an engaging, real-time streaming experience

Because the MootUp platform is intuitive and responsive, providing interactivity and engagement that mimics a physical event, there is less time needed to try and figure out how the platform works and more time to enjoy the event.
Robin mentioned how difficult hosting online events can be, "It is hard to get people excited about an online event […] and for a livestream, people are easily distracted. They have the entire internet at their fingertips! Even if they stay, you risk them zoning out. In a 3D environment, people can walk around and decide what they want to do during breaks."
What is the solution for this? Lots of activities and options for engagement for the user, making it as close as possible to what the in-person experience would be like. For example, high quality pre-recorded video synchronized for playback to all participants and live Q&A that can integrate with video streaming platforms such as Wowza. There is also a chat feature that allows users to communicate in real time.
Dozens of templates can help create the perfect environment for unique experiences, imitating where the in-person TEDxLeuven event might've been held if we weren't for the pandemic. The 3D content library allows for endless customization, making it possible to have your space filled with decorations, podiums, 3D statuettes, virtual champagne, even fireworks – all doable with the click of a button!
Challenge 3: Create Community and Connection

How do you hold a TEDxLeuven event and create community and connection among attendees?

One solution to this is MootUp's breakout rooms. They can be customized and configured to allow for specialized activities, and for keeping people connected in smaller groups.

Avatars also allow for self-expression, connection and additional interactivity. They increase the sense of presence and belonging. The platform includes a library of scripted dance moves and thousands of expressive gestures and animations to provide that extra human-like aspect and help increase the level of interaction for the user.


Conclusion

We are very excited to be hosting TEDxLeuven in the MootUp 3D event platform in December.

If you're facing similar challenges with your virtual events, please reach out to us. You can experience the platform live and see how it can solve some of those challenges and deliver memorable experiences. Book a demo with us at https://mootup.com/virtual-events-platform/
For the latest platform features and XR and virtual event news please connect with us on social