MootUp, the world's most powerful 3D virtual and hybrid events solution for the metaverse, has partnered with Hubilo to integrate its VR experience onto the virtual events.
Based in Phoenix, MootUp is the first metaverse integration for Hubilo allowing the virtual events software's users to access and host immersive events in the metaverse. MootUp's powerful virtual reality platform can be accessed on any device with no VR headset required, making it one of the most accessible metaverse applications available.
We have built a virtual reality platform that can be accessed by almost everyone, making it ideal for event organizers and businesses that want to experiment with metaverse experiences without alienating attendees that don't have specific devices or VR headsets.– Danny Stefanic CEO and founder of MootUp.
Hubilo has integrated several leading technology applications onto its platform to enhance its users' event experience. MootUp is the first metaverse integration, providing Hubilo's users with virtual reality event experiences at the click of a button using their own unique avatar.
Hubilo's virtual events software is world-class, so the business' decision to integrate MootUp as the only metaverse solution is excellent," said Danny Stefanic, CEO and founder of MootUp.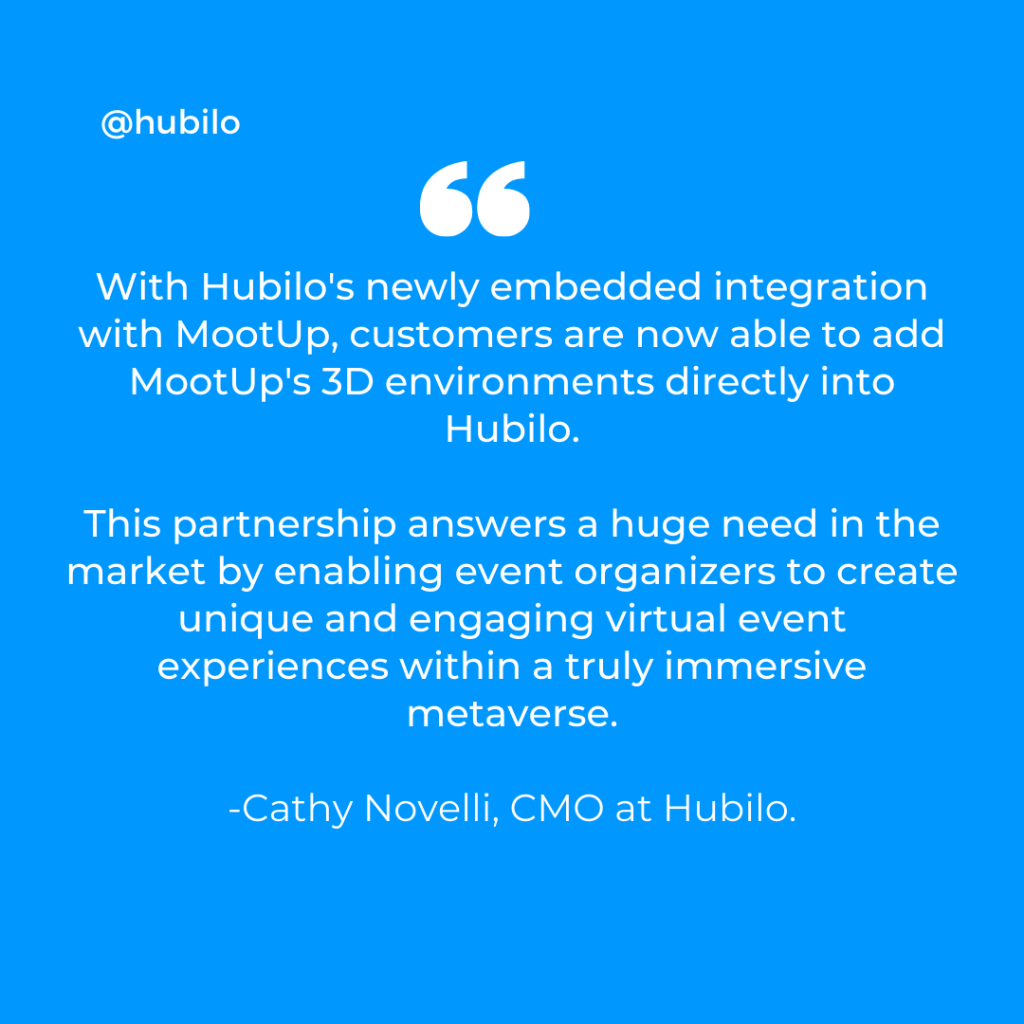 MootUp was founded in June 2020 by Danny Stefanic, creator of the original web metaverse and pioneer in the Metaverse for Business. The platform allows organizations to create their own virtual office, host virtual conferences, and run large exhibitions in the metaverse.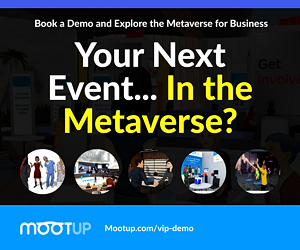 MootUp is powered by the soon-to-be-launched Hyperspace Metaverse Platform. Hyperspace is a 3D Engine, the first native web 3.0 Metaverse for Business platform. It offers a suite of customizable tools, which includes Learnbrite – a platform that allows the creation of 3D simulations, experiences, learning modules, micro-learning, and instructor-led training, and Universal Avatars – a service offering globally unique WebXR avatars for use on the internet.
With Hubilo's newly embedded integration with MootUp, customers are now able to add MootUp's 3D environments directly into Hubilo. This partnership answers a huge need in the market by enabling event organizers to create unique and engaging virtual event experiences within a truly immersive metaverse. -Cathy Novelli, CMO at Hubilo.
The integration was announced at the Event Leadership Institute this week (April 20th).
When we set out to plan our Innovation and Engagement Summit, the goal was to provide attendees and learners with insights into key technologies, ideas, and methodologies for making their events more impactful.-Howard Givner, Founder & CEO of Event Leadership Institute
"Danny Stefanic was an obvious choice for us. A renowned figure in the metaverse sector, he was able to integrate MootUp's metaverse technology into the platform, providing a seamless, engaging, and interactive experience.
"I'm excited for our learners to experience the metaverse through the MootUp platform and witness its untapped potential."
About MootUp
MootUp is the first 3D virtual events and meeting solution for the metaverse, powered by Hyperspace, the Metaverse for Business platform. MootUp provides organizations with the ability to create virtual worlds to host meetings & events, communities, and remote work in a truly immersive 3D environment. The virtual reality technology can be accessed across devices, without headsets or downloads, and offers partner integrations including Zoom, Hopin, Teams, Slack, and more.
Customers already hosting events in the Metaverse for Business include TEDx, United Nations, Novartis, Dell, and thousands of other brands finding new ways to create shared experiences to enhance human connection.
About Hubilo Technologies Inc:
Hubilo is the event professional's event platform for live, hybrid, and virtual events. Founded in 2015 to revolutionize engagement at in-person events, the company makes it easy to bring people together anywhere, anytime. Hubilo's powerful engagement features, live + dedicated client experience team, and custom branding tools have helped create over 12K events and counting. Headquartered in Bengaluru and San Francisco, Hubilo's 400+ employees are dedicated to enabling the world's most important events.