Turn-key Metaverse Events
Customize your very own virtual world in a few easy steps and deliver customer value faster than ever before with MootUp OnDemand. MootUp OnDemand is a turn-key metaverse platform that allows organizations to quickly launch their own branded virtual worlds. Use it as a meeting room, a global workspace, or even a marketing tool. It's easy to set up, easy to use, and easy on the budget.
CUSTOMERS ALREADY EXPLORING THE METAVERSE

MootUp OnDemand gives you the power to create a persistent 3D virtual world to host events and meetings in a truly immersive VR experience that is still accessible on any device from phones, tablets, computers, and VR and AR, directly in the browser. The easy-to-use enterprise metaverse is here. A self-service platform with an intuitive user interface, avatar guidance to assist with setup, and a comprehensive academy full of solution resources to ensure your success in the metaverse.
Unlimited opportunities to engage your audience
MootUp OnDemand gives you immediate access to your very own persistent 3D virtual world. Enterprise metaverse provides flexible options to tailor your experience to fit your business needs.
To induce a higher engagement with your audience, plan your event audience first. Your virtual audience is actively participating from their mobile or desktop devices, computers, tablets, and VR devices. This means they can talk, share, like, comment, and much more. MootUp OnDemand is a browser-based enterprise solution that works across all devices, web, mobile, and VR headsets with no downloads, no coding, and unlimited opportunities to engage your audience in a new dimension.
Our virtual events platform helps you deliver customer value faster than ever before. The MootUp OnDemand native authoring tool allows you to fully customize your 3D virtual world in a few easy steps. First, create your virtual world and add virtual spaces to it. Design your experience, activate engagement features, and you are ready to invite your audience! MootUp OnDemand offers a plethora of key features, one of which includes brandable templates that can help speed up the design process using customizable templates so you can make your venue look exactly how you want it, with ease.
Additionally, users love the ability to customize their avatar and toy with their virtual appearance. The digital platform can create universal avatars with over one billion style combinations and gestures so attendees can create their own unique digital twin that can express emotions and communicate with others.
In terms of ease of access, MootUp allows for plenty of integration options so different platforms can communicate easily with each other. Integrations such as Zoom, Microsoft Teams, Sketchfab, BlueJeans, and many other tools are available to be regularly integrated with MootUp to ensure that events run as smoothly as they possibly can. As an additional factor to facilitate the integration process, multi-device connectivity allows individuals to connect from any device, mobile, desk, and even virtual reality headsets via a simple link. No downloads, no installations, no hassle.
The metaverse is the ideal venue for gamification, which is an effective tool for engagement between employees, customers, and event attendees. This creates more connected and dynamic communication and collaboration, along with greater creativity of expression in the virtual space. The more that event participants feel included, the more likely they are to interact and engage with event sessions, games, quizzes, and more. You are also more likely to receive more detailed feedback, reports, and analytics from your guests when they have fully immersed themselves in the interactive guest experience and have really taken the time to enjoy and explore all of the digital assets of the 3D space.
Through MootUp OnDemand, you have virtually unlimited ways for participants to create their identities in the metaverse through customized full-body 3D avatars. Connecting with customers and business associates is a creative and fun experience through our enterprise metaverse platform. Additionally, our virtual platform allows the space and technology for you to be able to also host different types of events like conferences, trade shows, virtual product launching, team training, and more. For an event like an exhibit or a product launch, you can actually integrate your product or exhibit item into the digital space and allow viewers to look around and interact with it as if they were at an actual event and walking around the exhibition space. Our enterprise solutions are designed to help businesses grow through engaging experiences.
Some of the powerful applications MootUp OnDemand provides for conducting metaverse meetings include:
Conferences & Tradeshows
A virtual conference or tradeshow is an excellent way to extend the reach of your event and initiate viewers and buyers from across the globe, capitalize on the ability to monetize virtual spaces & goods and presell 3D floor plans.
Meetings & Collaboration
Virtual meetings never have to be the same again. You can connect your team members remotely, globally, and virtually through our 3D platform. Your colleagues can participate in brain-storming sessions, team building games, and events, and successfully interact and share ideas just as they would if it were a physical meeting. Video streaming and screen sharing is also accessible if there are keynote speakers or collaborators that wish to share what's on their end of the screen. Engage with leadership more openly as your company wanders around and perfectly utilizes your personally branded space.
Social Gatherings & Team Building
Looking to host an informal event outside of just your business? Our 3D space enables you to host events that can promote culture, act as a company outing for team building, and entertain your crowd. Comedy shows and concerts are another fun way to engage a crowd from the comfort of their home. Think outside of the confines of a venue, and anything you can do within those walls, you can do within your virtual space using MootUp.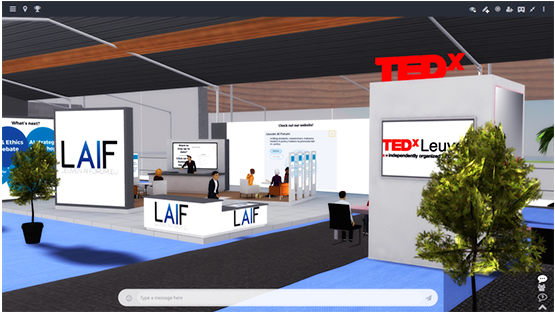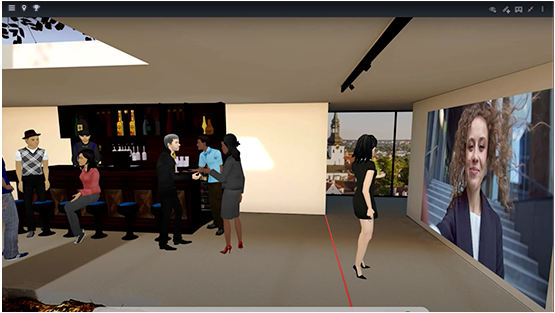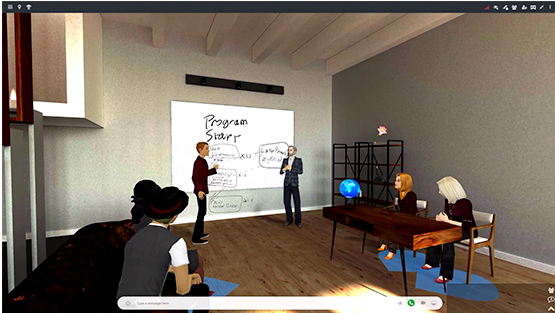 A platform built for scale and speed
Our enterprise metaverse XR solution works across all devices (web, mobile, and VR headsets) with no downloads, no coding, and endless options to drive interaction in a new dimension. We wanted to incorporate an all-inclusive, hassle-free platform for every user. Metaverse for business has never been easier and more productive than with MootUp OnDemand.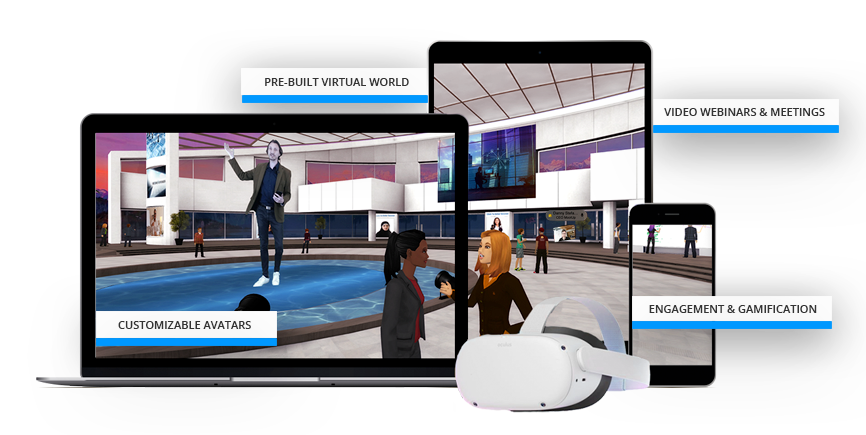 Customers already hosting events in the metaverse
Take your events to new heights with MootUp OnDemand and join the future forward brands already exploring in the metaverse.


Join The Enterprise Metaverse Today
Sign up for the MootUp OnDemand free trial and begin hosting Metaverse Events today.
Sign up for a free account using your work email and receive access to your very own 3D virtual world.
2. Take us for a test drive
Create unique 3D spaces and invite colleagues in for a hands-on 3D experience.
Identify the size of your metaverse community and choose an initial use case for your business