Earlier this month MootUp hosted the TEDxLeuven team's first 3D virtual event, "The Next Roaring 20's". TEDx is a program of local, self-organized events that bring people together to share a TED like experience. TEDxLeuven is an independently organized TED event in Leuven, Belgium, which is in conjunction with Leuven AI Forum (LAIF). LAIF is a non-profit organization connecting students, academics, industry experts and policy makers around important topics of AI policy and ethics.
Robin Amsters, who is part of LAIF and TEDxLeuven, mentioned his team struggled with where and how to host their event, given the lockdown state we're all under. They wanted to provide an experience where attendees could do all the same things at the virtual event as they would have if the event was held in-person.
After looking into various VR options, they decided on MootUp. It was the closest to what an in-person experience would be like. This due to the multitude of features that work to provide the level of immersive experience they were after, with lots of options for engagement.
Important features the TEDxLeuven team wanted included in the event were branding for sponsors, interactive opportunities to keep users engaged, to deliver a real time experience, and potential for community and connection.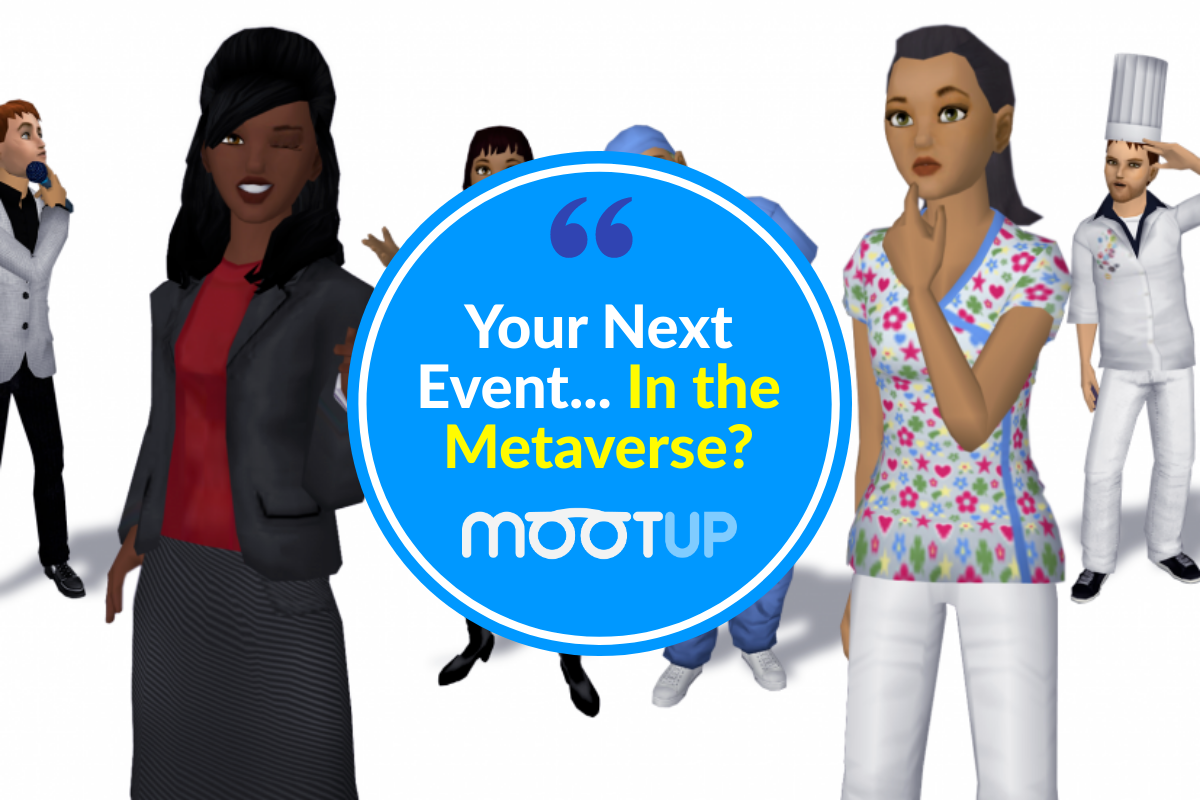 We were excited to work on these features to provide the best experience possible for users and attendees of this event.
Section 1/Challenge 1: Provide value to sponsors and partners
How did MootUp provide value to event sponsors like LAIF? What delighted partners? Focusing on creating great user-centered experiences, and offering multiple opportunities and channels for interaction and connection. Sponsors were particularly interested in the added branding opportunities, as well as "the possibility for real interaction with attendees through the digital booths, and the ability to position yourself as an innovative company by participating in this completely new experience", Robin mentioned.
Some of the solutions and options offered by the virtual platform are audio zones, branding customization, accessibility, VIP spaces, multiple communication channels, and more. Spatial audio zones were the most used feature of the event, second only to the video presentations on the main stage. The spatial audio zones allowed attendees to talk privately with partner representatives in virtual booths and to other attendees at social networking tables.
Easy customization options allowed for LAIF branding in the virtual booths, as well as decorations, podiums, virtual champagne, the works. When asked about creating in the virtual event platform, Robin said "I had a ton of fun building the spaces and I was almost sad when we were done. Even on the day itself I was still adding little things here and there. The main advantage here was the huge customization options… you are only limited by your imagination."
The TEDxLeuven team needed a way to make the presentation engaging for people and to stream in real time, without the need for attendees to reload or login. The perfect solution to this, MootUp spaces are accessible directly in the browser, by phone, tablet, and all modern VR headsets. Simply by clicking a link.
Bots were also used to guide and assist attendees during the event. Metrics including all the interactions and engagement with bots and other elements in the space. Metrics such as number of attendees, number of visits to a space and time spent in the space, number of times a conversation was initiated and for how long, amount of messages sent by users. These among other key insights, were tracked in reports.
Section 2/Challenge 2: Virtually deliver engaging, real-time streaming experience
There are more opportunities to "zone out" and get distracted while attending any average virtual event, webinar or meeting. Plus with the all too known by now "Zoom fatigue" as well as COVID pressures, hosting a successful virtual or online event is a difficult mission. So how do you keep your audience and attendees engaged when attention comes at a premium?
Robin mentioned how new this experience is, and that one of the biggest benefits of hosting the event in a platform like MootUp, on top of the immersion and gamification factors, is the novelty of the experience. "It's so hard to stand out with online events", he stated, "but I think we succeeded in doing just that. We found that when we actually showed what we were planning, everyone got a lot more excited".
Attendees were also kept engaged by using video conferencing such as Zoom with added VR benefits. MootUp has built-in streaming capabilities including a deep integration with Zoom allowing streaming to and from the 3D environment. The platform also offers the option to use pre-recorded video synchronized for playback to all participants.
The amount of activities and engagement opportunities available for attendees/users was another aspect that Robin loved. Like gamification, the chat feature, live Q&A, video integration, and different spaces to explore.
The gamification feature "gives a whole new element to a virtual event, and gives people an incentive to participate actively, rather than passively observe. It was the first time we used a platform with that option, and we had a ton of fun with it", Robin said, "ranging from basic stuff like visit partner websites, or click on a video, all the way to a scavenger hunt- It was a really unique way to offer something interactive during the breaks, on top of the networking".
Section 3/Challenge 3: Create Community and Connection
How did we create community and connection among attendees when everyone is stuck at home and isolated from one another?
For one, MootUp's breakout rooms were configured to encourage networking and group interactions. They helped create a private feel and connection between users. Robin noted that "anything with a networking component is so much better in 3D", because the interaction options are so similar to what the in-person experience would be like. He mentioned " if you want something that is more interactive, or offers a more immersive experience, such as TEDx, conferences, etc. MootUp would be a better option" when compared to similar platforms.
Avatars allow for a high level of self-expression and additional interactivity. Having a virtual self increases the sense of presence for the user, as well as the sense of belonging and potential for connection. The interactivity abilities and engagement levels from users were enhanced by the library of thousands of expressive gestures/animations available and fun dance moves.
Conclusion
The TEDxLeuven and LAIF team had looked at many platforms. None of them however gave the ease of setting up the virtual event as well as engagement and design options that MootUp provided. When asked what surprised him about MootUp, Robin responded "Just how much you can do with it. We've used some other VR web VR platforms but none as feature rich and expansive as MootUp". Robin and his team were able to fully create their own personalized environment and the attendees found the platform fun and easy to use.
We look forward to hosting another TEDx event in the virtual 3D event platform some time soon.
If you're hoping to solve some of these challenges for your next virtual or online event, please reach out and let us show you the platform. We'd love to work with your team to create memorable and user-centered experiences. Book a demo with us at https://mootup.com/virtual-events-platform/.
The TEDxLeuven team left behind a couple guides that are helpful to any TEDx organizer or other exhibitor who wants to host an event – all downloadable for FREE. The TEDx team's plan for the event is included, containing info for moderators, detailed timings, task list per team member and FAQs. An exhibitor guide is also included, showing what the TEDx team sent to their partners, plus a speaker guide with do's and don'ts. You'll find a document that takes exported ticket sales from Eventbrite and formats the data to easily use for the 'bulk invite' feature in MootUp, too, and a guide of useful commands and links.