The American Legion was chartered by Congress in 1919 and is part of one of USA's largest service organizations. Their activities range from lobbying for better care for veterans at the national level to community programs at the grassroots level.
The American Legion realized one way to make an impact and build a brighter future was to empower the country's youth by creating a program that empowered young people to be participants in creating the country's future, not disenfranchised by-standers. As Roosevelt once said, "We cannot always build a future for our youth, but we can build the youth for the future." As a result, the Boys State program began in 1937 to serve as a government and politics-based leadership and citizenship program for high school juniors.
Every year hundreds of young men take part in a highly engaging six-day educational program and replication of local political processes and election events.
However, when the pandemic hit, TN Boys State was forced with a choice to adapt or cancel. In fact, most of the states apart from one or two did cancel in the hopes that 2021 would give them a chance to go back to normal.
When they realized that wasn't going to happen, TN American Legion and their host, Tennessee Tech University decided not to cancel again. How were they going to host such an interactive and fast-paced program virtually?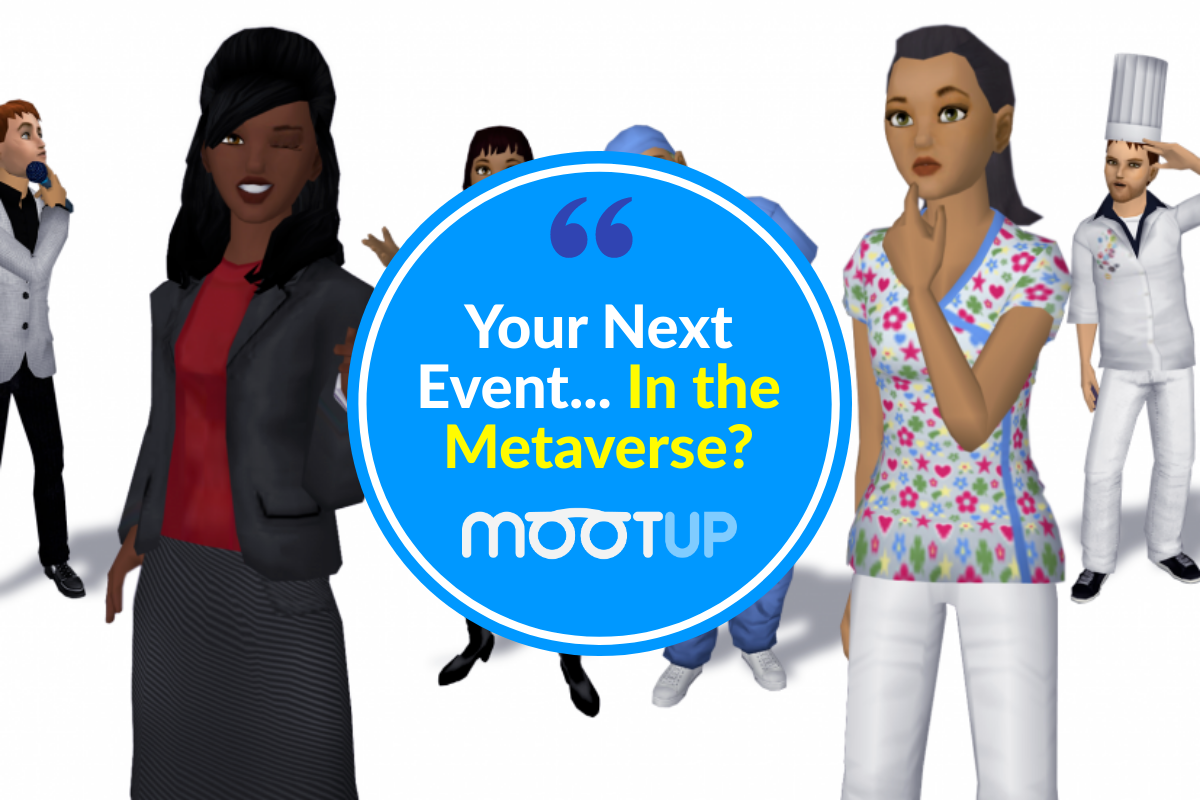 "Could a virtual event platform give us the flexibility to cover so many rewarding interactions?"

Precious Edmonds Boys State Technology Coordinator & Administrative Associate at Tennessee Tech University
The TN Boys State Program faced many challenges in going virtual, such as making it possible for the delegates to campaign for mock elections, building camaraderie between city members, the ability for delegates to engage during presentations with each other and the presenters, and limited options for city competitions (to name a few).
TN Boys State staff turned to internet searches and some of their sister programs. Two of which actually used virtual event platforms that seemed promising at a first glance. However, they quickly realized those solutions greatly limited the interaction between delegates while also impacting how the program could be delivered given that Boys State is a highly interactive and engaging program for all involved.
A few other barriers they faced were security, accessibility, and scalability. All the platforms they reviewed required downloads, which was out of the question when your attendees are geographically dispersed and will be accessing the program from their personal or school devices.
After reviewing multiple platform options they finally came across MootUp. According to Precious Edmonds, the TN Boys State Technology Coordinator, Mootup quickly jumped at the top of the list thanks to features such as:

•No downloads required
•Compatible with any device, phone, tablet, laptop, etc
•Unparalleled engagement features. Such as 3D and video avatars, live video and voice chats (not just writing), separate 3D interactive rooms for delegates to go to and come back to the convention center to reconvene, just like they would have in real life.
•The ability to have live audio conversations instead of using just a messaging service.
•Classes had been virtual for a year, and the boys had a severe case of zoom fatigue. However, MootUp's platform seemed fun and engaging, something the boys would enjoy.
•The ability to use the built-in gamification and metrics features to quickly tally votes and ballots
The next task for TN Boys State staff officials was to come up with a physical setup that was still compliant with the social distancing guidelines. Normally, the entire event took place on the Tennessee Tech campus. This time it was clear that the delegates would connect via the platform from their home or school. But what about the counselors? Would they log in from their homes too? How would a small team of organizers manage to provide support to those that needed it? They simply did not have the capacity or manpower to provide that level of remote guidance.
This is where the hybrid model came to the rescue. The TN Boys State headquarters would be at Tennessee Tech as usual. Senior Counselors were placed in a large event space and provided with workstations that were spread out to follow social distancing guidelines. Most came with their gaming headsets (although it must be noted that this is not a mandatory requirement for MootUp). The headsets helped keep background noise to a minimum during individual sessions and if any counselor did need assistance or help then that could be given without disturbing the other counselors.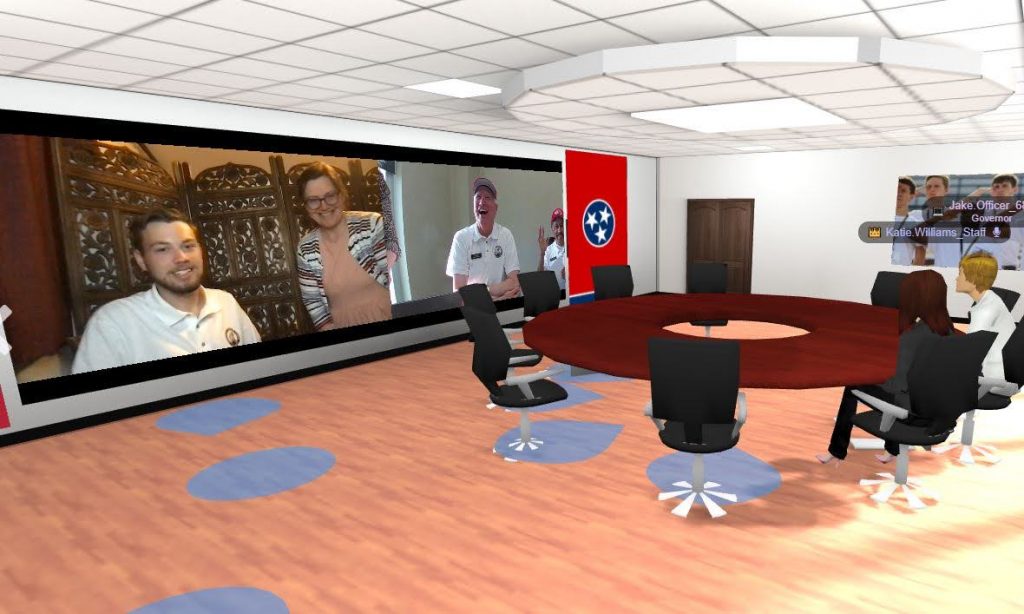 The onboarding process for both the delegates and the organizers was smoother than expected. However, there was still doubt around how a highly interactive program of this magnitude and complexity would be delivered virtually.
Well, the proof of the pudding is in its eating, as they say!
After some teething problems on the first day, which would be expected, the event ran smoothly and the next four days were a flurry of activity. The TN Boys State staff were delighted by MootUp's customer support regarding response time and help with any issues as well as documentation put at their disposal for the delegates and staff. All of the support provided caused the virtual 'help desk' created within Mootup to be rarely needed.
So, what was the verdict? The event was a massive success! This was evidenced by a high retention rate of 85%!
This figure was surprising to the organizers who mentioned that it was equal to regular in-person events when the initial thought was that it would be much lower.
"It was absolutely amazing!… Our boys, our delegates were able to form relationships in a virtual atmosphere when we thought that was going to be impossible in a virtual Boys State."

– Jason Murphy- Chairman Tennessee Boys State & Member of the American Legion
The delegates loved using MootUp and found it relatively easy to get accustomed to. Their favorite elements were the following:
i) Gamification
ii) The ability to interact with each other as if they'd been sitting in the same room. Conversations and discussions flowed. They found it surprisingly easy to form bonds and relationships with each other
iii) The sheer variety of what they could do with their avatars, they were delighted to know that there were over 1,000 gestures they could do.
iv) It wasn't Zoom!
Students had the opportunity to interact with each other through a virtual setting but it still provided those students the ability to have a similar experience to what they have in person. They were able to have their inside jokes, build communities together, their cities grew their, counties grew, they had a great time interacting with one another."

-Jerry Keeton TN Boys State Elections Coordinator & Coordinator for Student Activities at Tennessee Tech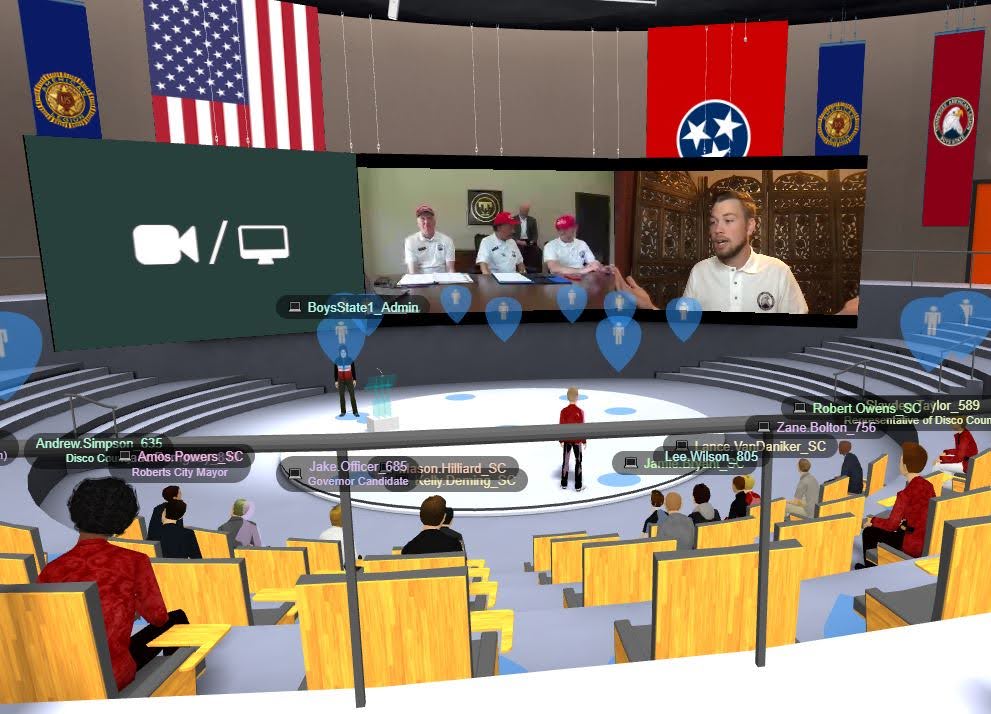 The TN Boys State Senior Counselors also provided the positive feedback detailed below.
The depth of the platform and its large number of features took them aback. They hadn't expected a virtual platform to deliver an experience like that.
They commented on how the boys could bond with each other as they would have at an in-person event. All the inside jokes and camaraderie were identical.
The engagement features helped the boys buy into it.
The relative ease with which the counselors were able to adapt to the platform. Especially considering none of them were computer experts, even those who usually struggle with technology didn't find it challenging to adjust.
The level of automation that the platform offered, such as counting the ballots, was traditionally a tedious and time-consuming task (of at least a few hours). However, by using MootUp's quick poll feature, it was done in a matter of minutes.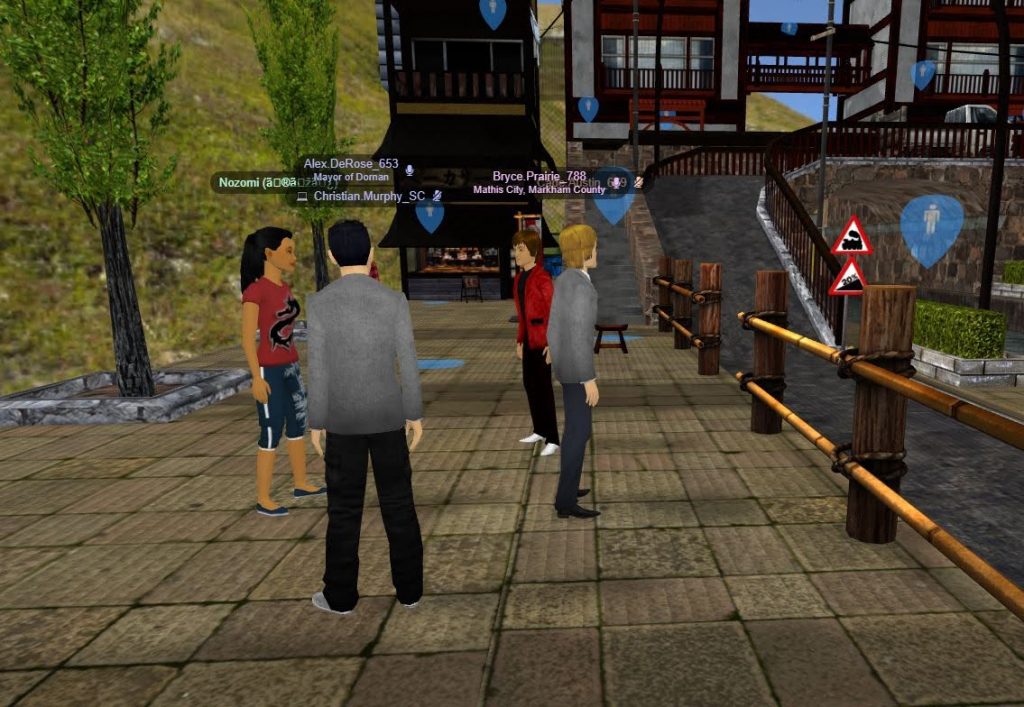 We are delighted to have had this opportunity to partner with Tennessee Boys State. Their work is remarkable, building future leaders, and they do it with passion and dedication. We are proud that we were able to not only meet but surpass all their expectations. We look forward to the chance of working with other education providers and leaders such as Universities like Tennessee Tech and programs like TN Boys State.

MootUp was developed to provide advanced options for creating interactive and immersive booths that maximize sponsor and company exposure and engagement. All these capabilities across work in the widest range of devices possible including smartphones, laptops, and tablets without any installations. Let us show you around our platform, book a demo today, and have your event up and running in weeks.
For the latest platform features and XR and virtual event news please connect with us on social:
About MootUp
Founded by 20-year virtual reality veteran, Danny Stefanic, MootUp is a truly immersive virtual event platform. The 3D web technology that powers the platform has evolved over the years to enable 3D environments accessible across any device from laptops, mobile phones and VR headsets.
The MootUp team is a passionate group of developers, technologists, strategists, and account managers who all believe in the power of technology to help solve business challenges and connect communities around the globe.