And 6 ways to turn your virtual event into a virtual world and build a metaverse community.
Are you an event planner? Have you heard about the trend for 3D gatherings that are specifically constructed around solidarity and friendliness?
This article focuses on the evolution of social, shared experiences and the impact the metaverse has on virtual and hybrid events.
It also includes a few tips and explanations on how to best create the best networking experiences.
Why?
Because a major part of event participation tends to be driven by a social agenda. In other words, as humans, we feel the need to be around and in contact with others.
And that is the case no matter the type of event, be it in-person or virtual, but especially virtual.
A virtual or metaverse event is not just about pushing buttons and getting clicks. It can be a space for conversation and empathy, too.
Today more than ever people want to take part in community-focused virtual and hybrid events. They want co-operative conferences, seminars, and meetings. With this in mind, are there any MootUp tips for establishing close-knit networks on the metaverse?
Absolutely. So, buckle up and prepare to enter a 3D immersive virtual reality zone where your event attendees can maximize their connections and discover closer types of professional relationships.
Letting you learn more about the metaverse and get the edge on the competition, here are the five ways to turn your virtual event into a virtual world that builds community.
It's time we put focus on shared experiences, geared towards the group, not just the individual.
Harness 3D avatars. Encourage adventure.
Avatars are central to the metaverse experience. At an event, they are the virtual representation of attendees. In contrast to 2D events on apps like Zoom or Teams, 3D avatars give people the feeling of human-to-human interaction.
A more personal experience, enabling them to use lifelike expressions and gestures. Gestures, dances, and moods allow participants to adopt non-verbal techniques, expressions, and even body language strategies to communicate and share the experience. This added layer of realism encourages collaboration between participants and deepens the emotional connection between people.
3D Avatars make gatherings less like working experiences and more like video-style adventures. This playful zone between work and play is fantastic for the social dimension of a virtual or hybrid event to inspire mingling, enhancing meaningful shared digital experiences.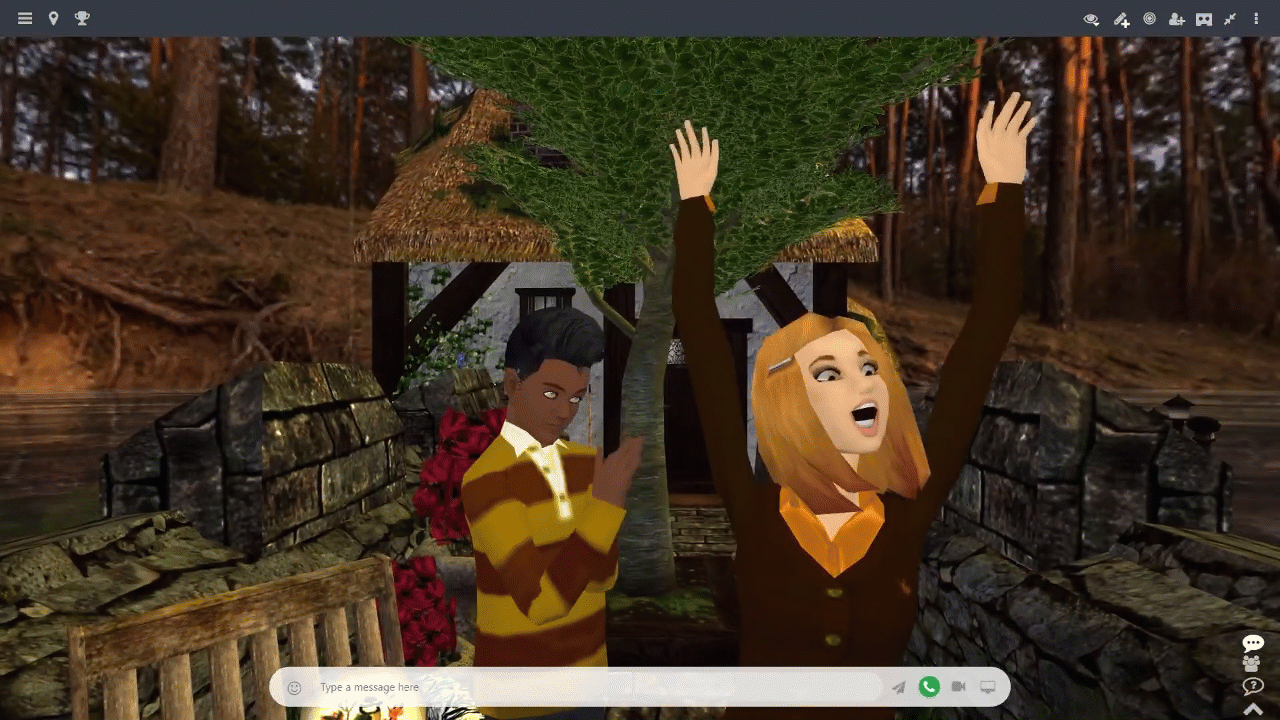 It is not difficult to encourage people to interact with each other when asked to play a game, as gaming brings with it the assumption of collaboration and questioning.
Of course, we can not talk about 3D avatars without mentioning diversity and inclusivity. The best avatars are inclusive. On MootUp for example there are over a billion design combinations, which means everyone can participate in a gathering and feel represented.
For more details on the benefits of using 3D avatars and avatar-based platforms check out this great piece on The Top 5 Evidence-based Benefits of Using Avatars for Your Next Virtual Event.
Leverage chance encounters. Build "watercooler moments".
Many people know that some of the best event contacts are discovered in the least expected places: while waiting in line for a hotdog, just after dropping your jacket off at the cloakroom, etc. These types of accidental meetings are lost during a Zoom or Teams event but are absolutely possible with 3D immersive platforms like MootUp.
Fostering collaboration and dialogue should be a main concern. This is why the ability to freely explore 3D spaces and environments, to casually bump into people that share the same interests, is extremely important. Allowing users to navigate and engage with the environment freely helps increase awareness for the space, for other participants as well.
At the same time, 3D immersive environments in the metaverse allow the freedom for people to explore on their own and not actually engage with others. Some participants are simply not interested in speaking with each other and are there only for the content. This is another great example of why the option to explore freely is so important. Forced interaction can hinder rather than enhance the experience.
"People first" is one of MootUp's focuses. And "people first" means options tailored to your attendees, no matter what they choose to do or how they prefer to interact and consume content.
This is why the platform offers numerous options for integrating chance encounters into its platform. Event designers are encouraged to design spaces around "watercooler moments" where attendees can bump into each other and initiate topics of conversation.
Maximize socialization. Offer flexibility.
Communities are made through communication, and the events that create the deepest networks are those that have the greatest opportunities for discussion. With this in mind, MootUp offers a broad range of socializing features.
Its metaverse offering has multiple discussion functions including audio and video calls, text chat, audio zones, and spatial audio. When visitors can hear their companions' audio, they are much more likely to engage with each other.
This means that no matter how you prefer to get your point across, there are plenty of opportunities to strike up conversations.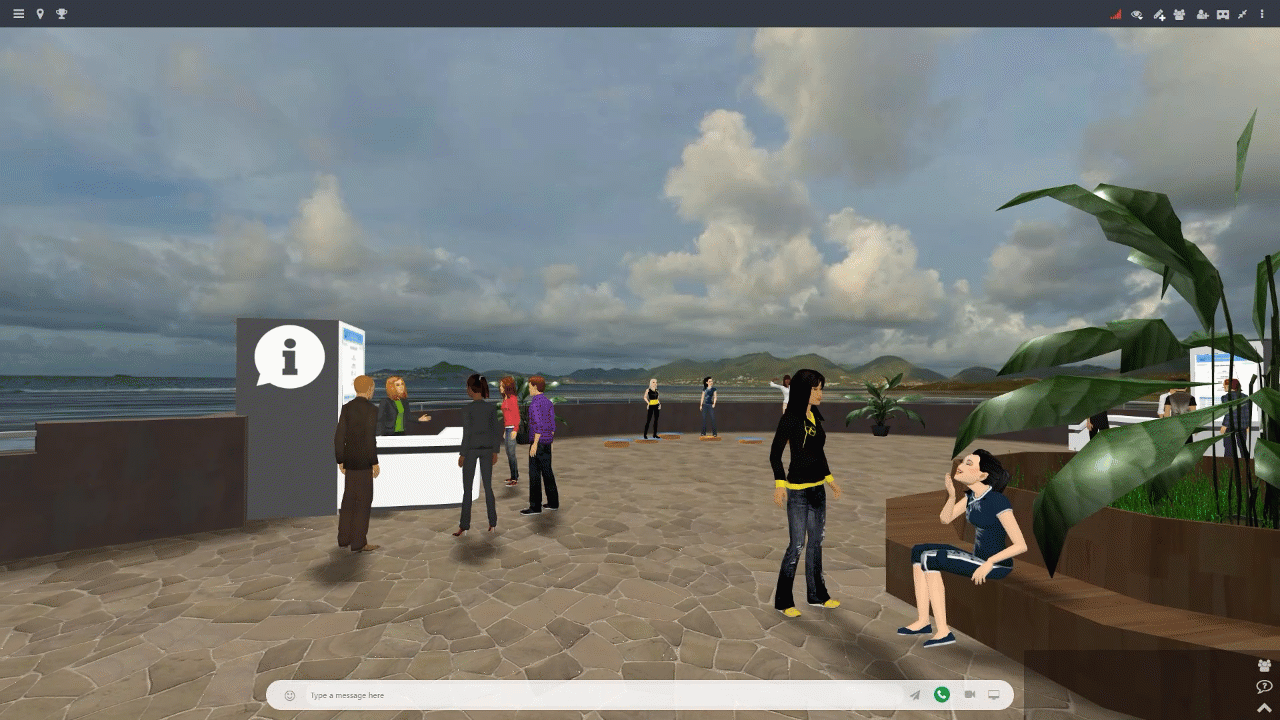 Design enticing virtual worlds. Inspire the flow of ideas.
The metaverse offers the enormous creative opportunity of building entirely new worlds that encourage shared digital experiences in which attendees engage with the 3D environments and each other in meaningful ways.
On MootUp we have brought into existence amazing places with spaceships, dramatic hills and valleys, amphitheaters, and floating, futuristic swimming pool lounge areas. The only limit to the metaverse is your imagination.
In terms of building networks, this works out perfectly because designers can create with the community in mind, drawing out differences and similarities in the way social groups interact in different contexts. In terms of 3D metaverse environments, this might mean interactive and engaging glass lobbies with icebreaker games or wood-paneled campus rooms with open fires that encourage the flow of ideas.
Digital and interactive storytelling
Paired with a metaverse's platform gamification system, storytelling is an effective way of developing social engagement between visitors while giving them a chance to participate in the narrative. It works hand in hand with metaverse solutions.
Adding a playful element to storytelling is a fantastic way to engage groups of people. Collaborative games where there is a mix of characters to manipulate and explore, allow the visitor to step into the narrative.
In fact, it has never been easier to create social experiences that enhanced engagement, understanding, and reflection while giving a feeling of active participation, than with 3D immersive metaverse solutions.
Virtual or hybrid events in the metaverse offer a fantastic opportunity for emotional and social engagement' within the experience itself.
The content can be delivered by an AI chatbot or a staff member. It can be through images, simple narration, videos, branching scenarios, and simulations.
If you want to learn more about gamification and how exactly to use it for your virtual and hybrid events check out this awesome post Gamification For Metaverse Events: The Ultimate Guide + 8 Examples
Widen your audience. Enable cross-compatibility
The main topic here from the metaverse perspective is Interoperability. There is no such thing as an isolated metaverse experience but for the purpose of this post's particular subject, we'll stick to collaborative and social media tools.
The metaverse offers a unique opportunity to reach a global audience. And once you've planned and worked on getting your event and event experiences up, you want to make sure you meet all those international audiences halfway.
This is one of the areas where MootUp is special in its sector because it offers a large number of integrations. It incorporates 2D tools such as Zoom, Microsoft Teams, Bluejeans, and Webex.
Once your attendees are on the platform, you can use tools such as Taggbox and Walls.io to enhance the metaverse event experience while at the same time leveraging the power of social media.
We usually recommend our customers create hashtags for their events and encourage participants to post images on social media, using the hashtag. This can easily be woven into the gamification for the event.
This means events can create the largest communities possible by unifying audiences across platforms.
The platform also allows connections to be created between attendees. This means that when you find someone that shares your interests you can simply add them as a connection.
Adding someone as a contact during the metaverse event is super simple, click on their 3D avatar or name and select Add to contacts.
On top of this, you can access MootUp from any device – desktop, laptop, Chromebook, tablet, mobile, immersive VR, or dial-in phone. So everyone can take part whatever their preferred tech.
Leap ahead with MootUp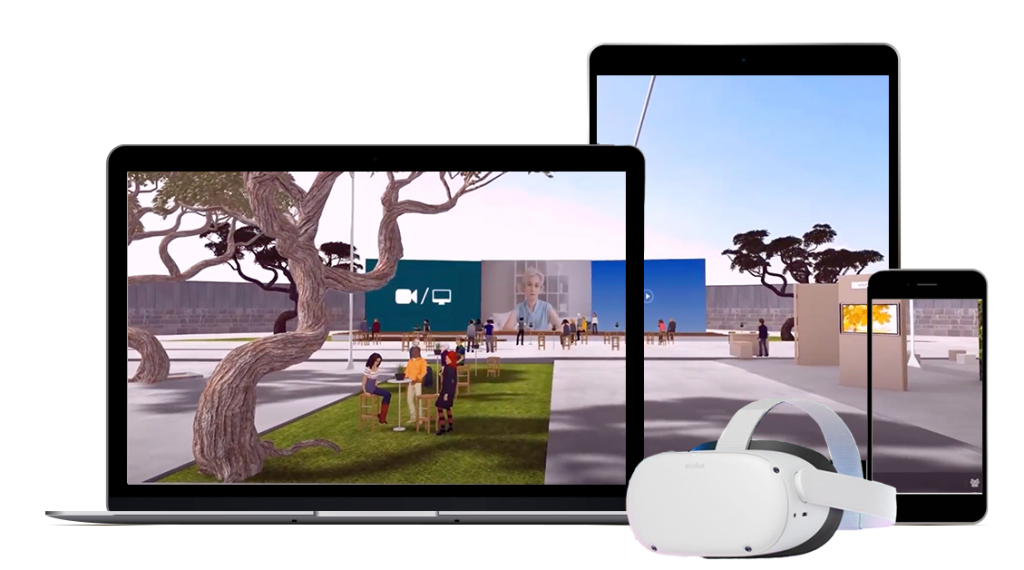 Participants' feedback from thousands of MootUp events is a clear indicator that social interactions between participants enhanced the ultimate user experience and increased the sense of belonging, and community.
With regards to the 3D avatars, attendees, develop a feeling of attachment. Often the avatars are referred to as "mine" or "my" as well as "me" or "I am dancing" when the 3D avatar would do a dance, for example.
When we mention (general) feedback events in the metaverse are receiving we note the level of engagement with the character, other participants, and the environment i.e I'm amazed" It was an amazing experience, I'm convinced!"
Bottom line is that the possibilities for developing meaningful, shared digital experiences in virtual events and the metaverse are tremendous.
Event organizations that go with MootUp are in experienced hands. Some of the companies and organizations with events and experiences on the platform include TEDx, the United Nations, Novartis, and Dell. Led by metaverse-expert CEO Danny Stefanic, MootUp is a Web3, browser-accessible 3D virtual and hybrid event platform.
If you are interested in bringing your events into the metaverse, we'd love to show you around and advise on the best options. Get in touch with the MootUp team here.