Things have not been easy this year. We all know that. However, we've discovered how important it is to keep moving forward. And with the holidays coming up, we are reminded of the usual parties we throw, and want a way to keep that tradition going and safely gather for fun times.
3D virtual platforms like MootUp can provide just that. Any type of immersive virtual party you and your team want to host for the holidays can be done with a few clicks, and can be accessible on any device. A perfect solution for your team who would otherwise be suffering a party-less holiday season, along with the other pitfalls of 2020.
Our team was curious to see what kinds of features can be implemented in order to make for a better experience, no matter what type of party. Some features that we added were gamification options, live-streaming, breakout sessions, music, props, and the list goes on.
#1: Virtual DJ Dance Party Event
How do we create an immersive experience of a DJ dance party?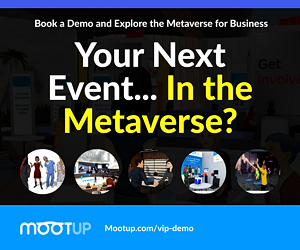 Using one of our club-like templated spaces, or any space, makes for the perfect dancing atmosphere when you can also choose from over 1000+ scripted dance moves, gestures, and animations for your avatar. The DJ you host can broadcast with any screen, with the music audible throughout the space.
#2: Virtual Costume Party Event
When you can't attend a costume party in-person, the dressing-up element is usually taken away. Not with a 3D virtual party in the MootUp platform though.You still get a way to dress up. And with 1 billion style combinations for your avatar to try on, lots of them being costumes, you and your team will be set! All avatar customization options are available at universalavatars.com.
#3: Virtual Movie Screenings Event
How do you hold a movie watch party?
MootUp's breakout rooms can be customized and configured to allow for specialized activities such as showing a movie on the big screen, with the ability to hold any 1:1 conversations as well (for those questions you can't help but whisper to the person next to them during a suspenseful scene).
Dozens of templates can help create the perfect environment for unique experiences, even one that mimics a movie theater. Each space allows for broadcasting and can display a movie on any screen within your virtual movie party.
#4: Virtual Cooking Event
Is it possible to host a cooking demo?
We say "Why not?!", when we can provide live-streaming video options and all the possible integrations with web conferencing and other virtual tools, making the experience unlike any other. The presence factor is there, and the interactivity with your team is limitless.
With the live-streaming option and the chat feature, the chef will be able to broadcast live into the platform, giving you and your team a more present experience, with the total ability to interact and ask questions with them in real-time.
And with a virtual demo, your kitchen stays completely clean! Who doesn't love that?
#5: Virtual Wine Tasting Event
Can you host a wine tasting virtually?
Easy. With 360 degree film/video, the presence and belonging experienced will be on a greater level, really giving you the feeling of "being there". This, along with views of beautiful vineyard atmospheres, or any other location you would care to sip some virtual wine at, it'll feel like the real thing. Especially with your team there to join you! All you need is something to drink from home so you can be true to your avatar's experience. 😉
#6: Virtual Scavenger Hunt Event
Something that seemed a bit tricky to create in the platform was a virtual scavenger hunt experience, however we took the initiative to find ways to make this experience as true to an in-person scavenger hunt as possible. This means – we created more options for a true game-like experience.
For example, "items" can be added to a scenario to help create clickable actions, goals, missions and tasks that work like a scavenger hunt. As soon as you get your clue and click on an "item" in the platform, you and your team will be given actionable options to further the hunt.
We've also added a leaderboard in order to boost the game-like experience and create a little friendly competition for your team.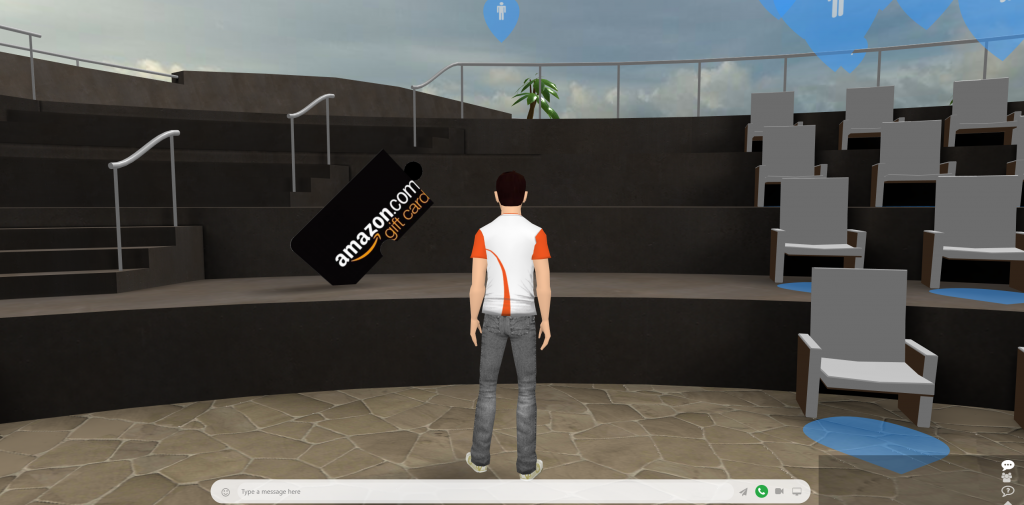 #7: Virtual Escape Room Event
With utilizing gamification, it's totally possible to create an escape room or any type of game scenario. You can have quests, rewards/ achievements, clues, trigger team-work, riddles and so on, which are great for collaboration, teamwork and team building. You can also create a bot to lead the game, give instructions, etc. which you can completely customize the look of.
The atmosphere is easy to provide, as we have a multitude of templated spaces that come out-of-the-box. However, if you'd rather completely create your own space and how it looks, you can do that too.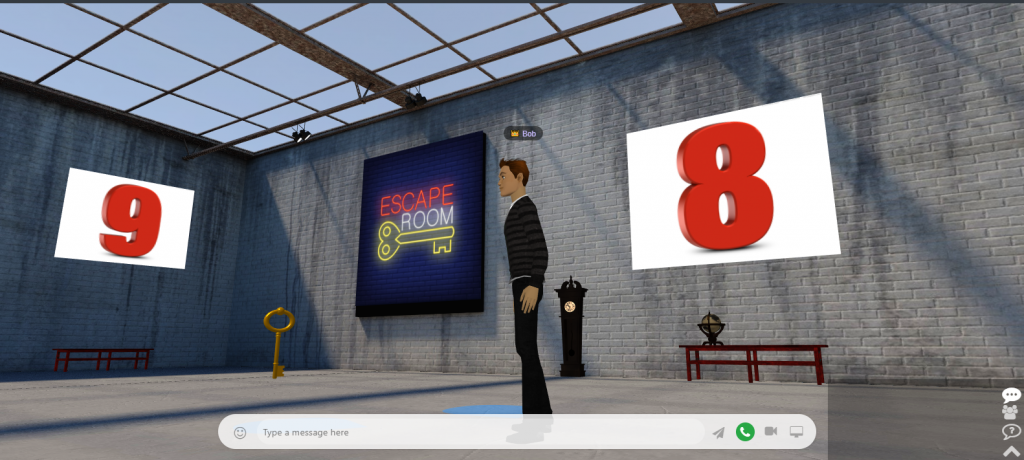 Another feature that would bring this type of virtual party to life is the variety of actionable items attached to 3D items, as well as not attached to anything, in order to create more of the user-centered experience with furthering the game. Actionable items can be attached to theoretical items to allow changes to occur. For example, searching for a key that another character has (they "give" it to the player, but no 3D item is ever seen).
#8: Virtual Awards Gala Event
For an awards gala or event, it is commonly thought that this might be tough to pull off in a virtual way.
We beg to differ.
With our beautiful, outdoor, 3D auditorium, you have the perfect atmosphere to host your awards gala.
We also provide the option to add props and items that make for a more authentic experience, like having balloons, trophies and decorations for that bling factor.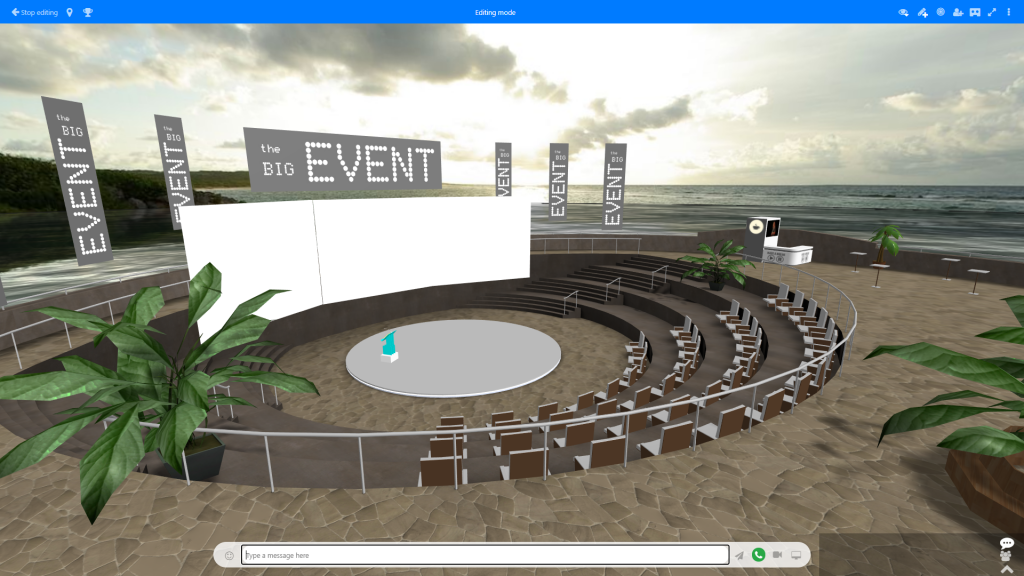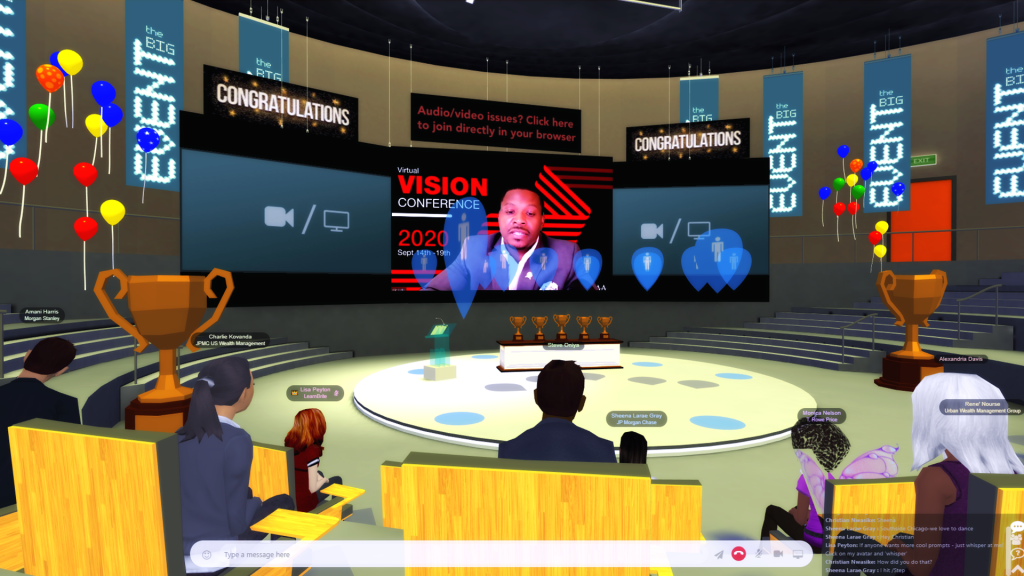 #9: Virtual Trivia Quiz Event
What makes for a virtual 3D video trivia game? Interactive break-out session rooms to start, plus live video of course. That way your team can stay connected and on the same page while playing.
All it takes is an environment of your choosing to host your team or attendees in, and boom. Get those break-out rooms started with someone giving instructions through the live video feature. The chat feature also allows for speedy trivia responses and helping everyone be on the same page with responses happening real-time.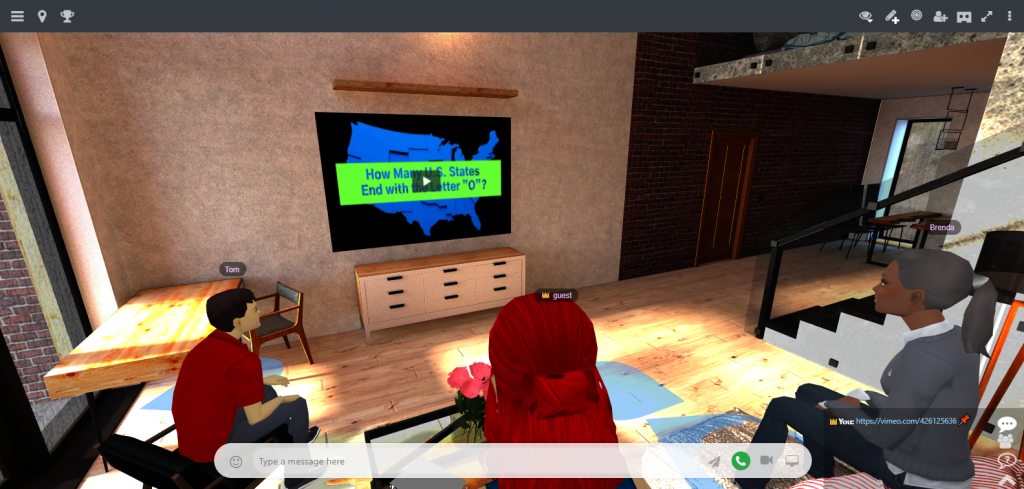 #10: Virtual Beach Party Event
If you're needing a beachy theme for your get-together, we got you. We've also got sun, sand, palm trees, board shorts, and bikinis to make for the best beach party experience for your team. You can choose from one of our beachy spaces or create your own.
Plus, with 1000+ different avatar clothing options, you will have the perfect look. Music also adds to the fun, especially if you host your own DJ. And with your whole team there to join you, no fun is lost, and there's none of that in-person exposure risk.
Conclusion
There's still time to contact us about hosting your upcoming holiday party – we can have your event up and running in weeks, please reach out and let us show you the platform.
We'd love to work with your team to create memorable experiences. Book a demo with us
For the latest platform features and XR and virtual event news please connect with us on social: