Due to the advances in technology in recent years and constraints placed on businesses around the world and due to social distancing and the COVID-19 pandemic, more individuals are able to work from home than ever before in recent history. While some may think otherwise, overall employee productivity and performance while working from home rivals what can be accomplished in-person, at a physical office space. Remote workers are offered the ability to work from a comfortable environment, without losing time on commutes while still providing value to their organization.
As a result of this transition to a more digital workplace, virtual technology has made leaps and bounds in terms of what is possible for various industries with remote employees operating within their organizations. There is a wide range of programs in use that make work from home not only possible, but more productive and easier than ever before. Organizations of all shapes and sizes are turning to tools that make employees feel more engaged and productive.
While great employees are productive no matter where they're located, some of the top tools to help your team work remotely and efficiently include:
Slack
Slack is a business communication software solution that enables team interaction and project collaboration. Its robust set of communication features and product integrations provides seamless communication between departments and employees within organizations no matter their size. Slack includes powerful tools all in a single platform and was built to modernize and streamline corporate communications in the digital age. Some features include public channels that facilitate broader communication within organizations, direct channels to enable direct messaging between colleagues, and private channels that allow smaller teams to interact in confidence.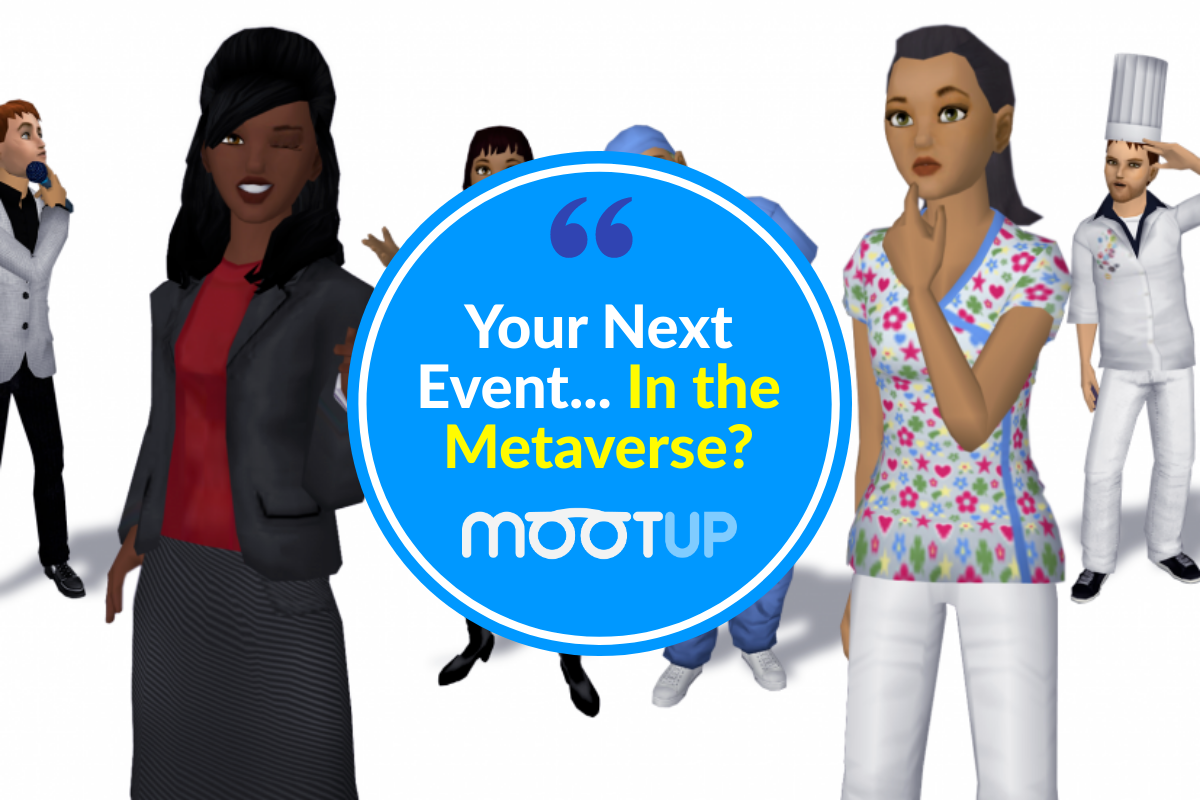 Using MootUp's integration with Slack you can spin up an immersive 3D space your team can jump in, at any point, directly from the Salck app.
Zoom
Zoom is a top-rated video communication software that facilitates face-to-face meetings from locations around the world. With Zoom, you can conduct virtual meetings through real-time messaging, video conferencing, chat features, and content sharing across any device. The tool's online meeting capabilities make the process of starting, joining, and collaborating easy. Zoom Meetings work seamlessly with your calendar system, providing streamlined video conferencing from mobile or desktop at an enterprise-grade level.
Grab your Zoom meeting URL and enter it in MootUp to access an on-demand meeting space in VR or directly in your browser using a full-body 3D avatar or a hologram for a meaningful colaboration.
Hopin
The Hopin platform supports onsite, virtual, and hybrid events. The interactive experience and event management capabilities that this tool provides can help mimic the feel of an in-person event even from home. Hopin offers unique professional services, such as virtual venues, broadcast streaming services, customizable assets for event marketing, and in-person capabilities to enhance the experience for virtual or physical attendees. Each feature provides a personalized and unique interaction during live streaming video, for event attendees, speakers, vendors, and sponsors.
You can embed MootUp directly in Hopin for an added metaverse event experience.
Microsoft Teams
Microsoft Teams has been optimized throughout the years to truly give workers the flexibility to work at home from any remote location in the world, on an internet-enabled device. This tool consists of unique services and apps that enable organizations to invite external stakeholders or partners to join internal teams and provide feedback in various ways. Through Microsoft teams live events, employees can use communication channels to chat during private or group conversations. Microsoft Teams has robust functionalities, such as an option to add video or audio and share screens.
With MootUp you can experience MS Teams in VR in real-time with your entire team by using the deep integration that allows for seamless communication between MS Teams app and the MootUp virtual environments.
BlueJeans by Verizon
BlueJeans by Verizon is an innovative video conferencing service for businesses operating in today's digital environment. BlueJeans by Verizon has been growing rapidly due to their robust capabilities, such as corporate training and learning, interactive virtual events, workspace, and breakout room transformations, integrations with platforms like Microsoft Teams through cloud interoperability, telehealth solutions for medical patients, and video conferencing for organizations of all shapes and sizes. Other enterprise features include HD quality streaming, up to 100 simultaneous calls per room, screen sharing, and whiteboard collaboration.
Jump into a immersive meeting instantly. All you have to do is add your BlueJeans meeting link to MootUp and you're in! Real-time editing and collaboration, conference calls with audio, video and text chat and so much more with the click of a button, directly in your browser.
Trello
Trello is a project management tool for teams. It has unique features that allow users to create boards, add cards, assign tasks to other members of remote teams, and track progress through the board. This free service is the ultimate organizational tool for businesses large and small, as it allows for seamless collaboration among users, and engaging, yet simple, project management.
Add shortcuts and links to your Trello board, directly in your MootUp 3D persistent office for your entire team to see and access.
DropBox
DropBox is a cloud storage service for sharing files and collaborating in real time. DropBox allows users to store files online and synchronize them across multiple devices. This cloud based software is accessible from any internet enabled computer or mobile device, for simplified access to documents and files that users need. This free service has robust functionality for organizing and collaborating on projects, no matter where the user is accessing from. DropBox is a persistent service that allows for file hosting and storing, and offers unlimited storage space to users, free of charge.
MootUp comes with a storage account, but if you don't want to use that, you can just use your Dropx account. Upload to Dropbox, use in MootUp with a simple copy and paste.
MootUp
MootUp is a groundbreaking Metaverse platform that enables businesses to conduct virtual and hybrid events at scale, with limitless customizations. MootUp is powered by Hyperspace, and is an industry leading Metaverse for Business events platform due to its truly immersive and evolved nature. We are the only WebXR platform built with open standards, meaning our web technology enables 3D environments and makes them accessible on any device. Being web-based, and using open standards means that you have the ability to incorporate any items you've already created and produced for the web into the platform.
This is a major advantage when you look at the opposing side, noting that app-based or proprietary technology not using open standards limits what you can bring in or take out of the platform. Furthermore, they may not work at all or may require extra time and resources in order to cooperate with that platform. Our virtual event platform is a completely web-based solution for all organizations and allows event planners and HR teams to easily host virtual and hybrid events in the Metaverse.
Our all-in-one 3D platform was designed to host engaging and productive virtual events for your business. The best part is that MootUp integrates seamlessly with all the tools you know and love, including all the platforms listed above. We've made it easy for event planners and HR professionals to put together memorable and unique events in a customizable enterprise Metaverse to enhance the way they communicate with remote workers. From Hybrid events to totally immersive 3D events, MootUp is the one stop shop for engaging events for your remote team with seamless integrations, no downloads, and no special skills required.
For more information about our virtual event software solution that we offer at MootUp, give us a call today at 347.535.0844, or send an email to our team at [email protected] The best way to view our platform and decide if it's the right solution for your next virtual or hybrid event is to arrange a demo with our team today!