Improve ROI With Multi-Sector Events!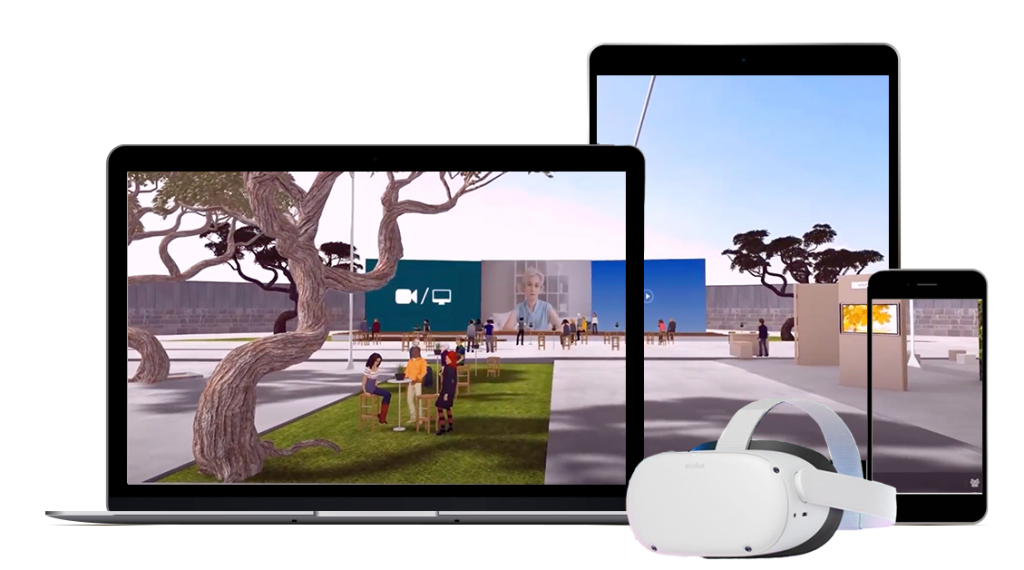 Distance learning. Remote learning. Virtual learning.
Call it what you like, online education has changed a lot with the evolution of technology, especially since the pandemic. The same goes for health and telemedicine. So thinking that it was about time industry leaders got together and shared stories of success and failure, Luca Sancricca, the co-founder of the Italian event agency iGoOver, wanted to create a virtual gathering that shone a light on the latest developments in the health and education sectors.
In this endeavor, iGoOver used the MootUp Metaverse Platform to organize a series of virtual conferences, webinars, and meetings, as well as a series of learning & training scenarios using AI chatbots, branching scenarios, and more. All this spanned academic discussions, medical workshops, and further events.
Virtual and hybrid events platforms allow planners to host immersive and engaging experiences for clients easily. When Sancricca was looking for a platform for his multi-industry clients, he had a specific set of needs. We'll learn more about those requirements in a moment.
Background
Working with institutions such as the University of Turin, iGoOver leverages technology to bring innovation to the fields of higher education and healthcare. The firm is run by Luca Sancricca, who has over ten years of experience with AI and virtual and augmented reality. Luca has particular expertise in developing telemedicine and connected care projects involving patients and health professionals. His focus is on using the best tech to overcome the limitations of distance learning and distance communication.
The goal is to help professionals, healthcare facilities, and companies to understand and apply digital transformation. We focus on projects aimed at specific objectives, working in a historical moment of radical transformation. – Luca Sancricca
Requirements
Considering Sancricca's extensive experience in the field of virtual reality, it was unsurprising that when he was shopping around for a digital events platform he had a specific list of requirements.
User-friendly interface: A platform that offers easy participation without necessitating downloads.
Broad customization options: Flexibility to create unique environments reflecting the distinct identity of the user.
Digital transformation embodiment: A platform that provides professionals, healthcare facilities, and companies an immersive experience of the digital frontier.
Idea
Following an online search, Sancricca found MootUp, and after engaging with their team, he was convinced he had found the right partner.
MootUp ticks all the boxes: it does not require an app download, provides high levels of customization, and incorporates leading-edge metrics, communication, and interactive features.
Moreover, MootUp's adaptability made it a perfect fit for iGoOver. Catering to the needs of event planners and agencies, MootUp provides quick adaptations for gatherings across various sectors and even supports simultaneous multi-sector events on the same platform. This unique capability to adapt and repurpose can result in significant savings on staffing costs and enhance ROI.
Results
As the opportunity to collaborate with iGoOver surfaced, the MootUp team, knowing Sancricca's reputable track record in the tech sector, was keen to deliver. So, when Sancricca rated his experience with MootUp a perfect "ten out of ten," it was indeed a notable endorsement. He lauded MootUp's ability to create a "realistic context that overcame Zoom fatigue" and praised the platform's "excellent" customer support. MootUp's contribution to overcoming the digital event challenges has clearly been recognized and appreciated by Sancricca and his team.
The metaverse event was only the beginning of the ongoing partnership between the Italian metaverse experiences company iGoOver and the immersive Metaverse platform MootUp. IGoOver is currently offering learning & training, metaverse workshops, events gatherings, and more, using the MootU platform. At MootUp, we're very happy to be the metaverse solution chosen and trusted by iGoOver for their customers.
Multi-sector hybrid and virtual events can offer significantly improved ROI. Let us prove it to you! Book a demo here.