What is a virtual trade show booth? It's an opportunity for exhibiting in a cost-effective, green, and timely way. And although you may not be able to provide all the bells and whistles of a traditional exhibit, virtual trade show booths are on the rise and can help anyone make an impact on the industry they serve.
If you've ever attended a tradeshow like Networld+Interop, Cisco Live or Microsoft Ignite you know there's a lot to take in. Booths are everywhere. It's always difficult to make your booth stand out from the crowd. That is where virtual booths come in. They offer your company an opportunity to stand out from the crowd and increase traffic-utilizing social media tools such as Twitter, YouTube, and Google+. Social media is completely integrated with the Virtual Booth experience making it easy for potential attendees to share their favorite sessions and content with others through social media.
What is a Virtual Booth?
Virtual booths are a space within a virtual event hosted in a specialized platform. Virtual booth technology allows organizations to promote their brand and services during a virtual event. The aim is to generate interest and conversations with attendees. There are plenty of assets that can be displayed, it depends on how creative you are and what you are trying to communicate. These assets include text, logos, banners, video, URLs, social media, and even avatar-based chatbots to ask or answer questions. Depending on the virtual event platform used the virtual booth may be 3D, which will increase audience immersion and engagement.
Usually, during a virtual trade show event, representatives of the company are placed in the virtual booth. They interact with the audience, talk about their new products or services, close deals, and do demonstrations. So, there isn't a big difference between physical and virtual trade show booths. Although the virtual ones allow for instant, simultaneous interaction with a much larger audience.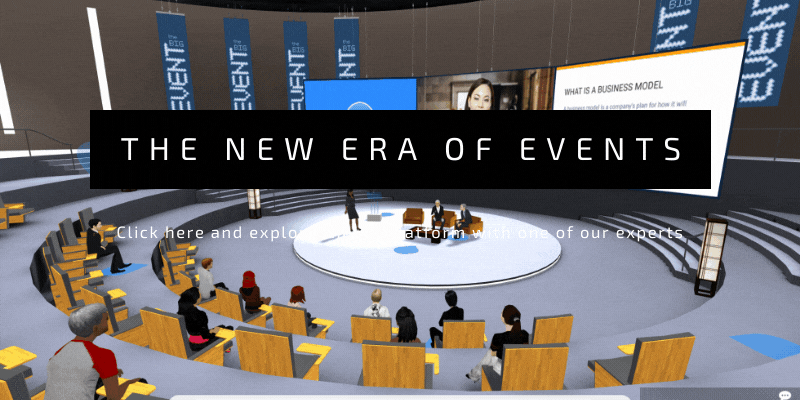 Do Virtual Booths work?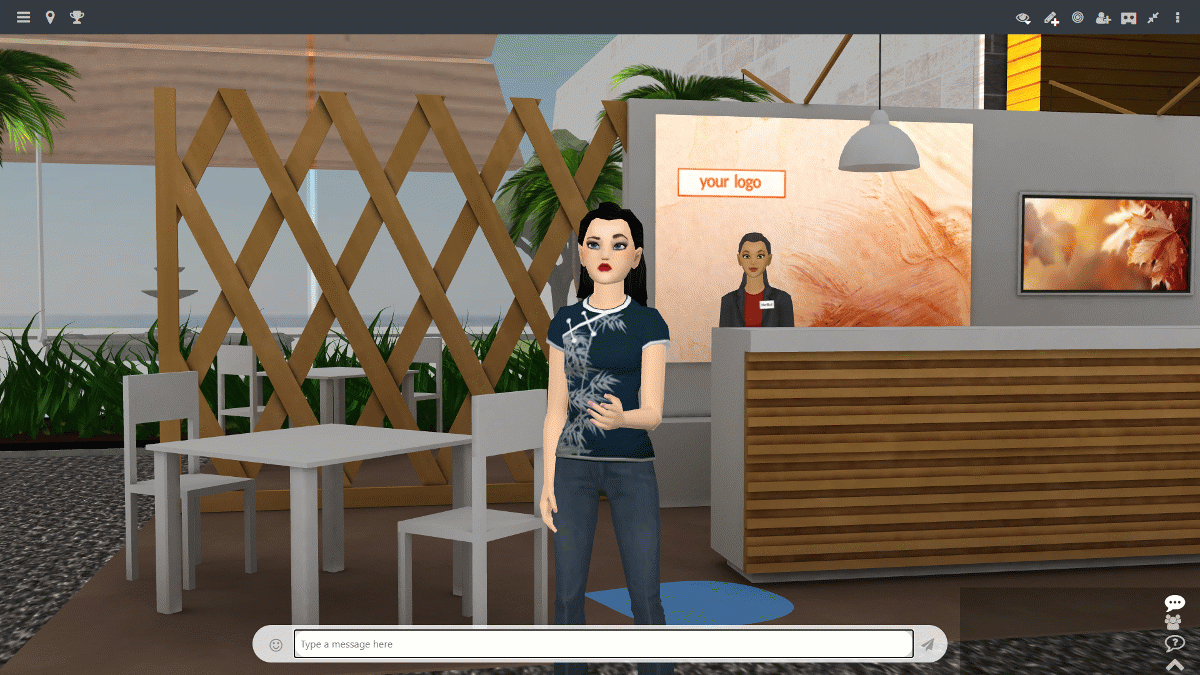 Due to the pandemic, the number of physical trade shows and exhibitions has dramatically reduced. That is why companies have begun to shift to virtual events. Organizations using virtual booths have reported a high level of interaction and engagement with their audience during the virtual events attended. The testimonials are varied but we can sum up the success of virtual booths in a few bullet points:
Virtual Means 24/7: Virtual events can be longer and even adapt to different time zones in the case of international events. If needed the virtual booths can be open to the public at all times and can still be visited.
Cost Saving: Spaces in physical trade fairs and the design of a striking booth to attract your audience is way more expensive compared to achieving the result in a virtual setting.
Direct Connections: the attendees have the chance to connect with the company without having to wait. Live demos and avatar chatbots can be placed if there's a big audience attending.
Larger Audiences: More people attending without barriers to entry is one of the main benefits.
All these points lead to an environment where the organization is getting more leads for less money, putting the brand in plain view of the audience.
Virtual Booth Examples
Here you find some ideas for your virtual exhibition booth:
Alibaba Virtual Brand Experience Center: The Chinese organization, Alibaba, offered a 3D walkthrough of its different brand experience centers. During the tour, attendees were able to access different virtual scenarios where they found multimedia presentations of the Alibaba Group. The users could experience the tour from their web browser or with a VR headset, and enjoy the 3D demos of products and services offered.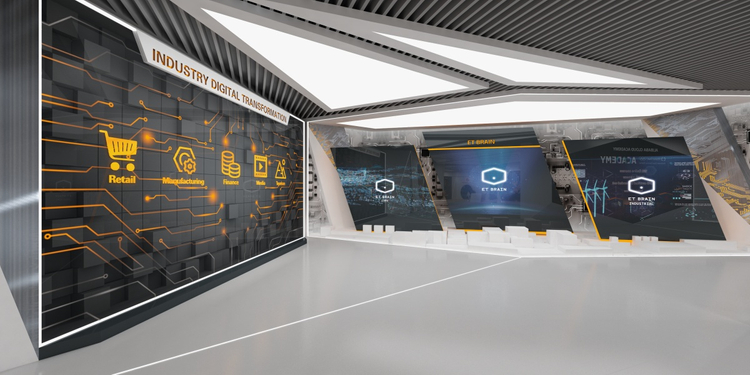 2020 APEC Global conference: it was canceled, but Power Integrations needed to showcase its latest innovations to customers. The solution was a virtual conference booth experience that offered the technical innovations and product demos prepared for the canceled event. Even the scheduled meetings and presentations could be run thanks to the virtual platform technology.
TEDx Leuven AI Forum: On December 12th, the Leuven AI Forum (LAIF), a non-profit organization connecting students, academics, industry experts, and policymakers around important topics of AI policy and ethics, held their first virtual event: TEDxLeuvenSalon in the Mootup platform. They were looking for a feature-rich platform to create something special and immersive as TEDx is meant to be inspiring and to push boundaries. And MootUp gave them just that. An immersive, 3D platform accessible on any device without any installation. TEDx used gamification, chatbots, interactive booths. TEDx fully customized all their 3D spaces with their branding and that of their sponsors and partners. They made full use of the actions, animations, and engagement, similar to what they would get if they were there in person.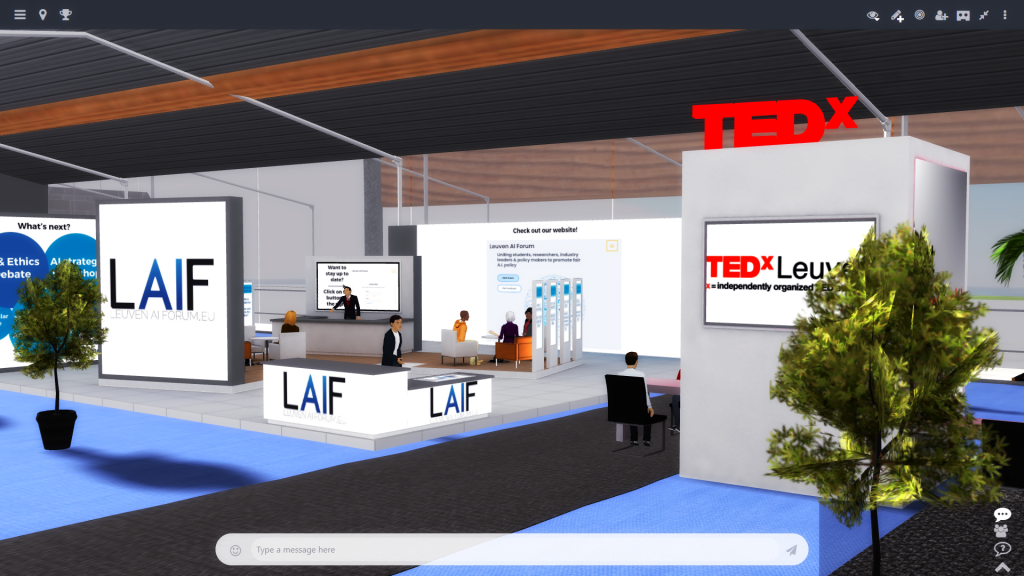 5 Tips to Make Your Trade Show Booth Attractive
Include Video
On the Internet, video is the king of content. Video gives users a personal connection to what they're watching and increases engagement and learning. That's why including a promotional video of your company in your booth is a great way to make your virtual booth more attractive. A video gives the opportunity to showcase important information and features of your brand.
Train Your Team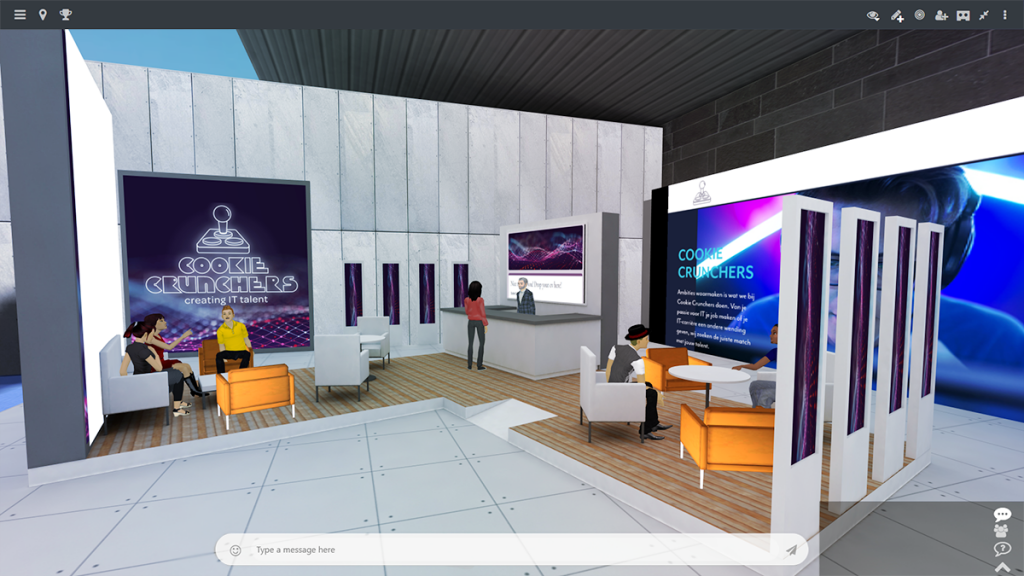 Just as if it was an in-person event, your team must know its sales dialogue and plan to fulfill its goals. Prepare your live demonstrations in advance. And finally, not everyone is familiar with virtual platform technology so make sure your team is comfortable with it. Running a test a few days before the event is a great way to gauge and improve your team's performance and results before the day of the event.
Have Your Virtual Demo Ready
Most companies participating in a virtual event want to promote their services or products. You're trying to attract a targeted audience and demonstrate the best side of your company by showing them what you can offer. If you're expecting a lot of audience participation, preparing a pre-recorded video of your product/service demonstration can showcase what you can offer.
Create Chatbot Avatars
Similar to physical fairs, there should be representatives of the organization in the booths. But for those hours that your representatives are resting or when they have to attend too many users, chatbot avatars are life-savers. You can program them to answer your attendee's basic questions and offer guidance. When programmed very well they can keep the conversation going just like a human would.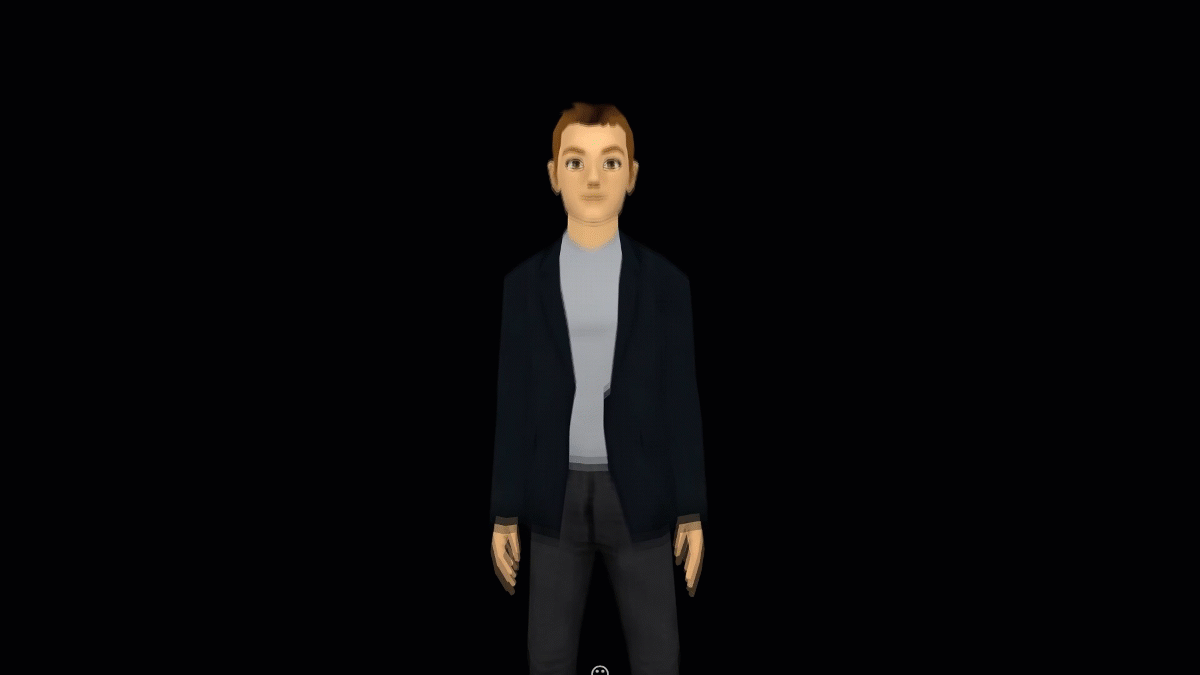 Include a Virtual Swag Bag
Who doesn't like a nice goodie bag? At any industry conference or trade show, attendees have grown used to receiving some kind of gift bag during the event. A lot of the deliverables can be small and superficial like pens, water bottles, or paperweights. Some companies though, have gone a step further and included useful and fun items which resonate with the audience causing a more personal connection with the attendees. The shift to virtual events doesn't imply saying goodbye to swag bags. Virtual event bags are a thing. A virtual event bag is the same swag bag that attendees are used to receiving at in-person events but in a digital format or even mailed to them. All you need to do is to be creative, include things like gift cards, ebooks, digital assets, etc.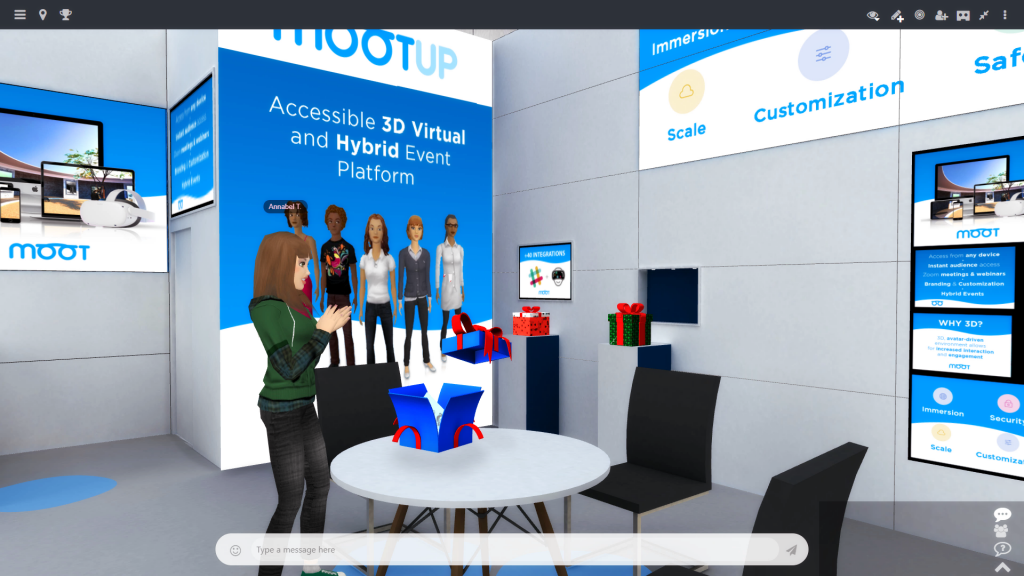 3D Virtual Booths will improve your performance
Virtual booths are a wondrous new age in the development and experience of trade shows. Rather than standing at one booth or walking from booth to booth on a trade show floor, you can visit many booths online with the click of a button. You have the opportunity, not only to adapt your expo booths to the virtual times but also to improve your performance reducing your overall costs.
MootUp was developed to provide advanced options for creating interactive and immersive booths that maximize sponsor and company exposure and engagement. All these capabilities across work in the widest range of devices possible including smartphones, laptops, and tablets without any installations. Let us show you around our platform, book a demo today, and have your event up and running in weeks.
For the latest platform features and XR and virtual event news please connect with us on social:
About MootUp
Founded by 20-year virtual reality veteran, Danny Stefanic, MootUp is a truly immersive virtual event platform. The 3D web technology that powers the platform has evolved over the years to enable 3D environments accessible across any device from laptops, mobile phones and VR headsets.
The MootUp team is a passionate group of developers, technologists, strategists, and account managers who all believe in the power of technology to help solve business challenges and connect communities around the globe.