As the event industry continues evolving, virtual conference booths are becoming essential to many online events. These digital alternatives to traditional trade show exhibits offer numerous advantages for organizers and attendees. This blog post will explore the advantages of incorporating virtual exhibit booths into your next event and provide valuable insights on designing engaging experiences for attendees.
We'll delve into the importance of increased audience reach through online exhibition booths and how they reduce logistical challenges compared to in-person events. Additionally, you'll learn about creating an engaging virtual congress booth by utilizing chatbots, participating in topical discussions related to target audience interests, and incorporating video conferencing features.
Finally, we will discuss preparing content and staff training for a successful online exhibition booth experience – ensuring your virtual event is as impactful as any physical counterpart.
Table of Contents:
Virtual Conference Booth Advantages
Virtual conference booths offer numerous benefits over traditional physical event spaces, including reaching wider audiences and reducing logistical challenges. They also provide on-demand content access post-event opportunities and allow sponsors to brand specific parts of the digital environment.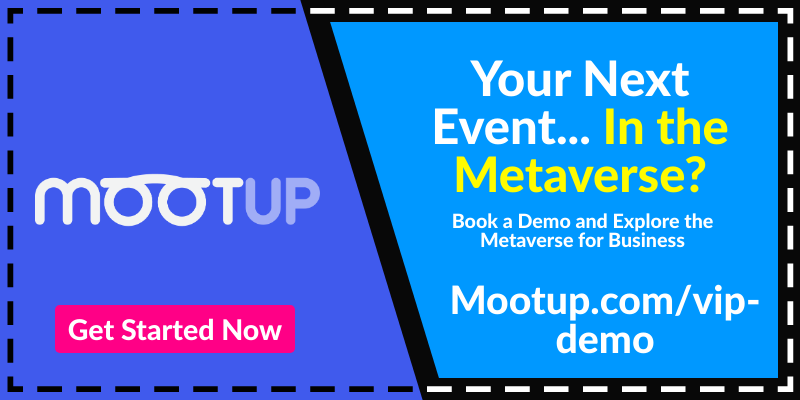 Increased audience reach with an online exhibition booth.
The most significant advantage of a virtual conference booth is its ability to attract a global audience without any geographical limitations. This increased accessibility enables businesses to connect with potential clients, partners, or customers worldwide. Virtual events are more inclusive and cost-effective as they eliminate travel expenses for attendees and exhibitors.
Reduced logistical challenges compared to in-person events
Virtual exhibit booths require fewer resources and planning efforts than in-person trade shows or conferences. Event organizers can save time by avoiding complex logistics such as venue selection, transportation arrangements, accommodation bookings for staff members, etc. while providing an engaging experience through their virtual event platform. Additionally, virtual events tend to be more environmentally friendly due to reduced carbon emissions associated with travel.
No need for physical space rental or setup costs.
Easier coordination between team members located across different regions.
Fewer chances of last-minute cancellations affecting the overall success of the event.
On-demand content access for attendees
On-demand content availability is a key feature that sets virtual conferences apart from their physical counterparts. Attendees can view presentations at their convenience during live sessions or even after the event. This ensures interested attendees can access valuable information anytime, increasing overall engagement and satisfaction. Furthermore, event sponsors can capitalize on this extended reach by promoting their products or services through virtual exhibitors long after the live event.
The advantages of virtual conference booths are clear; they provide a cost-effective and easily accessible way to reach wider audiences. Creating a captivating virtual booth can create an immersive encounter for participants that will remain with them.
MootUp enables you to unlock the full potential of your Metaverse, granting secure access controls for unlimited users and empowering you to create private, internal initiatives or public-facing experiences that seamlessly scale with your company's evolving requirements.
Key Takeaway:
A no-code platform is being developed to create and host virtual and hybrid events in the Metaverse. This undertaking aims to fabricate a virtual gathering corner that can be modified with no programming knowledge by occasion coordinators.
Designing an Engaging Virtual Congress Booth
In today's digital age, businesses must create a captivating and interactive virtual conference booth experience. This not only helps in attracting more attendees but also fosters better engagement with your target audience. Here are some best practices that can help you design an impressive online exhibition booth:
Utilizing Chatbots for Instant Communication
One of the most effective ways to engage visitors at your virtual exhibit booths is by incorporating chatbots. These AI-powered tools facilitate instant communication between event attendees and exhibitors, providing quick answers to their queries and helping them navigate the platform seamlessly. Moreover, chatbots can be customized according to your brand voice and messaging, ensuring consistency across all touchpoints.
Participating in Topical Discussions Related to Target Audience Interests
To make your presence felt at virtual conferences or trade shows, it is essential that you actively participate in discussions relevant to your industry or niche. By doing so, you showcase thought leadership while connecting with potential customers with similar interests. You can leverage social media platforms like LinkedIn or Twitter and specialized virtual event platforms like MootUp, which offer dedicated spaces for topical conversations among participants.
Incorporating Video Conferencing Features into Virtual Exhibitors' Platforms
Live Demos: Conduct live product demonstrations using video conferencing tools embedded within the platform. This lets interested attendees see firsthand how your products work while interacting directly with company representatives.
One-on-One Meetings: Offer the option for attendees to schedule one-on-one video meetings with your team members. This personal touch can help build stronger relationships and generate more leads.
Webinars & Panel Discussions: Host webinars or panel discussions on relevant industry topics featuring experts from your organization or other thought leaders. These sessions provide valuable insights and position your brand as an authority within the sector.
Incorporating these best practices into your virtual booth conference strategy will ensure you create a memorable experience for event attendees while maximizing engagement and lead-generation opportunities.
Designing an engaging virtual congress booth requires careful planning and preparation to ensure a successful online exhibition experience. With the right content and staff training, exhibitors can confidently launch their campaigns with confidence that they are providing a high-quality user experience.
Key Takeaway:
A no-code platform is being developed to create and host virtual and hybrid events in the Metaverse. A booth is being created in the virtual world to let participants communicate with exhibitors and get information about their offerings.
Preparing Content & Staff Training For A Successful Online Exhibition Booth Experience
To ensure a seamless experience for participants attending the virtual conference or trade show, exhibitors must prepare informative materials and train staff responsible for operating the virtual booth. This will guarantee smooth operation during live events while providing an engaging environment.
Preparing Engaging Materials Before Launching Any Campaign
To create a successful online exhibition booth, you must develop captivating content showcasing your brand's unique offerings. Some of the key elements to include in your virtual exhibit booths are:
Videos: Incorporate pre-recorded videos showcasing product demonstrations, customer testimonials, or company culture. Event attendees can easily access these at any time during the event.
Documents: Provide downloadable resources such as brochures, whitepapers, and case studies relevant to your industry and audience interests.
Social Media Integration: Connect with interested attendees through social media channels like LinkedIn or Twitter by embedding feeds directly into your virtual booth space.
Promotions & Giveaways: Offer exclusive promotions or giveaways specific to those visiting your virtual event platform to encourage engagement and lead generation.
Ensuring Effective Staff Training Sessions Before Live Events
A well-trained team is crucial for maximizing results from your participation in virtual trade shows. Equip them with knowledge about how best practices work within this digital environment so they can confidently engage visitors throughout their time at your virtual booth. Some key aspects of staff training include:
Platform Familiarity: Ensure all team members are comfortable navigating the virtual event platform and understand its features, such as chat functions or video conferencing tools.
Product Knowledge: Staff should be well-versed in your company's products and services to address any questions or concerns from potential customers effectively.
Sales Techniques & Customer Engagement: Train employees on effective sales techniques specific to online events, including how to initiate conversations with visitors, identify their needs, and provide tailored solutions based on those needs.
These steps will ensure a successful online exhibition booth experience and help you generate valuable leads for future business opportunities. By investing time into content preparation and staff training, you can make the most out of your participation in virtual conferences, positioning yourself as an industry leader while expanding your reach beyond traditional physical events.
Key Takeaway:
A no-code platform is being developed to create and host virtual and hybrid events in the Metaverse. The topic at hand is designing a virtual conference booth for these events, which can be customized according to the needs of different businesses or organizations.
Frequently Asked Questions Virtual Conference Booth
What is a virtual booth at a conference?
A virtual booth is an online space where exhibitors showcase their products, services, and content during digital events. It allows attendees to interact with the brand through chat features, video conferencing, and downloadable resources while providing real-time analytics for exhibitors.
How do you make a successful virtual booth?
Design an engaging layout that reflects your brand identity to create a successful virtual booth. Incorporate interactive elements like videos, live chats or Q&A sessions. Provide valuable content such as whitepapers or case studies for download. Ensure staff are well-trained in using the platform and engaging with visitors effectively.
What is the purpose of a virtual conference?
The primary purpose of a virtual conference is to facilitate networking opportunities and knowledge sharing among professionals without geographical constraints. Attendees can access presentations from industry experts, engage in discussions with peers, and explore exhibition booths virtually – all from the comfort of their homes or offices.
How do you attract people to your virtual booth? Create eye-catching visuals that represent your brand's personality Promote exclusive offers available only at your booth Leverage social media channels to drive traffic towards your online exhibit Schedule live demos or product launches during event hours
Conclusion
Virtual conference booths are an excellent way to engage with your target audience and increase brand visibility. With the correct techniques, you can guarantee that your virtual booth stands apart from other exhibitors while providing visitors with a remarkable experience. By following best practices for setting up a virtual booth, optimizing online exhibition booths, and maximizing engagement at your virtual congress booth, you will be able to ensure that all of your efforts pay off in terms of increased ROI and improved customer satisfaction.
Elevate your Metaverse to be "futureproof" with MootUp. This browser-based platform enables access from all smartphones, tablets, laptops, and VR/AR headsets, without software installation or downloads, providing seamless access across all devices.
Create a virtual conference booth with MootUp and join the metaverse revolution. Host your events in style, without any coding experience required!