We've heard this a lot in the past few months 'what is a hybrid event'. And so far nobody is able to give an answer besides the generic "the best of both worlds". Don't misunderstand, that is true, hybrid events really do combine the best of both worlds. But today we're going to look at the components of a hybrid event. Where does your in-person event overlap with the virtual event to form a hybrid?
First things first. Every event, physical, virtual, and now hybrid will have the same basic components.

So we'll take it one by one and see where the physical and virtual overlap with each other. And for the purpose of this post, we'll take MootUp as an example for your virtual venue.
The components are:
Environment or Venue
Content
Experience
Engagement
Connectivity
Hybrid Event Environments
When it comes to the environment or venue you actually have to consider 'TWO' when planning a hybrid event. Your physical venue and your virtual environment venue. What turns your in-person experience into a hybrid is connecting your two venues.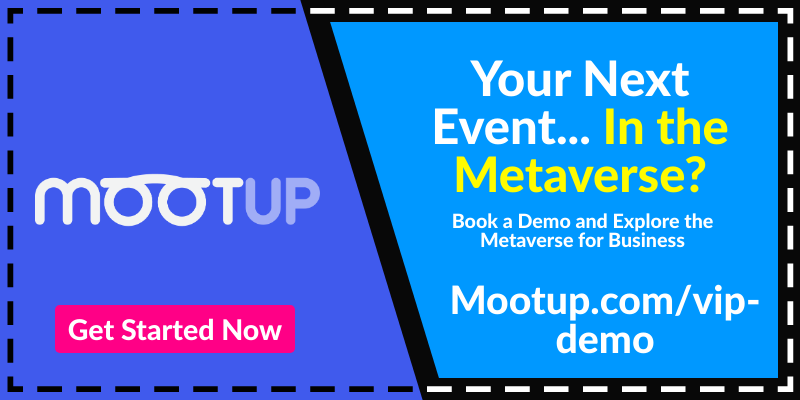 A simple live stream from the physical venue online or to the virtual environment.
This is the most basic hybrid event model. We don't recommend it because it basically renders your remote audience invisible- but here's how you can do it.
Place cameras in your physical location and stream online.
If you're using MootUp as your virtual venue your remote audience has a chance to actually have some fun thanks to the interaction factors and options included with the platform.
But if they have no option to interact with the content, the physical audience, or speakers, once the event is over you've lost them.
Completely separate experiences for each one
There's basically no overlap here and not really a hybrid.
They are two separate events one physical and one virtual. The only reason you call this a hybrid is because you want to hit the super hot topic that hybrid is and because it's basically about the same event.
If that's the case MootUp will assist you in delivering a fantastic immersive experience for your virtual, remote attendees and we have amazing resources to help you through the planning of your virtual event starting the Virtual Events Checklist you can download here: [LINK TO VEC]
One-sided communication from the physical event into the virtual
Facilitate your in-person audience and speakers to access the virtual environment through various 3D portals, or QR codes. Using polls and Q&A they can access online.
A plus here is that thanks to the virtual option you will be able to collect metrics you could never collect at an in-person-only event.
Two-way communication and interaction options
The most immersive option is a combination of the ones above, and then some!
Enable both your online and offline audiences to communicate with each other either through video calls, chat Polls, Q&A, breakout rooms, or special speaker sessions.
Let's take MootUp as an example of how you could set this up.
Install cameras in the physical space to stream and send information into the 3D virtual environment.
Install monitors that deliver information on what is happening in the virtual environment

Remote attendees can join live sessions, ask questions live, download, or even send content across.
Organize polls and Q&A that allow both your remote audience and physical audience to vote as well and publish the total results for both audiences to see.
Use interactive 3D booths for sponsors and partners. You can event use 3D scans or 3D models of the physical booth in the immersive environment. Create two-way portals between the two for a fully immersive experience.
Information from the virtual environment can be communicated back into the physical one whether it is brochures downloaded, sponsor ratings, videos watched etc.
Set up private call lines between the virtual booth and the remote booth so your in-person attendees can communicate or chat with those attending remote.
Use gamification to track most visited or popular ones and publish results in both environments.
General things to consider
Number of attendees – remote vs. in-person. Global audience or smaller?
How will participants experience changes based on their environment and what can maximize the various experiences?
Will the content be delivered at the same time? Will there be simultaneous sessions?
Do your in-person attendees need to change seating or rooms?
On-site staging, decor to make the event more impactful on camera
Sound setup if you're streaming sessions in the virtual space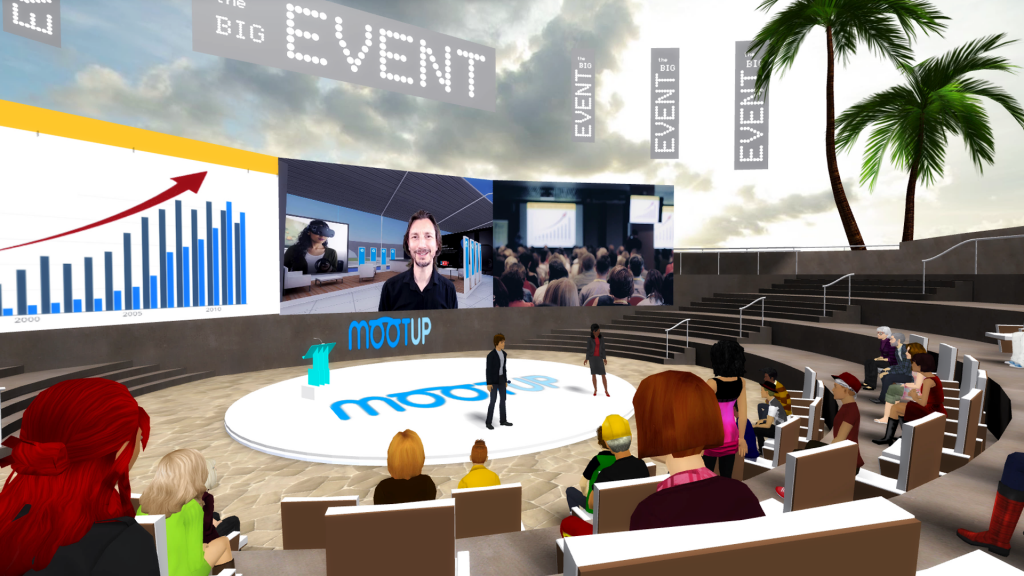 Hybrid Event Content
Quality Content is essential. You want to keep your audience glued to their seats whether they are joining from the comfort of their own home or from the physical venue. Content is dictated by your event's scope, your audience, stakeholders and sponsors, and your success goals.
So take a moment to map out your event through your event participants' eyes. How will content be consumed or interacted with by the in-person audience? What about the virtual audience? What about your in-person and remote speakers, and presenters?
Here's where in-person and virtual overlap to create a hybrid event when it comes to content:
Theme and branding– Remember you are organizing one event, but still two experiences. Unify your virtual and offline venue with shared themes and branding. But adjust your delivery for each venue specifically
Creative Content – Any media assets you create can be shared between the two. Even your printed content is created digitally first. Your attendees can share, download, stream any of it especially if the event is set up as a two-way portal between the two worlds.
Things to consider:
Is your digital content responsive – automatically adapting to devices, screen sizes, etc
Will content be delivered simultaneously i.e concurring sessions
What assets can be repurposed from your existing assets
Is the content structure clear – does it have a clear beginning, middle, and end?
Experience
The best experience keeps everyone engaged and focused on your content. Whether they are joining remote or in-person make sure you focus on a user-centered experience for every attendee.
The virtual and in-person overlap here starts from the room design to your participant's expectations, to camera capture for both live and on-demand content, sound quality, and video feeds.
Things to consider
What do you want to capture on camera?
Is the in-person stream/ content going to be displayed anywhere else on-site?
Multiple display-feeds in and out of the physical and virtual venues.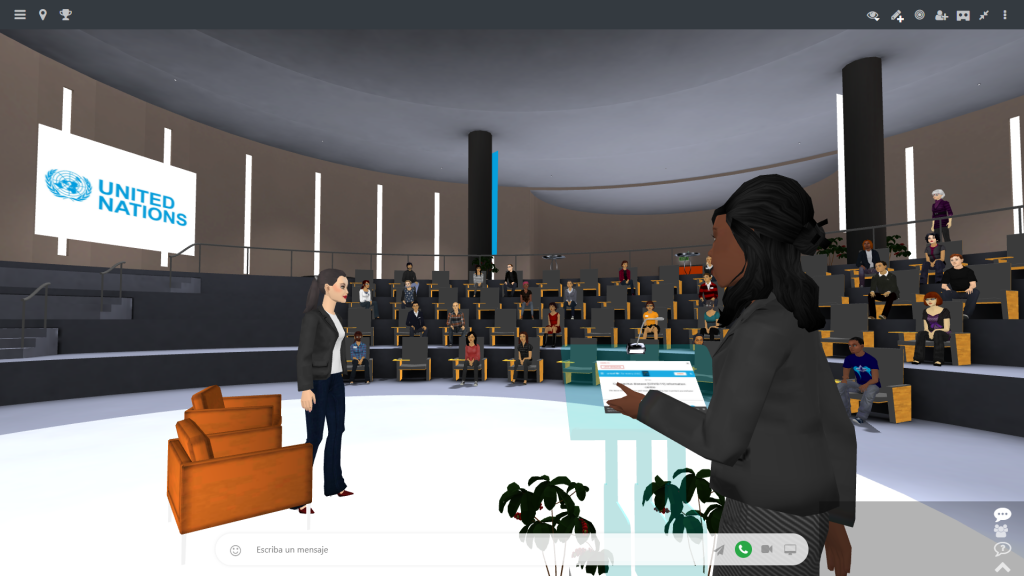 Engagement
Always keep engagement as a whole top of mind whether you are using an immersive 3D virtual platform or just a 2D or 2.5D though the last two are not the easiest to work with if you want a memorable engaging experience.
Here's where the two worlds overlap here to create a hybrid experience
Polling, voting and surveys, and metrics – the information you receive from hybrid events is vital for you, your participants, presenters, and stakeholders when planning future events but also to analyze the success of your event
Q&A, collaboration tools – how do you want your attendees to interact with the content and each other: for example video calls, voice chat or text chat
Gamification – this can be anything from mini-games, scavenger hunts, or escape rooms. Finding ways the two worlds can play together and also sharing results will most definitely up your engagement and unify your two worlds
Social and networking – depending on the platform you use virtually this can be easier (if you're using a 3D platform) or more difficult (if you're using a 2D or 2.5D). Allow your participants to interact and socialize with each other
Moderators for both worlds to answer questions or guide participants
Swag – Your in-person attendees can pick up physical swag or download or win it. Remote attendees can be mailed swag or grab it while they are in the virtual environment
Things to consider:
Does the virtual platform have all the engagement and metrics tools you need?
What information do I want to capture pre/post as well as during the event?
How important it is to offer my remote participants networking opportunities or happy hours?
Is your audience a large one – consider response time to participants – some virtual platforms offer virtual chatbots that can either have pre-defined conversations or AI chatbots
Connectivity
Needless to say, you can't have a hybrid event without proper connectivity. So you'll want to make sure your physical venue's bandwidth can support your streaming and connectivity needs.
Here's what you'll want to cover
Tech support – both on-site and from your virtual platform provider- just for your peace of mind.
Remote attendee connectivity – offer best practice recommendations to optimize your attendees' experience
Flexibility/ Scalability – choose a platform that can scale to accommodate your audience
Bandwidth
Backup plans for things like internet services, additional equipment for example
Dry runs with your speakers, sponsors, your own team both virtual and in-person. Make sure you set everyone's expectations as well as responsibilities.
Things to consider
Do I need tech support during the event
Do I need tech support on-site for my team?
Are my remote presenters and team suitably equipped and trained
Use cables – plugging directly into your router removes any unpredictability with wireless
Ensure remote users don't play video games or stream live at the same time – this can impact device performance unless they are using a powerhouse computer
Avoid Bluetooth headsets and microphones – they tend to have a lot of issues
Test your equipment at home
💡MootUp Pro Tip
Know your hybrid event model first. You can read more about that here: [link to post or article]
💡MootUp Pro Tip
Use what you know and repurpose content you already have. From strategy to content lay on the table what you know and see what applies here as well.
Conclusion
In today's society, work, play, connecting with friends and family, education, shopping even finding love is online and consumed digitally. It's safe to say that that at minimum hybrid events that are online and in-person will become the new norm.
MootUp was specifically designed to provide user-centered experiences across smartphones, tablets, computers and modern VR/ AR headsets,laptops, and tablets. To explore our platform, book a demo today and have your event up and running in just a few clicks.
For the latest platform features, as well as XR and virtual event news, please connect with us on social: